Exciting Latin American Destinations
by Dilek on Tuesday, January 22, 2013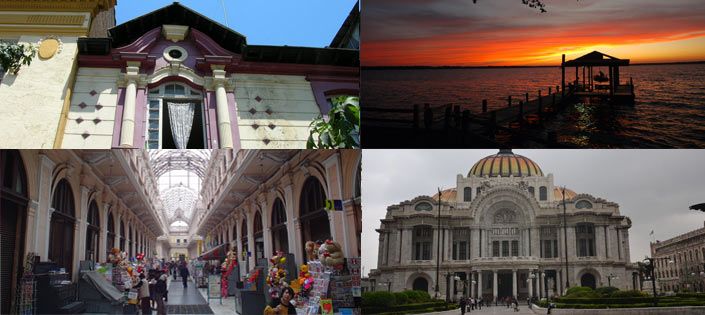 Latin America, full of excitement and passion, is a promising destination for travelers, investors and students. Here is a short summary of five Latin American cities that the world has taken a great interest in.

Cartagena de Indias - Colombia
It has been a well kept secret but now everyone knows: the best place to hold an outdoor private party throughout the Caribbean is Cartagena de Indias. A large portion of the city's industry is based on organizing all types of private events, meaning this is a perfect place to celebrate a wedding or to hold a meeting. The beautiful old colonial houses here, along with the impressive modern sections of the city, are attractions that appeal to travelers looking for a fun and safe destination. If you're looking for white sand and crystalline waters, check out the Rosario Islands, just less than an hour away by boat.

Santiago de Chile
Surrounded by amazing landscape, the country of Chile seems somewhat hidden from the rest of the world. In the last few years however, its wines have earned high praise on an international level. Santiago de Chile's old neighborhoods have undergone constant transformation: new stores and businesses have been established and travelers come here for a variety of reasons. The city is a gold mine for investors and a great place for students to study Spanish as a foreign language.

Panama City
This is a favorite destination for those who want an excellent place to retire. A major portion of the city's income comes from foreigners who buy houses to become permanent residents and from companies that make business investments in the country.
Home buying here can be a profitable investment. Banks finance up to 80% of home purchases over an average period of 20 years. The city has already become known as the Singapore of Latin America, with a growing contrast between modern buildings and the old section of the city. Next year, 2014, when the renovation of the Panama Canal is complete, the city will offer even more opportunities.

Mexico City
Although a bit intimidating at first glance given the traffic and the population, Mexico City dazzles its visitors. Colonial style and new-style architecture, the very modern Soumaya Museum (sponsored by billionaire Carlos Slim), and the Mexican cuisine, are just a few fantastic features that help make this city of the future a must-see destination. 

Lima
Peru's capital city has long been undergoing constant reformation. This is Latin America's 5th most populated city, a travel destination that offers visitors the chance to experience its historic culture and rich Mayan heritage. The economy is one of the largest in the region and the city has also been a popular location for foreign investors.
---
Keywords: Latin American cities, study Spanish in Latin America,investment in Latin America, holiday destinations,Mayan heritage