Spain Heading to a New Year after Successful 2012
by Dilek on Wednesday, January 2, 2013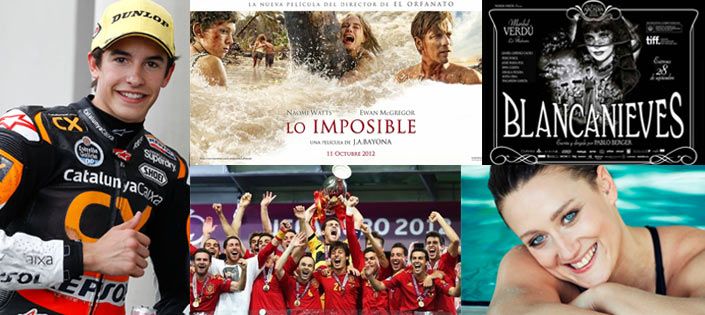 Spain has gone through tough times for the last few years. The crisis is the main topic of the conversations and Spaniards have heard the word strike many times. It is just a phase that will pass and gone and in the meantime everyone is crossing their fingers, keeping a positive mindset with better ideas and looking for a brighter future.
It is for sure there also has been great news that made Spaniards make smile and proud. If we look back to the year 2012, one of the most lovely incident occurred when an old lady in Zaragoza tried to restore a 200 years old Jesus painting. The painting itself got so famous that it attracted hundreds of people to the church it is demonstrated. The name Ecce Homo and Cecilia Jiménez are recognized one of the top icons of the pop culture leading to several reproductions and marketing materials.
On silver screen it has been a fruitful year, Lo Imposible (The Impossible) has broken box office records which is quite a huge success obtained abroad as a Spanish local production. Adapted from the famous Grimm tale Snow White, Blancanieves, in which the stunning Maribel Verdú enchants with her talent and beauty, is one of the greatest Spanish movies of all times.  The tourism which is the fundamental sector of Spain has advanced with respect to previous years; Eurovegas complex is to be built in Madrid and surely will create job opportunities in additon to drag thousands to enjoy the capital city. Spanish language tourism has started to receive more interest in Castile and Leon region.
Spanish National Soccer (Football) Team has brought a great success and made Spain honored by winning the 2012 Euro Cup again after 2008. Also after winning 2010 World Cup, Spanish football team has gained the three big championships for the last 4 years which justifies the concrete fact that they are living their golden age. In motor race a talented young man has won the World Championship in Valencia that his name is Marc Márquez. In London Olympic Games, one of the remarkable moments to be remembered must be Mireia Belmonte who is the first swimmer to win two gold medals in Spanish Olympic history.
Against all odds Spain has power to keep the good faith inside along with dignity and hard work. This year would be an opportunity for a better start and undoubtedly we will hear more news of Spanish success in 2013 as well.  May everyone have a prosperous year ahead!!
---
Keywords: Spain, Spanish culture, Spanish success, soccer, Lo Imposible,EuroVegas