Spanish soccer wins top honors at the 2012 FIFA Ballon d'Or Gala
by Tyson on Tuesday, January 8, 2013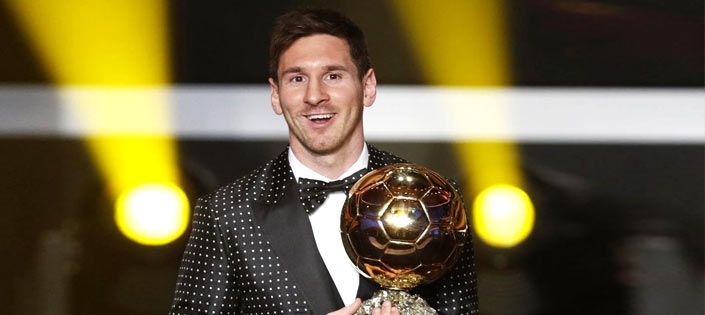 The Spanish soccer league took center stage yesterday in Zurich at this year's FIFA Ballon d'Or Gala.
Barcelona striker Lionel Messi won the ballon d'or for an unprecedented four years in a row. The award is given annually to the world's best soccer player. National team coaches and captains from around the world along with selected media members vote for the winner. Messi beat two other candidates for the award, Cristiano Ronaldo and Andres Iniesta. On accepting the award, Messi recognized his Barcelona teammates and specifically Iniesta. Messi received nearly double the votes that Ronaldo did, polling 41% and 23 % respectively.
Despite Messi's statement that this has not been the best year of his career, he did score 91 goals (79 with Barcelona and 12 with the Argentine national team) breaking the record set by Gerd Mueller in 1972 for most goals scored in a single calendar year. Messi's statement likely referred to Barcelona losing Spain's Primera Division league to long time rivals Real Madrid, the team for which Ronaldo plays. Barcelona did not win the Champion's league title either. Originally from Argentina, Messi has played with Barcelona since he was a child.
The Salamanca, Spain native Vicente del Bosque beat Real Madrid coach Jose Mourinho and Barcelona coach Pep Guardiola to win the 2012 FIFA coach of the year. Del Bosque lead the Spanish national team to win three consecutive cups: two European Championships (2008, 2012) and the world cup (2010). On accepting the award, del Bosque stated that this is a great time for Spanish soccer, and that he was proud that two of the three candidates for the award were Spanish (Pep Guardiola is also from Spain).  
This year's entire FIFA dream team roster is made up of Spanish league players. Over 50,000 soccer pros voted on this year's FIFPro world 11, selecting the 11 players they believe would make the strongest imaginable soccer team in the world today. The dream line up, which includes Ronaldo, Messi and Iniesta, exclusively features players from Barcelona and Real Madrid football clubs with the exception of Radamel Falcao, who plays for Atletico de Madrid.
The Spanish league's dominating presence at the FIFA awards ceremony suggests that the level of play in that league is perhaps the highest in the world. The league's success seems likely to continue, as both Real Madrid and FC Barcelona are favorites to win this year's Champion's league title. The world will also be keeping an anxious eye on Team Spain in the 2014 FIFA world cup to be held in Brazil. As Coach Vicente del Bosque pointed out at the ceremony, Spanish soccer is certainly experiencing an incredible era.   
---
Keywords: 2012 fifa ballon d'or, fifa ballon d'or, world best football player, ballon d or 2012, lionel messi, cristiano ronaldo, radamel falcao, andres iniesta, vicente del bosque, spanish soccer, spanish soccer team, spanish football league