The Best Theme Parks in Spain
by Dilek on Tuesday, January 29, 2013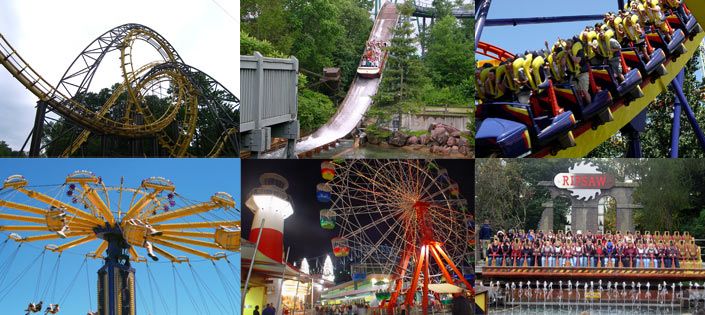 When we think of Spain, we often think sun, sea, delicious tapas and flamenco. Spain however also offers some of the best theme parks in Europe, where you can discover another side of this wonderful country. Take a look at some of the fun theme parks you can visit here:

Isla Mágica Sevilla (Magic Island):  You'll go back in time to an age of pirates and travel to a magical universe in the city centre called La Cartuja. The park consists of 8 themed areas, where one minute you'll be on a rafting adventure in El Dorado and the next minute you'll find yourself aboard an old fashioned pirate ship.

Parque Warner (Warner Brothers Park): Bugs Bunny, Daffy Duck and all the other famous Warner Bros characters are waiting in this spectacular park in Madrid, which offers activities both for kids and adults. If you have a fear of heights, it might not be a good idea to go on the Superman La Atracción de Acero rollercoaster, which is unique in that it was the first floorless roller coaster in Europe.

Parque Europa: Travel around Europe without leaving Madrid. The newly transformed theme park Parque Europa de Torrejón de Ardoz not only offers full time fun for kids, adults also have great time here wandering around famous European landmarks such as the Eiffel Tower or London Bridge.

Parque de Attracciones de Madrid: The capital of Spain is the home of various parks and this one is truly worth seeing. 40 exciting rides and other activities offer visitors the chance to experience wild adrenaline-filled theme park fun. After a long day of adventures, you can chill out at the restaurant area or enjoy a little peace with your kids playing games together.

Terra Mítica: If you happen to go to the Costa Blanca, stop by Benidorm, Alicante for a mythical journey to the ancient cultures of the Mediterranean. The park is divided into 5 different zones: Egypt, Greece, Rome, the Mediterranean Islands and the Iberian Peninsula. Terra Mítica is a park full of excitement, with roller coasters, ferris wheels, merry-go-rounds and other activities.

Universal Port Aventura: This is one of the most entertaining theme parks in Europe and it is just an hour away from Barcelona by car. Situated in the heart of the Costa Dorada in Salou, the park has 6 themed areas: the Mediterranean, Mexico, China, the Wild West, Polynesia and Sesame Street. Each zone offers its own characteristic adventures through rides, attractions and live entertainment shows.

Dinópolis: There's not much chance you'll get to see a T-REX outside of the movies, yet in Spain you do get to learn about history and science by stepping into the ancient world of dinosaurs. Dinopolis is a cultural park and museum that was established after the discovery of a collection of fossils in the area. The park features 6 areas spread around the main section of the park: Legendark, Inhóspitak, Mar Nummus, Bosque Pétreo, Región Ambarina and Titania.
---
Keywords: theme parks in Spain,travel in Spain,Spanish holiday, Spanish culture,Barcelona,Madrid,Seville,Alicante