The Most Amazing Gardens in Spain
by Dilek on Friday, January 18, 2013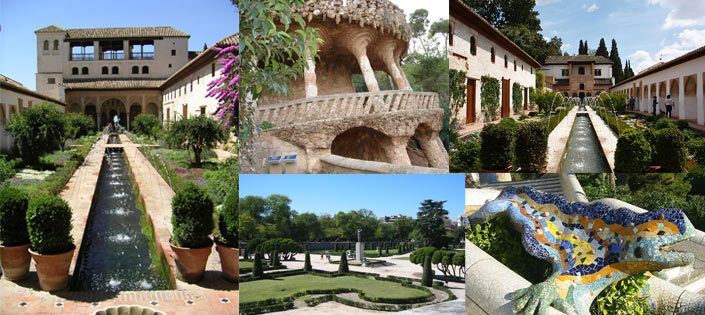 Gardens are places that are full of sentiment, spaces that offer visitors the chance to collect their thoughts and to dream. Many of the amazing gardens in Spain also offer scenic aesthetic expression, where beauty is not only created by planting plants and trees, but also by harmonizing and maintaining a balance of all the elements found in nature such as water and air. Let's take a tour of some of Spain's most historical and most impressive gardens. 
The Gardens of Generalife, The Alhambra, Granada:
The magical gardens of the Alhambra, full of legends and mysteries, may take the visitor's mind to the sublime atmosphere described in the tales of The One Thousand and One Nights. Built on a rocky hill and far-off peak of the Alhambra, the combination of light and green here creates a wealth of decoration that includes the landscape that lies beyond the palace walls, visible from strategic viewpoints. Paco de Lucia has a song called "Generalife bajo la luna" that celebrates the garden's beauty.     
El Buen Retiro, Madrid
Buen Retiro Park was designed in 1640 and opened to the public during the time of Charles III. Today, El Retiro has become a symbol of Spain's capital city. The land is occupied by 15,000 different types of plants and trees including the French Parterre, Versailles-style, and the Rose Garden; it is also home to numerous varieties of flowers. The monument to King Alfonso XII situated alongside the pond is one of Retiro Park's must-see attractions.
Real Alcazar, Seville
The delightful Real Alcazar of Seville is one of Spain's great palace complexes, and perhaps the oldest. It is the original representation of Spanish style and Islamic expression adapted to the Christian world. This once was the official residence of the Kings of Spain during their visits to Seville and the palace is still acknowledged as a royal residence. The palace features extraordinary gardens. The Garden of Mercury, which has a beautiful bronze fountain with a statue of Mercury, the Garden of the Ladies and the Garden of the Prince are the most admired.
Laberinto Horta, Barcelona
This is the oldest garden in Barcelona and a magnificent example of 18th century neoclassical style. The garden is most known for its exciting maze of hedges, yet it also features other aspects such as intriguing statues, arbors, numerous fountains, and incredible greenness that make these gardens an unforgettable place to visit. An important scene from the movie "The Perfume" takes place here as well.
---
Keywords: alhambra,spanish style,retiro madrid,alcazar sevilla,gardens in spain