The Castles of Spain
by Dilek on Wednesday, February 27, 2013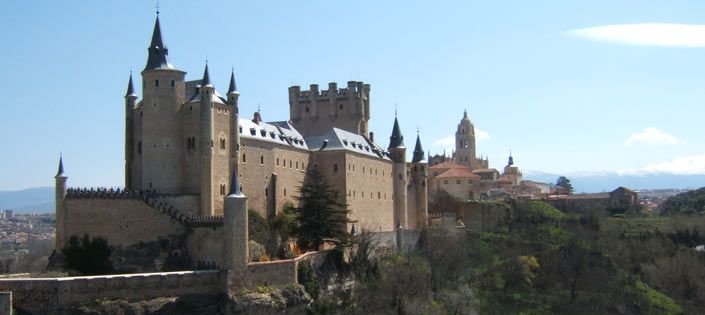 According to the RAE (Royal Academy of Spanish,) the definition of castillo (castle, fortress) is: a place surrounded by walls for defense. Castles are not only former residences of kings and nobles, they also present images of the cities in which they are located. Spain, with its well-preserved, splendid castles, is a like living museum, where visitors can experience the country's rich history and culture.

Castillo de Butrón is located in the town of Gatica (Vizcaya province), 20 kms from Bilbao. The origin of the castle dates back to the Middle Ages. In the 19th century, extra fortification was added. Unfortunately, it is privately owned and not open for public visits.

With its Majorcan gothic style, Castillo de Bellver is situated just a few kilometers outside of Palma de Mallorca. It has been used for a variety of purposes throughout history. It was once built to be the residence of King Jaime II, and later, in the 19th century, it was converted into a coin factory.  

Castillo de Olite, in the Navarra region, was chosen as one of the Medieval Wonders of Spain and you will be amazed by its history. Its French architecture reflects the architectural preferences of the castle's original owner, Carlos III. To reach the top of the castle you have to first climb up 133 stairs, but the sight is worth the effort.

The Alcázar de Segovia has been preserved for over 8 centuries. Built atop an enormous rock, this is often considered to be one of the most impressive fortresses ever created, and it's no surprise that it was one of the castles that served as a source of inspiration for Disney's famous cartoon castle that appeared in the film Cinderella. Today, it also serves as a Military Museum.  

Castillo de Peñafiel was built in German gothic style with Campospera stone. It is situated on a high hill where you can see the Duratón and Botijas valleys. Its structure is plain and it only has one door. The tower keep is 30 meters high with a rectangular shape. It is one of Spain's National Monuments and it is the home of the Provincial Museum-Foundation of the Wines of Valladolid.

The size of the Castillo de Almodovar del Rio is impressive, but that's not the only great thing about this building. Like other historical figures in Cordoba, it also represents a blend of Islam and Spanish architectural traditions. According to popular myth, the ghost of a Muslim princess who died in the castle appears every March 28th wearing a white dress floating about the tower keep.  

Islam and gothic art come together in Castillo de Manzanares el Real, one of the best preserved buildings in Spain. The castle dates back to the 15th century. It has appeared in several movies featuring famous actors such as Clint Eastwood, Charlton Heston and Arnold Schwarzenegger.
---
Keywords: castles of Spain,Spanish architecture,Spanish history,travel in Spain,Spain,Spanish culture