10 Summer Drinks that'll keep you cool
by Lauris on Thursday, July 18, 2013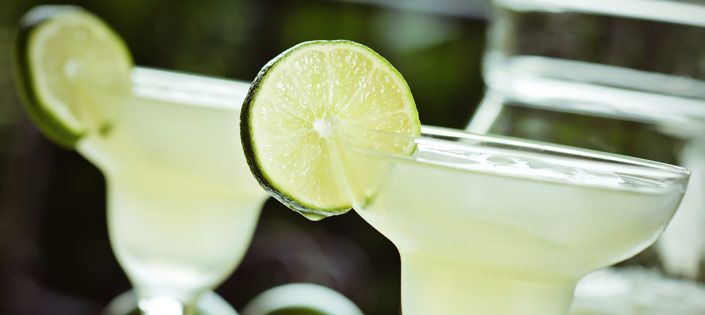 Beat the heat with this top ten Summer drink selection!

1. Pisco sour
The origins of this sweet drink are a bit of a controversy; the bordering countries of Chile and Peru both claim it as their own. What everyone agrees on however is that the drink must be made with a good pisco, some syrup (water + sugar) to sweeten, an egg white, and a bit of lemon.
Mix these ingredients in a cocktail mixer and then add a a few drops (no more than just two or three) of angostura bitters.
---
2. Margarita
Can you imagine Mexican food without a refreshing margarita? Take 50 cl. (16.9 ounces) of your favorite tequila, 20 cl. (6.7 ounces) of Triple Sec or Cointreau (the latter is sweet), and some lemon.

Shake and serve in a glass with a salted brim.
---
3. Sangrita
Not to be confused with sangría, this drink is made with tomato juice (3 parts), orange juice (1 part) and lime (1/2 part), and seasoned with a dash of salt and pepper and even Tabasco sauce if you like spicy flavors, or perhaps Worcestershire sauce.

This drink goes perfect with tequila añejo before lunch.
---

4. Sangría de cava
Here's a white version of this Spanish classic. It's made with semi-dry or brut cava, the juice from one lemon and half of an orange, a pinch of sugar, and perhaps a bit of rum or triple sec.

Then add an orange, a peach, and strawberries that have all been cut into small chunks. We recommend serving immediately to not lose the sparkling magic of the cava.
---

5. Sangría
Make this perfect summer drink with a nice red wine, the juice from three oranges and one lemon, sugar (as desired) and a stick of cinnamon.

Then add cut pieces of apple, peach, apricot and banana. It's best to cool it in the refrigerator to serve cold without adding ice.
---

6. Rebujíto
Anyone that's been to the Feria de Sevilla must remember the rebujito: a wine from Jerez or Manzanilla with the added touch of a carbonated lime refreshment and a few hierbabuena leaves (like sweet mint) to create a refreshing and aromatic beverage.
---

7. Mojito
The mixed drink loved by Hemingway and known the world over comes from the Caribbean island nation of Cuba.

White Cuban rum and grinded hierbabuena leaves in the bottom of a glass with a spoonful of sugar, a little carbonated water and plenty of ice make up this popular drink.
---

8. Palomita
This drink reminds us that Spain is indeed a Mediterranean country: the palomita (anisette, sweet or dry, plus five parts cold water) is the Spanish version of the French pastis, the Greek ouzo, the Turkish raki and the lebanese arak.

Refreshing and fragrant.
---

9. Daiquiri
Our list of summer drinks wouldn't be complete without this marvelously simple cocktail made with two parts white rum and one part lime juice and served in a glass with sugar on the brim.
---

10. Piña colada
For experiencing the South American tropics, there's nothing like filling your drink mixer with equal parts of white rum, pineapple juice and coconut cream.

Shake and serve with a slice of pineapple decorating the brim of the glass.
---
Photo credits by: Reese Lloyd (Pisco Sour), Pfau 910 (Sangría de cava), Colonnade Boston (Sangría), German Laullon (rebujito), Kenn Wilson (daiquiri).
---
Keywords: sangria,summer drinks,summer cocktails,spanish drinks,summer in spain