Champions League Final 2014
by John Bascombe on Thursday, May 15, 2014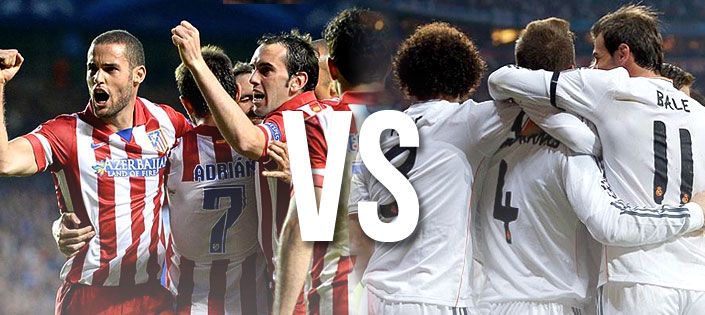 Madrid Derby: Real Madrid - Atlético de Madrid
History will be made in Lisbon on Saturday May 24th as Madrid's two most famous football institutions compete in the final of the UEFA Champions League. It will be the first time in the history of this prestigious tournament that two sides from the same city will play against each other in the deciding fixture. The match at the end of May will be the 155th played between the two teams in a rivalry that extends all the way back to 1928.
Real Madrid ruthlessly dispatched Bayern Munich in the second leg of their semi-final, while Atlético managed to defeat Chelsea in London to set up the most mouth-watering of occasions. Much of Madrid's 3.3 million inhabitants will be evacuating their home city for the week-end, regardless of whether they have tickets or not, and travelling the 390 miles to Portugal's capital city Lisbon, where the final is being played at the impressive Estadio de Luz.
Real and Atlético may exist in the same city with their stadiums are only a few miles apart, but the bitter rivals share very little else. Atlético are generally viewed as being the working man's club, with Real the team favored by the royalty and their respective history and financial power are monumentally different.
From purely an economic perspective, there would be no competition whatsoever. "Los Blancos" (Real) have an enormous budget of €500m that dwarfs that of their inter-city enemies "Los "Rojiblancos" which is reported to be around €120m. In fact, Gareth Bale, Real's most recent galáctico who joined over the summer cost just €20m short of their neighbors' entire resources.
From a historical perspective, Real are in a different stratosphere. Their nine European cups compare to Atlético's zero. In fact, their pursuit of their tenth triumph "La Décima" has become somewhat of an obsession with 10 managers having been sacked for failing to provide the holy grail of European football. The pressure on Real's head coach, Carlo Ancelloti is enormous; coming second is just not an option.
Atlético haven't appeared in a final since 1974, when their legendary striker Luis Aragonés scored a goal, only to see the opposition equalize in the last moments of the game. Aragonés sadly passed away earlier in the year, but his memory seems to have inspired Atlético to reach unprecedented heights this season. With their old manager watching over them, the new man at the helm, Diego Simeone, has completely revolutionized the team, and if they are to fulfil this most unexpected of destinies, it would be nothing short of miraculous. 
The Cibeles and Neptuno fountains located in the centre of Madrid are the locations where fans of Real and Atlético Madrid respectively have long since assembled to celebrate their clubs triumphs, and only one of them will be busy with joyous supporters on the night of Saturday 24th May. An exhilarating, tantalizing prospect is in store; the sort of occasion that acts as evidence of football being far more important than just a game.
---
Keywords: real madrid,atletico madrid,champions league final,carlo ancelotti,diego simeone