Game of Thrones Comes to Spain
by John Bascombe on Thursday, July 24, 2014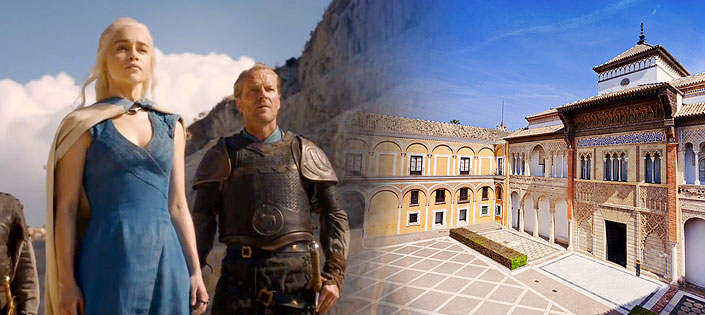 Calling all fellow Game of Thrones fans: care to catch a coveted sneak peek at the kingdom of Dorne? Most viewers will behold, for the first time, small screen imagery of the seventh realm sometime next year when season five of HBO's most popular show ever finally airs. But keep in mind that some filming locations for next season have already been announced; parts of Spain's southern province and city of Seville will serve as the southron region of the mythical continent of Westeros. All this certainly means that a journey to Seville may be in order, where you'll get an early first-hand glimpse of Dornish esthetic appeal. 
Seville's Royal Alcázar palace, a former Moorish fortress complete with wonderful crenulated parapets and cool archways, will most fittingly depict the Water Gardens, the private residence of Dorne's rulers House of Martell. Film crews plan to dye the waters in the Mercury fountain and pool a mysterious blue, a bold move considering the enduring, valuable, and likely fragile existence of the pool's 16th century Statue of Mercury. Filming is scheduled to take place here from October 14 to 22.
Excited observers have wasted no time in pointing out unmistakable similarities between Andalusia's sunny and sportive capital Seville and Dorne's capital Sunspear: beyond the similar arid climates, consider Seville's celebrated copper-topped Giralda tower, an architectural masterpiece from the 12th century, and Sunspear's Spear Tower, an intriguing steel-topped structure that towers 150 feet into Dornish skies to dominate the city's skyline.
Seville's mayor has called the shoot selection a "magnificent opportunity for Seville", adding that the show will "project the city's image all over the world". Indeed, these words are not wind; 13.6 million viewers around the planet tune in to watch the fantasy series. The international press has been abuzz with coverage of the story, often highlighting Seville's rich cultural heritage.  
Intense thrones drama filming will also occur in Osuna, a village of just under 18,000 located a convenient day trip away from Seville. Attractions here include sweet 16th century mansions, scenic rock quarries and a striking sandstone bull ring. One panoramic glimpse at the ring conjures epic visions of Daznak's Pit, where the gates of fate await!
The Song of Ice and Fire
The author of the Song of Ice and Fire novels (which the show is based on) has described Dorne as "definitely influenced a bit by Spain" going on to add that the closest real-life equivalent would be "the Moorish influence in parts of Spain". In that context, the capital city of Andalusia makes perfect sense as a dynamic backdrop to awesome Game action. The city flourished after the Umayyad conquest of the Iberian Peninsula in the 8th century.   
While in Seville, you could use your high Valyrian or Dothraki as lingua francas when communicating with local unconditional GoT fanatics, but this is also a great chance to learn and practice Spanish, the second most spoken language in the world in terms of native speakers.
So head to Seville and prepare to check out filming locations and to immerse yourself in a city that embodies the essence of southern Spain, where the fragile fragrance of orange blossoms blends in the sun soaked air with succulent scents of tapas and impassioned rhythms of flamenco. Look forward to seeing you there!
---
Keywords: game of thrones,song of ice and fire,seville spain,seville,house of martell,game of thrones spain