Green Madrid - New Bike Capital
by John Bascombe on Thursday, July 31, 2014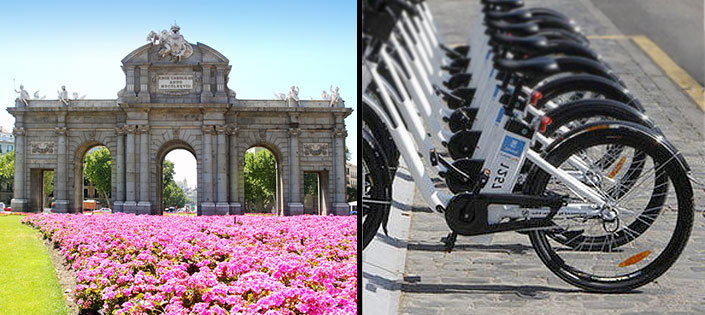 Bike Mad Madrid
BiciMad, Madrid's electric bike sharing program has launched to something of a bumpy start, but the cool-looking cycles are now offering city residents and visitors an eco-friendly transportation option.
The program's name has raised a few eyebrows, particularly among English speaking observers. Many have suggested that the "angry" or even "crazy" sounding moniker has generated a self-fulfilling prophecy of sorts as the programs first few weeks have been plagued by problems (they're getting better) including system malfunctions and out of order self-service loan stations. Words like "madness" and "chaos" have come up a lot in press coverage of the story.
Another issue lies in the fact that Madrid is traditionally not much of a bike-mad city (see safety concerns). It's also kind of spendy to take out one of these handsome and sustainable vehicles for a spin; a year pass costs €25 (€15 if you have a public transportation pass) plus an addition 50₵ for the first 30 minutes of usage, 60₵ for the following 30 minutes of riding and 4€ per hour after 2 hours. Temporary pass fees are also posted on bicimad.com but the cards are not yet available. Thousands of people have joined a campaign asking Madrid's Mayor Ana Botella to make the first half hour free, like in other European bike sharing programs in Barcelona, London and Paris, where the system has proven successful. 
Despite the challenges, some 10,000 people have signed up for the service, and now an average of over 3,000 rides are being made every day. Those figures however are not even close to already established bike sharing programs in other cities (see Other bike sharing programs).
Safety concerns
Program participants and the press have voiced concerns regarding the cyclist's safety; thousands of riders hitting the streets on a new fleet of two-wheelers and sharing the road with non-bike-minded motorists makes for kind of a scary scenario. Supporters of bike sharing programs insist that more bikes on the street not only creates cleaner air, but also more aware car drivers. After taking a quick cruise on one of the bikes, Mayor Ana Botella asserted that the program would eventually bring about a cultural change that has to happen poco a poco. Mrs. Botella added that she hopes the electric power feature will encourage folks intimidated by the city's hills to climb on board the cultural change.
Other Bike Sharing Programs in Spain
Spain has the most bike share programs of any country around the world with 132. China has 82 and the US a modest 36. USA Today ranked Barcelona as the 6th best bike sharing city in the world. Although the city's bicing program is only available to residents, it offers 6,000 bikes at 420 stations. San Sebastian, Spain had its electric bike program before Madrid.
Madrid's got a new bike program, green cultural change on the way (poco a poco), and much warmer weather than northern European counterparts with strong bike traditions (think Amsterdam); it seems that the city may have the potential to become a new bike capital.
---
Keywords: madrid,green madrid,bike madrid,bike share programs,bike sharing programs,bikes madrid,rent bike madrid