The Spanish Market
by John Bascombe on Thursday, August 7, 2014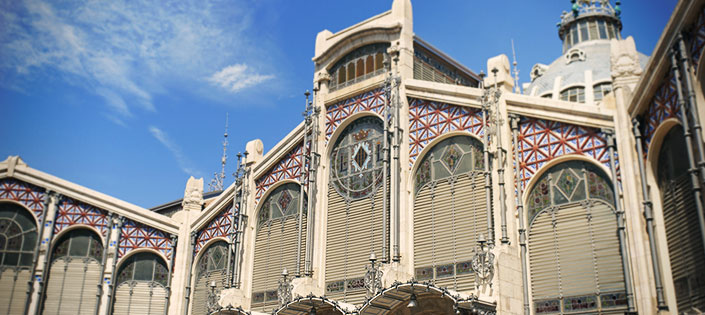 El Mercado - The Traditional Spanish Market
The Spanish Mercado is a traditional market that exists or has existed in all the major cities, not only in Spain but in France and other European cities. These markets are located in large, warehouse type buildings in key neighborhoods where inside you can find butchers, fishmongers, bakeries and a variety of other stands selling spices, canned goods and anything else edible.
With the arrival of the supermarket and later the hypermarket, the neighborhood mercados began to disappear. Today some still exist like the famous Boqueria in Barcelona. Here, in this famous urban market you'll be able to find some of the freshest produce, meats and fish possible. Along with food stalls offering some of the latest creations in pinchos and tapas. It is not uncommon to find people like Ferran Adria stopping by to check the goods and nibble on a freshly made tapa.
But what has happened to those markets that have had it harder. Sadly many markets in most cities have had to shut down to make room for a modern office building or block of flats. Some continue to resists—like the market here in Salamanca, which continues functioning in all of its wrought iron and glass glory. While others have found a formula to remain open evolving with the times to continue to satisfy the needs of the locals and offering retailers the opportunity to continue to sell in an ever more difficult economy.
One example of this evolution from simple market to something more is the Mercado San Miguel which rose from its ashes in 2009. Probably the first market of its type in Spain, it is reminiscent of what San Francisco has done with its Ferry Building. In the Mercado San Miguel they have renovated this iron and glass masterpiece to house some of the best food and market stalls in all of Madrid. Here you can buy a beautiful Kobe beef Steak and if you don't feel like cooking the butcher will cook it for you on his grill behind the counter. The same goes for a sinfully delicious 3 lb. chuleton de buey that has been raised high up in the mountains of León. Don't feel like paying a $120 for a steak? Then you can try one of the gourmet hamburgers that have been made with one of the variety of meats available for six dollars.
How about some jamon iberico? Fresh Iberian ham is available freshly cut for you. If you prefer something more along the lines of seafood, there are various stalls where you can purchase fresh fish and shellfish. You can even order fresh Galician oysters which can be shucked and served to you on an icy plate with a nice vinaigrette to accompany. Of course the list goes on and on. There are stalls with dried goods, freshly made paella and, of course stalls with bread and pastries. We mustn't forget the wine bar where wines from the best bodegas can be purchased to accompany your lunch or dinner.
The Mercado San Miguel, next to the Plaza Mayor in Madrid, is a pioneer in preserving this past with a new twist but now there are other neighborhood markets following suit. In Valencia there is the Mercado Colón housed in an old brick and glass market building this ultramodern market offers something for both the demanding shopper and gourmet.
The recently opened Platea on the Plaza de Colon in Madrid is an incredible and daring culinary masterpiece. Housed in the old Carlos III cinema, this is only partly a market. Divided in three floors you will find on the bottom a mini market of stalls and informal tapas. On the second floor the tapas become more chic and gourmet and on the third floor you will find two-star Michelin chef Ramón Freixa's bistro Arriba. If you stop by for a snack or some shopping be sure to catch an aerial dance, jazz quartet or anything else that is providing entertainment on stage of what was once the movie theater.
Last, but definitely not least, is the Mercado San Ildefonso. This market on Fuencarral Street was born to be a less formal (but not lesser in quality) to the likes of Platea or the Mercado San Miguel. Wanting to emulate the street markets of New York or London, this market has 20 food stalls all of which have first class products fresh from the farm or the sea. Here all the stands sell prepared food, but you will not find any franchises. The objective of this market is to bring together small gourmet food specialists under one roof. The relaxed and casual atmosphere sets this market apart from some of its counterparts.
The idea of the traditional Spanish market still remains in many cities but in places like Madrid, Barcelona, Valencia and Toledo; the concept of what is a market is changing. These changes offer the visitor a combination of convenience, gourmet and entertainment which, for the tourist is great since you won't have to travel around the country to sample the many delicacies Spain has to offer. You'll just have to find the right stand that has what you're looking for.
---
Keywords: spanish market,mercado san miguel madrid,boqueria barcelona,spanish markets,mercado spanish,market in spain