Flamenco Festival in Seville
by John Bascombe on Thursday, September 4, 2014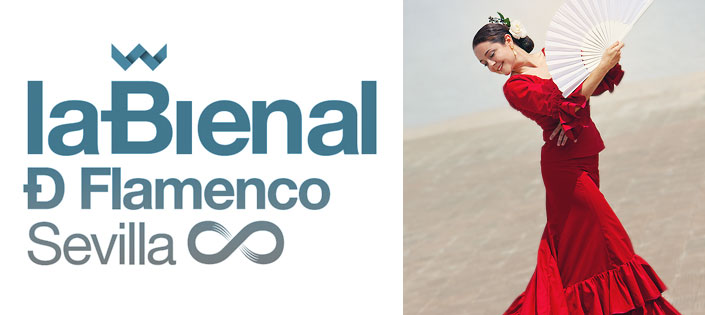 The 2014 Biennial Flamenco Festival
If you've been in Seville over the last few weeks you've probably seen the larger than life images of flamenco performers frozen in striking poses as they roll down city streets on the sides of lightrail trains. You can almost hear the intense rhythms, high passion hand clapping, foot stomping, dramatic deep song, and inspired guitar voicings on the verge of erupting here in a full-fledged international celebration of this unique art form. Seville, the unwavering heart of the flamenco world, is gearing up for her highly anticipated Biannual Flamenco Festival set to take place from Sept. 12 to Oct. 5. 
The event's website plainly states that this is "the biggest flamenco event worldwide", and the festival has certainly captured the attention of fans from distant lands. Tickets sold in Japan, France, the US, Italy, and Germany make up 30% of all tickets sold. 14,000 tickets had already been sold a month before festivities were set to kick off, greatly exceeding expectations.
This year's festival is entitled "fuente y caudel", a special tribute to flamenco guitar legend Paco de Lucía (this was the name of one his most celebrated albums which included the song "entre dos aguas").  De Lucía passed away earlier this year and his memory "will be present in practically everything that will happen in this bienal" according to El Pais newspaper. Special homage will also be paid to the cantaor Enrique Morente who died in 2010.
If you get to go to the festival, make sure you check out singer Esperanza Fernández's performance. She plans to cast all superstitious caution to the wind this year by singing peteneras. This is an old style of singing that supposedly spells bad luck for artists who dare to include it in their programs. Peteneras performances have gradually disappeared from flamenco stages, possibly due to the belief. Fernandez however has affirmed that she hopes to put an end to this notion, which she describes as a "bulo" (false rumor).
Ticket prices vary according to venue, which range from €12 for shows at Espacio Santa Clara, Dormitorio Alto, to €45 for patio seating at the Teatro de la Maestranza.
A number of parallel functions are also scheduled to coincide with the Bienal. FLAMENKEANDO for example is a series of concerts that features flamenco-influenced pop, rock, and fusion artists. These shows have been scheduled with the hopes of appealing to a wider audience and encouraging more young listeners to appreciate flamenco.
Organizers also held a childrens' competition calling on kids to try to design the most attractive poster for this year's Flamenco Biannual. The artistic submissions are inspiring and adorable, but this design contest ain't just about child's play; part of the purpose of the interactive activity is to help secure a stable future for flamenco, instilling deep appreciation in new and forthcoming audiences.
Also, don't miss the flashmob prepared for October 5. Throw your dancing shoes on and start rehearsing your own flashmob moves now with these instructional videos of choreographer Pastora Galván cutting loose.
---
Keywords: flamenco,flamenco world,flamenco festival,flamenco spain,seville flamenco,flamenco seville,flamenco sevilla