Ronaldo Wins FIFA Ballon d'Or
by John Bascombe on Thursday, January 30, 2014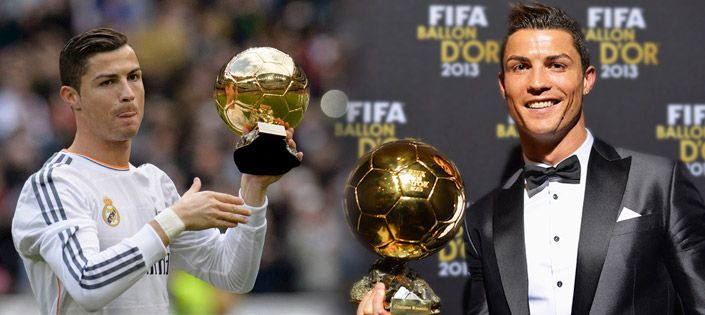 Cristiano Ronaldo
On 13th January 2014, having waited patiently since his last Ballon d´Or win in 2008, Portugal´s Christiano Ronaldo was crowned the best footballer of the past year. This will be a particularly enjoyable victory for Ronaldo as he managed to overcome his nemesis Leonel Messi who had won the award for the previous four years. These two astonishingly gifted footballers, in recent years, have turned this prestigious award into a personal duel.
Two of the most talented footballers to have ever graced the planet are different in so many ways. The diminutive Leonel Messi whose balance, vision and dribbling ability have seen him break countless records for his club Barcelona. Ronaldo of Real Madrid has also sent records tumbling with his raw pace, power and finishing ability considered to be his strongest attributes. Both players have the invaluable ability of being able to win a football match single-handedly, creating a goal out of seemingly impossible situations.
El Clásico
This intense personal rivalry is on show every single weekend in Spain as the two players battle it out for their respective clubs in pursuit of the "La Liga" title. One of the most ancient footballing rivalries in the world is that of Madrid and Barcelona. The two biggest clubs from the two biggest cities in Spain have won 157 major titles between them. The rivalry stems from historical roots and the broadly different ideologies the two institutions are deemed to represent. Barcelona are seen as representing Catalanism whilst their bitter rivals are seen to be a pillar of Spanish nationalism which throughout the course of history has contributed greatly to the hatred between the clubs. The current strength of the two sides that make up "El Clásico" is shown by the fact that 6 of the 11 players that made up the Fifa world team of the year come from either Real Madrid or FC Barcelona.
At a personal level, with Messi at times struggling with injury, 2013 was all about Ronaldo. Many of the voting panel, that consists of coaches and captains of international teams, as well as journalists from around the world voted for the Frenchman Franck Ribery who guided his club-side Bayern Munich to a highly impressive treble. Ronaldo on the other hand didn´t win a single major trophy; however it was the way in which he played, in particular his remarkable goal scoring record that ensured he was selected as winner of the FIFA Ballon d´Or. The stats speak for themselves; 66 goals in 56 appearances represents an astonishing strike rate of over a goal a game. This is more goals than Messi and Ribery managed between them.
So an emotional Ronaldo collected the award that he had waited so patiently to re-gain and with neither he or Messi showing any sings of slowing down; supporters of Real Madrid and Barcelona, and lovers of football from across the globe have got an incredibly exciting 2014 ahead of them as they wait to see the next chapter of La Liga, and the personal duel between Ronaldo and Messi unfold.
---
Keywords: real madrid,cristiano ronaldo,fc barcelona,ronaldo,ballon d'or,el clasico