Dolce & Gabbana Go Spanish
by John Bascombe on Monday, October 20, 2014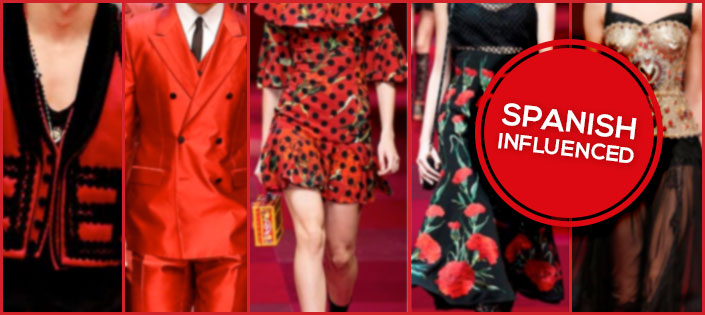 Spanish Influence
Spain has a long history of influence in Europe, all we have to do is remember that Holy Roman Emperor Charles V, was also the same Spanish King Carlos I. As ruler of Spain (and its American empire) he was also the ruler of most of central Europe and Italy. Today this influence is still seen in many parts of Europe, in fact there is an annual festival in Brussels called the Ommegang. In the town square, thousands of Brusseleers participate in this parade that recreates the welcoming of Charles V into the city that would be his principal home during his reign. Another part of Europe that pertained to the Spanish crown was Sicily. This Italian island was first part of the Kingdom of Aragón beginning in 1409 and later as part of the Spanish Empire. This territory would remain under Spanish control until 1860 with Garibaldi leading the charge for Italian unification. So after over 400 years of relations, something must have stuck as far as influencing the culture and life, right?
Sicilian is a non-recognized language that is spoken on the island and has been influenced by Aragonese, Catalán (thanks to the influence of the Kingdom of Aragón) and Spanish. The use of giganti, or large oversized figures in folkloric events, is a direct descendant from the same custom found on the Iberian Peninsula where it is known as Gigantes y Cabezudos (Giants and Big heads). Food also shows signs of Spanish influences. The fruit of the cactus known as the prickly pear which was brought over from the Americas is a popular after dinner snack known as fichi d'India (Indian Figs). Sicily also became the center for chocolate production, another import from the Americas, in Italy.
D&G's Spanish Influenced Collection
Another influence has recently been highlighted on the runways of Milan thanks to Italian fashion duo Dolce & Gabbana. Domenico Dolce was born in Polizzi Generosa in the northern part of the Island 60 miles east of Palermo. This past September they presented their spring/summer collection for 2015 and amazed and impressed even the most jaded fashion professional like Ana Wintour—who even cracked a small smile during the show—with an unabashedly Spanish influenced collection.
This collection has shown that traditional Spanish clothing can be easily adapted to the world of haute couture or alta costura in Spanish. Incredibly deep reds, brilliant whites and dark blacks were the colors of the day. Spanish and Sicilian motifs were everywhere in an incredibly show that highlighted the playfulness and irony that are typical D&G characteristics.
It is not unusual for D&G to use their Sicilian roots as inspiration for their fashion collections. For last year's presentation they presented a collection heavily inspired by the Sicilian countryside including Roman temples, typical Sicilian ceramics and plenty of gold. We also shouldn't forget that one of their most popular perfumes is named Sicily.
Not only have they been inspired by Spanish and Roman influences in Sicily, their fashion collections have also revolved around mythological, Byzantine, Norman and Catholic motifs throughout their career. All of this knowledge of the influences and history of Sicily is thanks to their never ending love affair with the island. Even though they live and work in Milan, their spiritual home is on the small island of Stromboli, a small volcanic island off the coast of Sicily. Sicily and Stromboli is where they go to recharge their batteries and get back in touch with reality.
For this Spanish-influenced collection, they have looked specifically at the period of Sicilian history from 1576 to 1713. It should be noted that this period was a time of great wealth and prosperity for Sicily, with wheat and silk exports financing spectacular growth—both economic and social—throughout the island. This time also marked a resurgence of feudalism and population movement from the cities back to the countryside. Towards the end of this period, strong families were taking over the power of the municipalities and later, the Black Death and an earthquake would take their toll on the people.
The spring/summer D&G collection presented in Milan is an incredibly bright and elegant collection that focuses on designs and prints evoking a strong Spanish link. If there was any doubt about the Spanish origins of this collection, the castañuelas hanging from the hair of some of the models should clear up any lingering uncertainty. Not only were there castañuelas; we were able to see white cotton bullfighter shirts combined with red satin bloomers embroidered with typical Spanish patterns and motifs. There were also black matador jackets and famous Sevillana-type polka dot dresses.
Some other interesting touches were shoes with transparent heels that opened up revealing a heart inside. There were also crucifixes, veils and gold embellishments. One of the highlights of the show was when some models paraded down the catwalk carrying transparent boxes with dolls dressed in D&G for an "ironic and funny" touch.
Once more we see how Spain has not only influenced the past but continues to be an important mover of European culture. With Dolce and Gabbana's newest collection we see that Spain has an important in influencing the people that influence culture. We've seen it with literature and film lately and even though Spain has a thriving fashion industry, there are few that speak fashion more than Dolce & Gabbana. Hopefully with this collection people will take another look at Spanish fashion and the people driving that industry from within like Amaya Arzuaga, Maya Hansen and Alvarno to name a few.
---
Keywords: dolce & gabbana,spanish clothing,spanish fashion,traditional spanish clothing,spanish clothes,fashion in spain,castañuelas,spanish influence,spanish patterns,spanish influences,typical spanish