Cantinflas Reborn
by John Bascombe on Thursday, November 6, 2014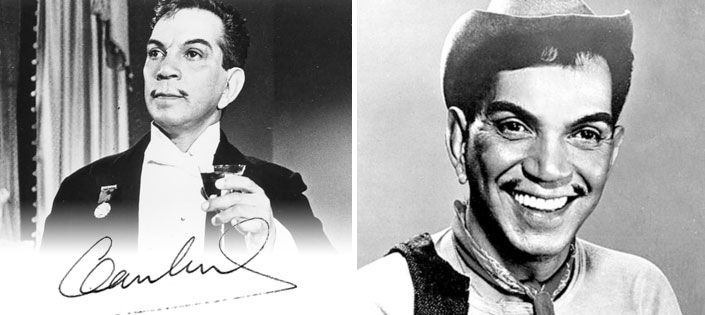 Charlie Chaplin once called him the "funniest man alive" and many in the Spanish-speaking world would agree. Chaplin was referring to Mario Fortino Alfonso Moreno Reyes, better known as Cantinflas. Cantinflas was born in the Santa Maria la Ribera neighborhood of Mexico City, which today is located in the heart of the downtown, just a few blocks from the landmark Paseo de la Reforma. However, Cantinflas wasn't raised here, instead he grew up in the what continues to be the rough neighborhood of Tepito. Growing up in Tepito has never been easy, in fact the neighborhood from Luis Buñuel's masterpiece Los Olvidados could easily be Cantinflas' Tepito of the 1920's.  Overcoming this environment, Cantinflas would become the most important comedian in Mexico during the 20th century, although this would come at price. Considered by some to be a puppet of the ruling PRI Party while others saw him as a danger to the status quo. What is not argued was his work as a philanthropist, a fervent Catholic and an artistic innovator recognized by his peers and audiences around  the world.
You can see Cantinflas movies quite often on local television in the US thanks to the wide viewership of Mexican and Latin American immigrants in the United States. But at the end of August there premiered a new movie that takes another look at this prominent Mexican. The movie Cantinflas looks at Mario Moreno, the man, stepping out of the shadow of his alter ego—something we find that wasn't easy for him to do. This movie has also been selected by Mexico to represent the country in The Best Foreign Film category of the Academy Awards.  In the Cantinflas movie , we get to see two stories—one is the life and rise of Moreno and the other centers on the partnership Moreno had with producer Mike Todd. This relationship is key since Todd and Moreno teamed up together to make Around the World in 80 Days, a movie in which Moreno would win the Golden Globe for Best Actor. Although the movie looks at Moreno's life, it doesn't show so many events and details that made Moreno/Cantinflas who he was. That would be impossible for any 2 hour movie, but I would like to point some things out that can help you understand this person a little bit better.
When Moreno was growing up he decided to abandon Mexico and look for other opporutnies elsewhere and far away from Tepito like so many other fellow Mexicans. Unfortunately for him (at the time), he didn't make it across and in an attempt to make some kind of living he began working wherever he could. Among some of the jobs he had in the 1920's were as a boxer, mailman, taxi driver and even a bullfighter! At the end of the decade, he would enlist in the army and become a soldier. Mario would have enjoyed a career in the military if it weren't for his father who pleaded with the army to have his son discharged. His father explained that his son had forged his birth date on the paperwork so that the army believed he was 21 instead of the 16 years he really was.
It is important to remember that while Moreno was growing up Mexico was in the midst of the Mexican Revolution, so now you can understand the preoccupation of Moreno's father. What began in 1910 as an agrarian revolt soon expanded into a popular revolution with conservative forces and loyalist on one side against reformers wanting social and economic reforms. Names like Zapata, Villa, Diaz and Carranza would be key in the outcome. Also, the United States, fearing the growing unrest with its southern neighbor would finally back presidents Obregón and Eías-Calles. Álvaro Obregón and his successor, Plutarco Elías-Calles, began to make broad reforms, even managing to put some limits on the church and wealthy landowners. It had appeared that the revolution was ending and and 20 years of bloodshed would be ending. Unfortunately, ex-president Obregón was assassinated in 1928 and the Cristero war was in full swing. This brief war was a backlash against the anti-Catholic policies that Elías-Calles was rolling out.
During this confusing and unstable time, the theater became a highly manipulated place with the government carefully manipulating the themes and messages going out to the public. While satire was absent from formal stages, it was very much alive in the carpas (tents) or traveling theaters. Here, in the carpas, is where Moreno began his career in show business. The carpas offered entertainment that ranged from puppet theater to political satire and they were a mainstay of middle and lower class Mexico City. For just a little money, people could go in and escape their surroundings by taking in a show of comedic monologues, skits or dances. Singular to this environment was the lack of scripting and the importance of improvisation; also, the need to connect to the audience immediately was vital. Thanks to Moreno's upbringing, his improvisational skills were better than anyone's. In a world of war, political instability, social unrest and inequality, Moreno was able to make magic and make people forget their situation whenever he took the stage.
With his career based on successfully over winning a crowd with very little time and his innate ability to manipulate the language was his key to success. In Spanish, Cantinflas has no meaning and to this day, no one knows how the name was created although there are some theories, but one of these is probably more credible than the others. The character of Cantinflas first appeared in 1929 in a carpa in the town of Cuernavaca about one hour south of Mexico City. The story goes that when Moreno went onstage, he was struck with stage fright. Unable to say his lines he began to speak gibberish, but this was no ordinary gibberish, this was an example of his talent that would prosper on the silver screen. He spoke in such that made no sense yet it was understandable and sublimely funny. Finally, someone yelled to him "Cuánto inflas" which is akin to "you're full of hot air" (inflar is Spanish for inflate).  Realizing that he could contract that expression, Moreno invented the name Cantinflas.
In the 1930's, Moreno met Jacques Gelman, a producer, and the two teamed up to begin making movies. In 1936, Moreno premiered his first movie as Cantinflas in No Te Engañes Corazón. While receiving little attention for his first productions, he finally shot to fame with the movie Ahí está el detalle ("There Lies the Detail"), which would also become his most recognizable line for the rest of his career. While influenced by Chaplin, there is a bit of difference between the two. While The Tramp's dream is to want to move up in the world, Cantinflas was a humble character that strived to remain that way. In one movie, El mago ("The Wizard"), he becomes a sultan in a far off land but takes with him an indigenous woman to make tortillas. This connection to the people of Mexico endeared him to all while at the same time he remained non-threatening to the ruling class PRI governments.
The latter part of Moreno's life is not treated in the movie Cantinflas, yet it is just as dramatic as interesting albeit less "pretty" than his younger years. As time went on Moreno would continue to be a proficient moviemaker but Cantinflas was slowly losing touch with the times. A figure of the 30's and 40's, Cantinflas was a reflection of a Mexico that no longer was. An excellent example of this is his 1973 film Conserje en condominio (The Condominium Doorman). In this movie, an older Cantinflas takes on and defeats hippie neighbors. Cantinflas' struggle in this movie reflected the struggle that was happening within Mexico at this time between the newer and older generations. With Moreno's staunch support for conservative causes and PRI governments he was slowly losing his touch with the common people. Another glaring example of this was the movie he made that resuscitated the beloved figure of the gendarme that ingratiated Cantinflas with so many back in 1941.
Bringing this beloved figure back to the screen would be an epic failure and example of his willingness to "sell out". In 1976 the Cantinflas film El Patrullero 777 (Patrol 777) which ended up being more of propaganda film for his friend and Mexico City Police Chief, Arturo Durazo. In this film, he sugarcoated the actions of the police by taking on drug dealers, rescuing women and, of course, dealing with problematic hippies. What made this movie distasteful for many was that this movie intended to draw attention away from the skyrocketing corruption fueled by Durazo's demands for commissions from his police officers. Not much later, the FBI would arrest Durazo after fleeing Mexico on charges of corruption, extortion and money obtained cocaine trade. Also, during this time a new character emerged in Mexico which better reflected the ideal of the common person that Cantinflas was always known for. 
La India María
 La India María (María the Native) portrayed a poor, uneducated migrant worker who is subjected to racial discrimination, segregation and corruption. Like Cantinflas, La India Maria, solves her problems with the innocence of a rube and a quick mind. Unlike earlier times when the less fortunate still adhered to unwritten dress codes (European style dress), the less fortunate of the 1970s came en masse to Mexico City from the countryside and they had little notion or regard for dress codes from the first half of the 20th century. Now, these indigenous migrants or Marías (pejoratively speaking) were populating the streets of the large cities wearing their indigenous clothing and challenging the perception of what modern Mexico really is. Using many of the same gags and humor (much like what Moreno did when he left the carpa) as Cantinflas, La India María quickly surpassed Cantinflas as the zeitgeist of contemporary Mexico.
Even though Cantinflas would end up a shadow of his former self, he is still fiercely beloved by virtually all Mexicans. When Cantinflas passed away in 1993 his funeral turned into three days of national mourning and was given a state burial. For all of his contrasts and beliefs, Cantinflas was remained a beloved member of the family throughout his life. What makes Cantinflas so remarkable is that he can different things to different people. For some, his movies are simply wholesome family entertainment. For others, he is a subversive who stands up to inequality and fights classism in way that only Cantinflas could. What is clear is that when Mario Moreno became Cantinflas and he would never be the same again.
---
Keywords: cantinflas,cantinflas movie,mario moreno cantinflas,cantinflas movies,mario moreno,cantinflas film,movie cantinflas