Thanksgiving in Spain
by John Bascombe on Wednesday, November 19, 2014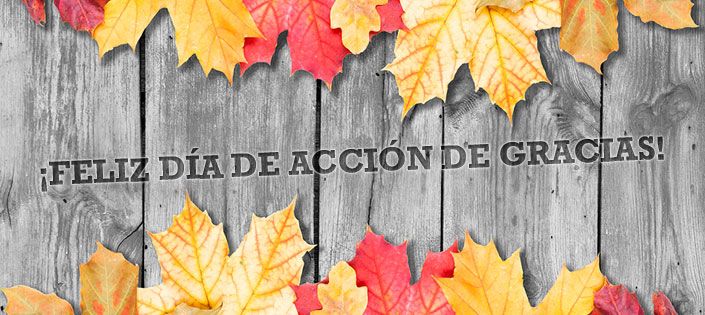 Many American students spending November in Spain and experiencing the unfamiliar silence leading up to Thanksgiving Day will inevitably imagine with mouth-watering envy a distant place called home, where loved ones enshrouded in the warm coziness of company and the pleasant perfumes of piping hot pumpkin pie prepare to hunker over plates brimming with traditional turkey creations.
Just a reminder: the fourth Thursday of November is not a holiday in Spain. The second Monday of October (nod to you Canadian friends) isn't either. Many Spaniards have heard of Thanksgiving traditions from watching American movies, many even erroneously believe the holiday commemorates American independence (you may have just as much to teach your Spanish friends about America as they have to teach you about Spain). 
Below you'll find a quick round-up of ways to spend your Thanksgiving in Spain.
Those who absolutely need turkey on turkey day have several options. You could opt to put together your own Thanksgiving meal. Plan possibilities range from a full blown feast for an army of amigos to the more humble and intimate package of turkey cold cuts for one (a bittersweet bachelor or bachelorette's take on a classic that could be more about inspired soul-searching than indulgent and self absorbed sulking.) How you spend your Thanksgiving may of course depend on your accommodation arrangements. If you're staying in the home of a host family, you might raise a few eyebrows if for example you make your way into the family kitchen and toss a full-sized bird into their oven.
If you do go the do-it-yourself route, keep in mind that some traditional items aren't so traditional in Spain, in other words, stuff like cranberry sauce and even the turkey itself might not prove so easy to find. If you're in Madrid, Barcelona, Valencia, Seville, or some other cities, you could check the store Taste of America for specific turkey day fixins'. You could also try to order a whole turkey in advance at a butcher shop. A few years ago, the famous Spanish chef José Andrés began offering for purchase an authentic Thanksgiving turkey in a box. This pavo asado al estilo Americano comes complete with mashed potatoes, gravy, cranberry sauce and even the lesser-known "chestnut purée". The meal takes about 30 minutes to prepare and it feeds 10.
If kitchen toil and trouble doesn't interest you, a few America-themed restaurants also sometimes serve a traditional Thanksgiving meal (think Hard Rock Café).
Then again, you don't necessarily need turkey and customary T-day trimmings to give thanks and have a great time with friends. In my opinion, there's nothing wrong with enjoying a Thanksgiving paella. You could celebrate with friends at a tapas bar, switching up timeless turkey traditions for savory Spanish classics.
Finally, some recommend forgetting all about your home traditions, insisting that a full immersion experience involves embracing the new cultural heritage that surrounds you and leaving home traditions back home. It's up to you. If you have a group of American friends, you'll probably at the very least consider doing something together on Thanksgiving. Some would say that if you're an American student in Spain and you have a group of American friends than you may not be getting the most out of your experience abroad, a valuable time for gaining personal insight into the local culture and practicing the language with new Spanish friends.
---
Keywords: thanksgiving in spain,americans in spain,american in spain,spain thanksgiving