Colombia's Barranquilla Carnival Festival
by John Bascombe on Thursday, February 27, 2014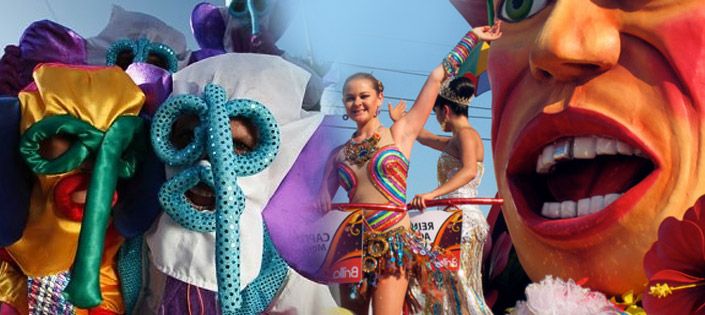 Anxious revelers in many parts of the world are gearing up to party at carnival festivals this weekend. It's a time when expressive excitement fills the electrically charged air, mingles with magical music, and inspires multitudes of merrymakers masquerading in multicolor costumes to move to lively rhythms. Every year, Colombia's Barranquilla carnaval attracts countless party goers eager to experience the vibrant celebration, where Caribbean cadences and cumbia accents accompany vibrant day festivities and sizzling nights.
Carnival celebrations in Colombia date back to at least the 17th century, a time when local authorities in political centers such as Bogotá and Cartagena were unimpressed by the unrestrained amusement of the masses. Although authorities in these cities quickly banned carnival festivities, the annual musical merriment would grow elsewhere in Colombia, in areas removed from the watchful eye of strict government officials. Vibrant carnival traditions have flourished ever since in areas such as the south western city of Pasto (celebrated in January), the western town of Riosucio (celebrated every other year and in January), and in the far north in the city of Barranquilla (celebrated the weekend before Ash Wednesday). UNESCO accredits both Pasto and Barranquilla's vivacious varieties of the event as Masterpieces of the Oral and Intangible Heritage of Humanity.  Short lived carnival customs in Bogotá appeared and disappeared in the 20th century, and today the country's capital has celebrated the event (in August) since 2005.
Barranquilla's carnival
In Barranquilla, the "battle of the flowers" takes center stage on Saturday, a parade that features carefully crafted carrozas (floats), troops of dancers decked out in striking costume, and the carnival queen herself tossing flowers amidst her grand court of princes and princesses; it's a salute to color and joy, where polychromatic glory and a wonderful medley of melodies invites participants and observers to indulge in the senses. The sensorial feast continues the following day with the great parade, when dance competitions will determine who gets to perform in the following year's battle of the flowers.
Other popular events at the carnival include a children's carnival, La Guacherna parade, the Fiesta de Danzas y Cumbias, the festival of orchestras, the fantasy parade, and special guest performances, this year by Juan Luis Guerra.
Festivities draw to a close on Tuesday (the day before Ash Wednesday) with the symbolic funeral of the fictitious personage Joselito. It's a seemingly solemn ceremony which reminds burial attendees that the yearly carnival fun has expired until next year, when Joselito will come to life again along with animated party action. Lent begins the following day, recalling the festival's religious origins.  
Barranquilla's carnival is a joyous celebration of life and diversity, where the area's Indigenous, African, and European cultural heritage is showcased in the form of vibrant expression. Everyone is welcome here, as attested by the fact that the event attracts an estimated 200,000 to half a million visitors each year.
---
Keywords: barranquilla,barranquilla colombia,colombian culture,colombian traditions,barranquilla carnival,colombian carnival,carnival colombia,festival colombia,fiesta colombia