Team Spain at the Winter Olympics
by John Bascombe on Thursday, February 13, 2014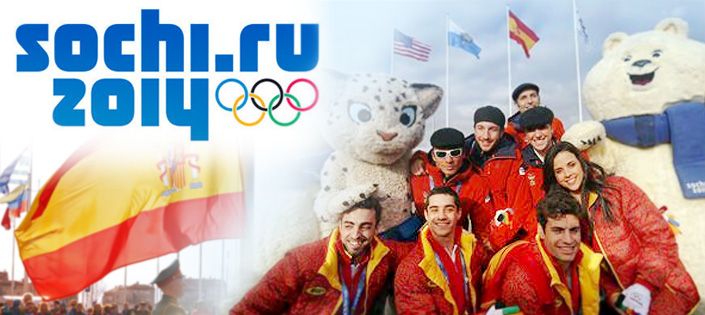 The 2014 winter Olympics are in full swing in Sochi, Russia, and team Spain is striving to ski, sled, skate, and snowboard their way to Olympic glory. The 20 athlete team is representing Spain in its 19th winter Olympic appearance since 1936, hoping to bulk up their country's winter games medal count. Spain has won only 2 medals in the history of the winter Olympics. Curiously, a bronze and a gold were won for Spain 20 years apart (1972-1992) by a brother-sister pair, both in slalom skiing.
Spanish Athletes in Sochi
Figure skater Javier Fernández appears to be Spain's biggest hope of winning a medal this year. The young Spaniard took home bronze from the 2011 Grand Prix Final in Quebec and he has the distinction of being the second skater from Europe to successfully perform 3 quads in a single program, in which he pulled off a spectacular salcho-toe loop jump combo.
Team Spain fans will also want to watch Spanish ice dancers Sara Hurtado and partner Adriá Díaz, who will also be competing. The pair have won 4 medals together at international level including a bronze at the Bavarian Open and a silver at the MNNT cup.
2 women are competing in half pipe competitions: Queralt Castellet (snow board) and Katia Griffiths (skiing). Castellet competed today and despite catching some major air, displaying impressive highflying on-board aerial artistry, a couple of untimely falls compromised her overall score.  
Ander Mirambell is going for the gold in the fast paced skeleton event, a high speed sledding competiton in which riders slide face down on an icy track enduring up to 5 g's of force. This fast sliding sport, often considered something of a stepping stone sport for bobsledding, has been included in the winter games since 2002. Mirambell also competed at the 2010 winter games in Vancouver, becoming the first Spaniard to participate in the skeleton event at the Olympics.   
Despite winning a bronze medal in the 2013 Biathlon World Championship, in Sochi, Victoria Padialt came in 52nd in the biathlon sprint event and 46th in pursuit. Olympic biathlete Victor Lobo finished the men's biathlon sprint event in 84th place.
Paul de la Cuesta, possibly the most ironically named athlete (the Spanish word "cuesta" means "slope") competing in the 2014 winter games, came in 28th in the downhill skiing event. He is still set to compete in the giant slalom event, where anxious Team Spain fans will be hoping he earns a surprise victory and a third slalom medal for Spain.
3 Spanish cross country skiers did not come very close to reaching medal range. Skiathlon competitor Laura Orgué cross country skied her way to 25th spot.
There is still plenty of Olympic action scheduled to take place and who knows, we could see some exciting surprises for Spain. The Olympic Games will go on until February 23rd.    
---
Keywords: spanish athletes,winter olympics,winter olympics 2014,olympic games,olympic games 2014,winter olympics sochi