Chinese Students Studying Spanish
by John Bascombe on Thursday, March 27, 2014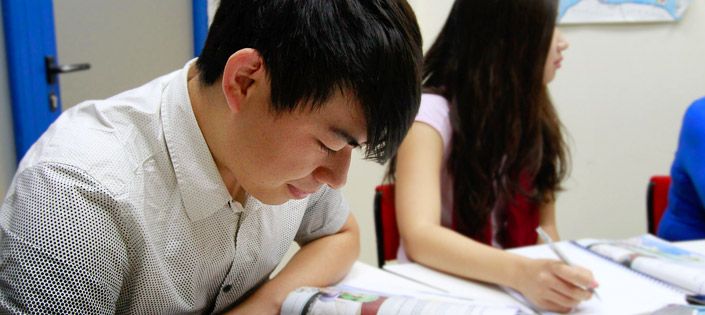 The following is largely a translated exerpt of an article that appeared this week in the online periodical El Confidencial:
They are 20 years old, they are Chinese and Spanish is their chosen profession. What brings these young people to move 10,000 kilometers away from home to learn a language that isn't even very popular in their country? The answer is in their ambition to find a good secure job with a generous salary.  Developing trade between China and Latin America represents a wealth of opportunity that young Chinese professionals are not willing to miss.
"A few years ago nobody studied Spanish in China, now it is becoming a really important asset to find a job" reflects Sung Rong, or Patricia, the western name that was assigned to her. Like most of her classmates, she has only studied Spanish for two years.  She comes from Dalian University of Foreign Languages, located in northeastern China near the border with North Korea. She speaks Spanish using the youthful slang words she has learned from her host family's son and assures that she feels really comfortable in this small provincial city and would like to return next September.
Wang Shuo, or Filomena as she is known by here, is Sung Rong's university classmate. Her motivation for studying here is more poetic: "The pronunciation in Spanish is pretty" she explains.  When she finishes, she wants to study Law in China and in Spain. Whan Zehao (Jaime) started to pursue the degree of Spanish in Changchung (northeastern China) without knowing much about it. "It is easier to get a good position if you study Spanish, Italian or Arabic. French and English are more popular languages".
Far from the economic situation: These 20 year olds have a bright future without limits and far from the pessimistic environment of their country. Rong wants to be an interpreter in Latin American, although her parents would prefer that she become a teacher. "I would definitely earn a lot of money in China".  Shuo wants to be a lawyer and Zehao a translator or to work in public relations.
Living with a host family: "My family in Spain" is the most repeated expression when describing their accommodation in Spain.  Some live with families on a full-board basis. "I have a really great relationship with them, they treat us like their kids", says Rong about her host-parents Teresa and Jon.   
With her real family thousands of miles away, Teresa and Jon, "her Spanish parents", are a great support. They are their primary contact with the language. "In my free time I watch television in Spanish and listen to Spanish music. I am very shy and I would like to get more involved and make friends", says Shuo. Zehao is the only one who participates in activities after class. "I go to the gym and the swimming pool. I would like to volunteer at the Red Cross but I barely have time because I study so much".
Where to study Spanish in Salamanca?
don Quijote offers Spanish courses for every level featuring grammar, conversation and culture classes perfect for improving every aspect of their Spanish skills.  With students from all over the globe, the school offers a completely international environment with the opportunity to make friends from around the world.
don Quijote can arrange accommodation in student residences, student apartments or host families depending on the needs and preferences of each student.
The city of Salamanca is famous for its beautiful Plaza Mayor, enchanting golden cobblestone streets and lively student atmosphere. The city has been drawing the attention of foreign students for many years and has become a leading destination for learning Spanish.
---
Keywords: study spanish,learning spanish,jobs in china,spanish speaking jobs,studying spanish