Registration for the 2014 DELE Exam is Now Open
by John Bascombe on Thursday, March 6, 2014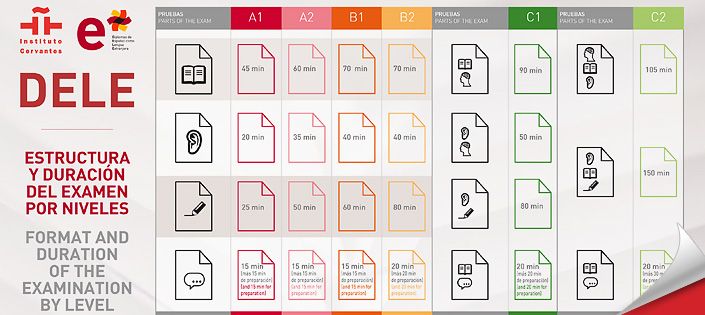 The Official Spanish Proficiency Exam
The DELE exam has seen some recent changes. Its formatting is different and this year it's being offered for the first time during 5 different examining periods (instead of only 3). Registration is now open for all five periods. Check out this handy DELE infograph and get all the details on when you can take the exam and how long each exam section lasts for all 6 of the levels that candidates can choose to take. The different sections are designed to test different language skills including reading and listening comprehension and oral and written expression.  
Job / scholarship seekers take note
The DELE certificate officially confirms your level of Spanish to employers and scholarship committees. Self-evaluation of your language skills may not prove very convincing to hiring managers swamped by mountains of resumés from job candidates who have greatly exaggerated their foreign language abilities. You know how well you can speak, but they don't. A DELE diploma certifies your level and clears all possible doubt of overstated language claims. The Cervantes Institute administers the exam, an institution responsible for promoting the Spanish language around the world and one that takes great pride in the language itself; certification from them is solid confirmation of how well you know Spanish.
The certificate is recognized around the world and it never expires.
Students may also need official confirmation of this type to be eligible to study in certain programs at universities in Spain and other countries.  
Which of the 6 levels should you go for?
It's important to sign up for the right level. You will take the exam at the level that you've signed up for and if you pass, you'll be given a certificate that shows you passed it at that level. 
Anyone from a "breakthrough level" A1 learner to a mastery level C2 speaker may take the exam to earn their own DELE certificate. Keep in mind however that not all levels are offered during every examining period.
Levels adhere to the Common European Framework of Reference for Languages. You can find more information on each of the 6 different levels on www.dele.org.
Students looking to fulfill specific requirements will likely be most interested in signing up for the minimum level required by their program, thus improving their chances of passing. Those looking to enhance their resumé should of course take the highest level they realistically think they can pass.  
Where can you take the test?
There are 850 examination centers located in 100 countries. Take a look here for more information on the closest center to you.
Are there classes available that are specifically designed to help candidates pass?
Yes. In fact a DELE preparation course is highly recommended for anyone planning on taking the exam. In these classes, teachers work closely with students to prepare them to successfully pass the exam.
Remember to stay positive when you go in to take your test.
Good luck!  
---
Keywords: dele,spanish proficiency test,exam in spanish,spanish proficiency exam,spanish exam,dele exam