Top 10 Movie Locations in Spain
by John Bascombe on Thursday, July 03, 2014

Spanish Locations
Today, Spain is a country that is very popular with film director and producers. Thanks to the excellent combination of a diverse geography, excellent infrastructure and cheaper filming costs means that you have probably seen more of Spain than you may have imagined. The arrival of the international productions really began in the 50's when David Lean discovered the deserts of Almería when he shot Lawrence of Arabia. In this list, let's see if you recognize any of these Spanish locations.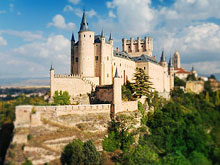 1. Alcazar de Segovia
This is not the most filmed location in Spain but it is something we see almost daily (especially if you have kids) or at least we see its influence. First mentioned in 1120, this castle was built atop an Arab fort and was used as the home of King Alfonso VIII at the end of the 12th century. The castle we know today was finished in the mid 13th century under the reign of Alfonso X of Castile. The Castle's most important moment was when Isabel's brother, King Enrique IV, died. There was a struggle between her and her niece, Juana la Beltraneja, for succession to the throne and Isabel took refuge in the castle and later proclaimed herself queen. A bloody 5-year war with Portugal would ensue and the rest is history. So where does the movie fit in? Simply, this castle was one of Walt Disney's inspirations for Sleeping Cinderella's castle. Whenever you visit  Disneyland or watch a Disney movie, keep an eye out for the castle and you'll see a little bit of Segovia every time.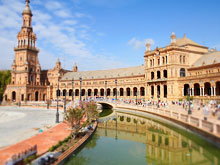 2. Plaza de España, Seville
Located in the beautiful urban Maria Luisa Park in Seville, the Plaza de España is a magnet for tourist and Sevillanos alike. Constructed in 1928 for the Ibero-American Exposition World's Fair, this Renaissance Revival landmark was used to house Spain's industrial and technological exhibits. Around the Plaza you will find tile walled alcoves along the building and within each one is a representation of the provinces of Spain. There is also an artificial river that borders the plaza where you can rent a boat and have a unique visit of this historic plaza. There have been so many films shot here it is difficult to single on out, but the one that stands out for me is from my least favorite Star Wars movie, Star Wars Episode I: The Phantom Menace. Here there are various scenes shot where the Plaza de España is Naboo. It also reappears in Episode II. Another memorable appearance is in David Lean's Lawrence of Arabia.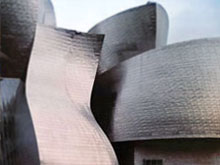 3. The Guggenheim, Bilbao
One the most iconic buildings in Spain, the Guggenheim opened its doors in 1997. The opening of this building was the defining moment in the history of Bilbao since it signaled the rebirth of a city that was hit by a depressed economy along with a waterfront that would have made Detroit seem like Paris. Largely considered the most important architectural work since 1981, the Guggenheim rose up out of the rust and decay like a phoenix, transforming Bilbao into an economic motor and cultural showcase for all of Spain. In Brosnan's third Bond movie, The World is Not Enough, the opening segment is shot in Bilbao and around the Guggenheim museum. Although it isn't a movie, Mariah Carey's video "Sweetheart" was shot her too.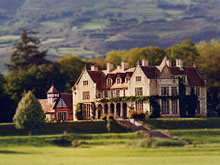 4. Palacio de los Hornillos, Santander
An estate hidden in the fog on the island of Jersey is the center for the mysterious happenings to Nicole Kidman and her family in the blockbuster movie The Others. This estate, which is not located on any island, is actually located close to a major highway that connects the northern city of Santander with Madrid. This palace is located on a 148 acre (60ha) estate 30 miles south of the stately city of Santander—and was once the retreat of Spanish royalty. Today the palace remains in private hands owned by the Duke of San Carlos. If you'd like to visit, you'll have to be invited to a wedding—or getting married yourself— or rent it out as a B&B the next time you're here negotiating the purchase of a small country.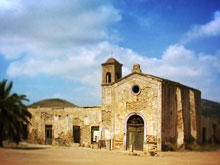 5. El Cortijo del Fraile, Almería
What looks like a Spanish Mission is actually a farmhouse located in the desolate Cabo de Gata Natural Park near Almería. Built in the 18th century by Dominican Friars (Fraile in Spanish), this farmhouse was the epicenter of a spectacular crime known as the Crimen de Nijar (Crime in Nijar) which would captivate an entire country in 1928. The story of this crime is retold in the movies Bodas de Sangre (Blood Wedding) based on the Federico Garcia Lorca play. This building was home to another criminal figure. Do you remember "El Indio"? This is the character brought to life by Italian actor Gian Maria Volonté in the movie For a Few Dollars More, the second in Leone's "Dollars Trilogy". In the movie the Friars Farmhouse is used as El Indio's old mission hideout.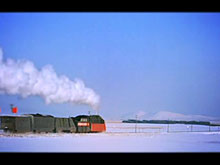 6. Candilichera, Soria
Soria is a foreign land even for Spaniards! Like Almería, this is a part of Spain that largely goes ignored but unlike Almeria, Soria is only a little more than an hour from Madrid. Located on the Spanish Meseta, this province has arctic-like winters and hellish summers. Given these circumstances, David Lean must have thought he was in Pre-Revolution Russia  when he chose Soria to recreate the Russian Steppes of Doctor Zhivago. The little town of Candilichera (pop. 204) would be the location for Yuri's country dacha where he, Tonya and Sasha escaped to when Moscow became too dangerous. It is also here were Yuri would have an affair with Lara in nearby Yuriatan. Like much of the movie, Yuri and his family would stay here until the revolution would come between them…again.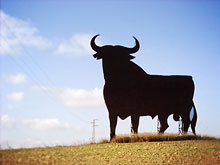 7. Osborne Fighting Bull, Candasnos, Huesca
The Osborne bull is a billboard that you can find along highways all over Spain. These 50 ft. (14 m.) tall billboards which are nothing more than a silhouette of a fighting bull were first put up in 1958. Today, of the many that existed there now remain 91 and can be found in almost every part of the country. Since 1994 the bulls have been considered an "aesthetic and cultural" icon and have been permitted to stay in place along the highway even though the law prohibits roadside advertising. If you remember Javier Bardem and Penelope Cruz in their breakthrough movie Jamon, Jamon, you will remember the bull as the place where the characters in the movie go to escape, seduce and…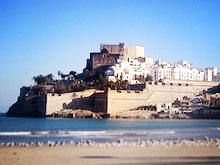 8. Castillo Papa Luna, Peñiscola
Peñiscola today is a great beach town frequented primarily by Spaniards. Its blue flag public beach is considered one of the most tranquil and family friendly beaches on the Valencian coast. What tourist and movie people have noticed about Peñiscola is its imposing castle that lies atop a rock outcrop surrounded by the sea. Constructed by the Knights Templar on the ruins of a Moorish Alcazaba at the start of the 14th century, It's most famous resident was the antipope Benedict XIII, or the Papa Luna in Spanish. This castle served as the backdrop for Charlton Heston in his classic 1961 movie El Cid. In the movie, Peñiscola and its castle were used to portray 11th century Valencia.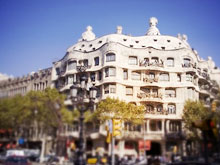 9. Passeig de Gracia, Barcelona
Considered the most expensive street in Barcelona, this thoroughfare houses buildings designed by Gaudí like the Casa Batlló and Casa Milà. You will know this street for its appearance in Woody Allen's 2008 movie, Vicky Cristina Barcelona. In one scene, you will notice Vicky and Cristina walking among the human shaped chimneys located atop the Casa Milà. This building is open to the public along with access to the rooftop which was also used in the Jack Nicholson movie The Passenger. For the visitor to Barcelona this street is as obligatory a stop as the Champs-Élysées is in Paris.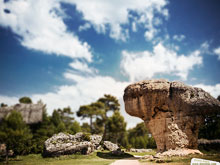 10. La Ciudad Encantada, Cuenca
This park is home to some amazingly weird rock formations nestled in a pine forest in the Sierra de Cuenca, 2 hours east of Madrid. Here some of the most memorable scenes from Conan the Barbarian were filmed for this fantasy about an orphaned slave turned warrior. Today the Enchanted City is a popular destination for fans of Arnold and Conan. Because it is on private property, you can visit after paying a 3€ entrance fee.
---
Keywords: vicky christina barcelona,movie locations,spanish cinema,movie location,osborne bull,spanish locations,locations in spain