Beautiful Beaches in Spain
by John Bascombe on Wednesday, July 16, 2014

10 Beautiful Beaches and Cozy Coves in Spain
July is the perfect month to hit the beach and cool off in the water. Join us and explore some of Spain's lesser-known beach paradises.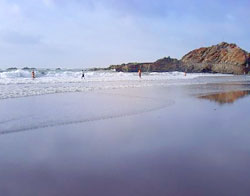 1. Roque de las Bodegas, Tenerife
Pass the peaks of the northern Tenerife, cross the Anaga Masif, and discover the town of Taganana tucked within island foothills. Then, follow the coast and prepare to indulge in a refreshing gem of a cove right next to Roque de las Bodegas. Slip your bare feet into the fine warm sand along inviting waters that are usually calm enough for kids to safely enjoy a splash. Three beach bars serve up fresh, local seafood –usually caught the very same day. Locally made cheese and wine also offer visitors a toothsome taste of island flavors.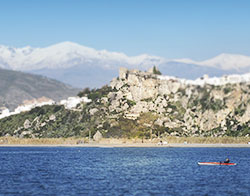 2. Cala del Pargo, Granada
With its white washed buildings huddled on a small hilltop, the charming town of Salobreña appears not unlike an enormous cream pie perched upon Granada's Costa Tropical. Nearby, find quaint and decidedly fantastic beaches and coves such as Cala del Pargo, which can only be reached by foot, as it's divided in half by a big rock. Moderate waves and crystalline waters beckon bathers to beat the heat by plunging into the Mediterranean.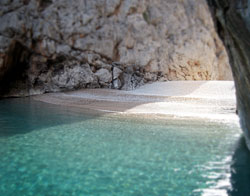 3. Cala de Torrent de Pareis, Mallorca
The name Mallorca often conjures visions of countless beach goers cramming onto crowded coastlines, but this popular island destination still has secret and stunning seaside settings secluded from the throngs of holiday makers that have made the island famous. Hidden within jagged crags of shoreline rock stacks that soar up to 650ft (200m) over the water, little-known coves await adventurous visitors in the know. The Cala de Torrent de Pareis on the Tramuntana coast is particularly noteworthy. 200 meter high rocky bluffs fortify this ideal setting for relaxing and loving life. Getting there by foot gets tricky though, you may want to go by boat from the port of Sóller.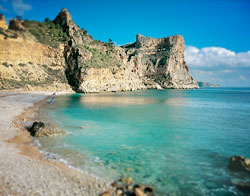 4. Cala del Moraig, Alicante
Perhaps you crave a more rugged cove with easier access – then head to the Alicante coast and make your way to Cala del Moraig, where high cliff sides rise around a superb sandy beach retreat kissed by clear water and sweet sunshine. Look for the Cova dels Arcs, the mouth of an underground river that empties into the sea from a rocky cavern; a unique spot for divers to explore.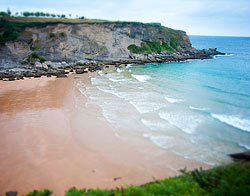 5. Mataleñas, Santander
When summertime temperatures kick into high gear, Spain's north coast heats up and offers some perfect hot spots for chilling on scenic beaches surrounded by mountain landscapes. We're talking about places like Mataleñas, near the capital of Santander, Cantabria, where a half moon shaped beach is home to fine white sand and a peaceful atmosphere. To get to this beach that's popular with families in search of calm seascapes, you have to take stairs that make the walk a little easier.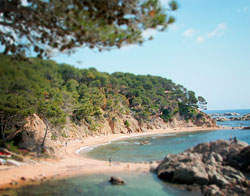 6. Cala de l'Estreta, Barcelona
The sun toasted golden sands of Cala de l'Estreta lie north of Barcelona  in Palamós. It's a bit off the beaten path and requires an easy hike, so you won't find any services here, but its isolation has preserved a quiet virgin beach that's ideal for relaxing in the sun. You don't need your swimsuit either –fully exposed nudists soak up the sun here in their birthday suits.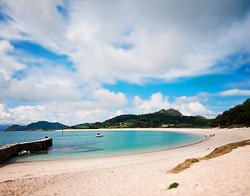 7. Playa de Rodas, Islas Cíes, Vigo
The Cies Islands are located at the entrance of northwestern Spain's Ría de Vigo, where fresh Atlantic waters embrace a lush island sanctuary of vegetation and wildlife. The Guardian calls Playa de Rodas the best beach in the world. Although it's just off the coast Galicia, the exuberant landscape recalls Caribbean scenery.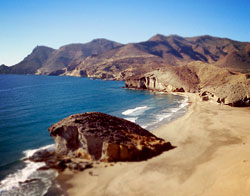 8. Playa de Monsul, Cabo de Gata
Just beyond Tabernas desert, which famously back-dropped countless spaghetti westerns, lies the Cabo de Gata nature park. This oasis of nature with rich flora and fauna nestled within residential communities and greenhouse agriculture conceals a little-known beach they call Playa de Monsul, a wonderful little spot for a little fun in the sun. Bask in the sun, savor local cuisine, and plunge into refreshing water, but remember to bring your goggles; this place has some of the Mediterranean's most spectacular seafloors.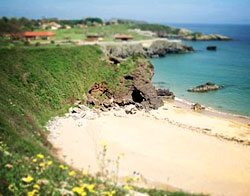 9. Playa de Carranques, Asturias
Near the village of Candás, just a quick 10 kilometers west of Xixón, is Playa de Carranques, also known as Playa de Perlora after a now defunct private community that was constructed here. When the tide comes in, a rock formation splits this laid back beach into a pair of pleasant coves that remain joined beneath the surface of the sea. Take a hike along the surrounding trails and behold the fantastic scenery of northern Spain.
10. Playa del Palmar, Cádiz
We wrap up our tour of Spain's hidden paradises in Playa del Palmar near the town of Vejer de la Frontera in Cádiz. Grab your board and hit the waves; this is a tubular haven for surfers, windsurfers, kitesurfers and bodyboarders. This placid playa near traditional pueblos blancos stands in pleasant contrast to its internationally known neighbor Tarifa.
---
Keywords: beaches in spain,best beaches in spain,beachin the world,spanish beaches,beach in spain,best beaches spain,beaches spain,spain's beaches,beautiful beaches in spain