Rooftops As Cultural Spaces in Spain
by John Bascombe on Thursday, January 29, 2015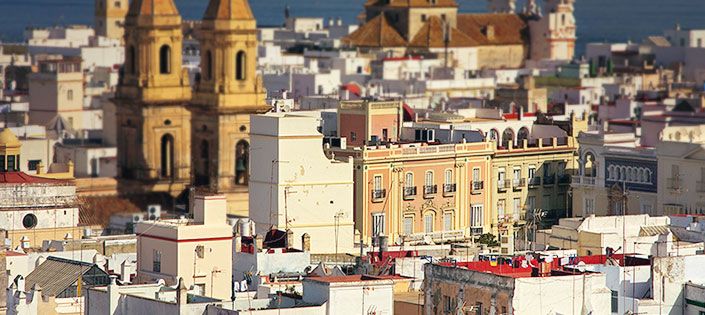 The rooftops of buildings in Spain, as elsewhere, are generally not used for much beyond accommodating satellite dishes and laundry lines. But in urban areas where attractive event space gets spendy and space itself is limited, some groups and communities have begun to rethink the usefulness of rooftops, particularly in the warm southern Andalusia region, where outdoor activity season extends much longer than in the north.
Enter Redetejas, a non-profit group on a mission to convert unused, forgotten rooftop spaces into exciting venues for cultural events. The group's work has inspired Spanish urbanites in Córdoba, Seville, and Huelva to head upstairs and participate in everything from musical performances to magic shows and yoga demonstrations, all under the stars or under the clouds.
The company bills itself as the first citizen's network of micro-spaces on private rooftops. The website goes on to explain that the rooftop project is licensed under Creative Commons, in other words anyone can copy, modify and improve Redetejas as long as they respect copyright rules. Any group wishing to participate is free to do so and they don't have to pay anything, they just have to follow the project manuals.
Becoming a participant is pretty straightforward and you can do it as a guest, an event organizer, a host, or as an artist. The idea is that hosts offer the rooftop of their building to organizers who invite guests to enjoy artists' performances. 
The manual points out that activities must be cultural in nature, and that it is legal to hold rooftop events although you must respect the neighbors and established limits in terms of noise, capacity, and safety. If you organize an event, you have to let neighbors know what you're doing in advance and provide them with details including the times you're planning on beginning and ending the function. The manual also reminds organizers that Redetejas is a non-profit group but they can charge guests a voluntary door fee to cover the expenses of their event.
Raise the Roof
Some observers voice concerns over the safety of crowds of event-goers pouring onto rooftops in places where buildings are commonly pretty old. Others wonder if noise from evening events will bother neighbors, even if they are warned in advance. A yoga demo for example might not be a problem, and light jazz might not be too annoying if you're a neighbor, unless you hate jazz, and you're trying to sleep. But what about an intimate rooftop heavy metal concert? A mini head bangers' ball in full swing on your own rooftop or the next door neighbor's would certainly affect your evening. What about professional wrestling; is that "cultural in nature". I don't see how you could prove that it's not. Of course I'm just speaking hypothetical here, I doubt a rooftop American style smackdown event has been proposed, but it all leaves neighbors wondering if their sleep habits will be compromised.
The rules also recommend that events don't go later than midnight. That seems kind of late, especially if you live next door. The rules go on to mention that participants don't have to follow the recommendations to the letter.
Despite the concerns, it's hard not to encourage the project, which has communities gathering together to collectively gain cultural insight. According to the group, 90% of people polled would like to use their rooftops but weren't doing so.
The events sound like a lot of fun, and a great (and economic) way for study abroad students in Spain to gain first hand insight into an exciting variety of cultural activities. The rooftop venues are often smaller and more intimate than traditional spaces, meaning they could be great places to make new friends and to practice your Spanish.
Remember, if you want to get involved you can find more information at Redetejas.org.
---
Keywords: spanish culture,activities in spain,events in spain,buildings in spain,spain cultural activities,spain cultural events