The Erasmus Student Exchange Program
by John Bascombe on Thursday, January 8, 2015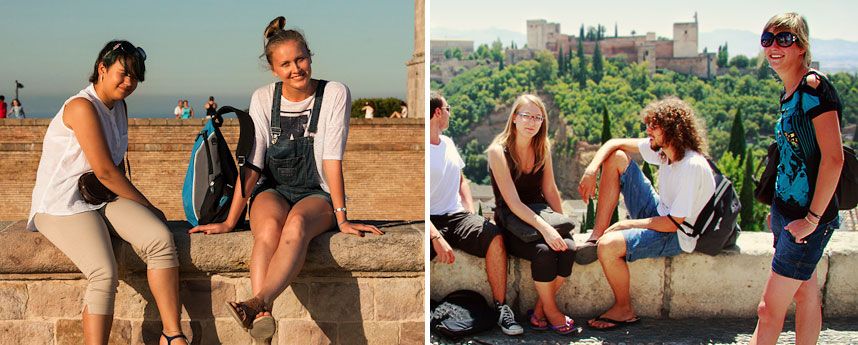 The concept of the Erasmus program has been known in the sphere of higher education for many years now and it is still gaining in popularity around Europe. Since its establishment in 1987 millions of students have participated in the program, obtaining invaluable experiences and memories from their time spent abroad.
What is Erasmus?
The Erasmus program was established as an exchange program for students and university staff in the European Union. It is named after the Dutch philosopher Desiderius Erasmus who himself lived and worked in several European countries. The main objectives of the program are to promote student mobility in Europe and to create a stronger bond between nations. Some academics even believe that the future leaders of Europe will be former Erasmus students, which hopefully will create a better sense of community within the Union.  As from 2014, the program is called Erasmus+ and now also includes high school students.
Study Exchange
Students are allowed to go abroad for studies for a period of 3-12 months per study level (bachelor, master, etc.). While abroad you study on similar terms as the native students. You have the right to get full recognition for the courses passed successfully as long as they follow the syllabus of your education at home. To assure this, your home institution has to approve the courses you are planning to take abroad. Moreover, as a participant of the Erasmus program you are justified to Erasmus funding, a grant that is sufficient for covering part of the extra costs of being abroad. The amount differs depending on the country and the length of the exchange, but according to statistics from the European Commission the average grant is € 275 per month.
Internship Exchange
When going on an internship students are allowed to go for a minimum of 2 months to a maximum of 12 months per study level. It is in some cases possible to get the internship recognized by your home university; normally it needs to be relevant to your education to get recognized. If this fails you have the right to have it mentioned in your Diploma Supplement. Students participating in the internship Erasmus program also receive a grant of an amount depending on the country and length of the internship. The average amount is the same as for studies.
How to Apply?
To be able to apply you need to be a student enrolled at a university in one of the 33 countries open for the Erasmus program. Students are only allowed to go to universities that their home university has collaborations with. Therefore applications are always handled by the student's home university. Visas are only needed when taking a full year abroad, and you never have to pay any tuition fees when going on an exchange with the Erasmus program. Also there is extra support available for physically disabled students through the Erasmus program. For questions and applications, contact your institution or find more information here.
The "Erasmus Experience"
"Going on an Erasmus exchange is the best thing you will ever do" seems to be what most Erasmus students tell other students after coming back from their exchange. The aim of the Erasmus program is to get students out of their home countries to learn more about their neighboring countries, and it seems like it is working. Lots of former Erasmus students share their stories in different social media and most appear to be very happy with their time abroad. Students claim to have learned so much about their host country that they didn't know before and they are very happy that they went. Some students have always had an Erasmus exchange in mind, others went spontaneously or almost reluctantly, but they all seem to be glad over the fact that they decided to go, and encourage other students to go as well. The stories are endless, but similar.
More than anything, the students seem to have learned a lot about themselves and they've gained more confidence and independence. For many it is the first time leaving the family home and being abroad. Of course it is scary at first, the thought of going someplace new completely on your own, however, former Erasmus students assure that you will find new friends quickly and there are always activities to join. In fact, Erasmus students seem to have so much fun during their time abroad that there is actually talk about a post-Erasmus stress syndrome, due to students inability to readapt themselves to the "normal  life" back home.
The Erasmus Impact Study published by the European Commission offers positive news. It claims that more than 25% of students that have taken part in the Erasmus Program over the years met their long-term partner during the exchange, which has resulted in over a million babies being produced. Also, around 40% of former Erasmus students now live and work abroad. The experience of having lived abroad is something employers value when hiring, which give those with an Erasmus exchange on their résumé a much better competitiveness in the job market. Therefore, the Erasmus program is a perfect starting point both for those who wish to have an international career or even a career in their native country.
Erasmus in Spain
Spain is the country most Erasmus students choose for their exchange. It is closely followed by Germany and France. Spain is also the country that sends most students abroad on an Erasmus exchange.  Granada is the city with the most popular Spanish university for Erasmus students, but also Madrid, Barcelona, Valencia and Salamanca have high positions on the list of the most popular cities for Erasmus exchanges. The language might be one significant factor to Spain's popularity, the culture another. Spanish is the second largest language in the world in terms of native speakers, and its importance seems to continue to grow in the future. Many see Spain as an exotic place, with its unique cultural heritage that includes traditions such as flamenco, bullfighting, and exquisite food.  The weather must also be seen as an important factor for Erasmus students, and the most popular Spanish cities cited above support this claim, since all but Madrid are located in the southern and eastern parts of the country.
Erasmus Benefits
The general opinion about the Erasmus program is very optimistic, it is difficult to come across stories of unsatisfied Erasmus students. For many the experience appears to be one of the best and most valuable of their lives so far. Students gain confidence and independence by going to a new country on their own, as well as acquiring language skills, an understanding of different cultures than their own  and getting to know new life long friends.
In times of economic difficulties throughout Europe, the Erasmus program also offers European students a possibility to gain skills and experiences invaluable for future employability and mobility, to be able to have successful careers.
---
Keywords: erasmus,desiderius erasmus,erasmus university,erasmus program,erasmus+