Visit Spanish Landmarks Virtually
by John Bascombe on Thursday, February 12, 2015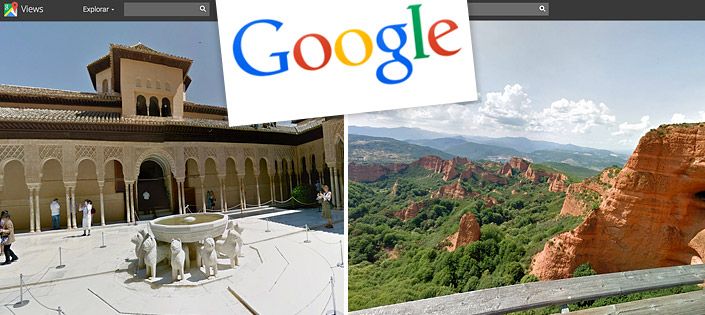 Internet giant Google is always up to something. Sometimes it takes the form of something not very useful or, possibly, ahead of its time (think Google Glass) but there are other things that are infinitely helpful, like Google Maps and its associated Street View. Back in the day, we had to use Thomas Guides (if you lived on the west coast of the U.S.) at home and Michelin maps when traveling abroad—two costly, but necessary tools for finding your way in strange places. But Google changed all of that, with street maps for just about anywhere and point to point driving directions that you could print out in the pre-smartphone days. Later, Google took things further with Street View. With this add-on to Maps, you could now SEE the address and visualize your destination.  With all of Western Europe, most of North America, and almost all of South America and Australia uploaded and ready for yo to use, you can travel virtually to just about any place in the world. But in Spain, Google has gone a step further—with Street View, you can now "walk" through some of Spain's most emblematic landmarks such as the Alhambra and Gaudi's Sagrada Familia in Barcelona.
Google Maps began as an Australian startup project headed by two Danish brothers, Lars and Jens Elistrup Rasmussen and in 2004, Google acquired the company and its star product. Maps was launched to the world in February of 2005 and became widely available in October of that year. From then on more locations and features were added like real-time traffic, public transportation routes and the incorporation of satellite images. As features increased and usability improved, more people began to rely on this tool than the old paper maps.
In 2007, Google launched Street View which now enabled users to see street level images of the places that before were just points on a map. Impressively, people could now view and image of where they were going, detect landmarks and make traveling to new destinations more predictable. Available as a mobile app since 2005, Maps has benefitted from the explosion in growth of smartphones and along with the incorporation of point to point navigation capabilities since 2009; it has become a vital app for most people in their everyday life. In fact, today Google Maps is the world's most popular Smartphone application with over half of the world's smartphones accessing it on any given day.
In October of 2008, Google launched Street View in Spain with coverage primarily limited to the largest cities. Little by little coverage has expanded to cover almost all of the streets in Spain. Today you can breeze through the streets of Salamanca, Madrid, Barcelona, Granada, Seville, Tenerife, Alicante, Cádiz and Valencia without any problem and explore what once you could only read about in guide books.
 In certain places around the world, Google has delved deeper into local destinations offering greater detail of places of universal interest or current events. For example, Google offers street view of the stadiums of the 2014 World Cup in Brazil, the Pyramids of Giza and the Grand Canyon. Normally Google uses a car to capture the images that we see but they have also use people trekking, camels, carts, tricycles and underwater rigs (for the Great Barrier Reef among other places).
This past December, Google incorporated into its Street View library 50 new Spanish monuments that you can explore from your computer or mobile device. (See the full list below) Now you can see the interior of places like the Cathedral of León, considered to be the best example of the use of stained glass outside of France and comparable to that of Chartres. This cathedral is also considered by many to be the most beautiful cathedral in all of Spain. There is also the Alhambra which you can walk through and admire its amazing craftsmanship and design.
There are also natural areas like remains of a mountain that is Las Medulas in León, once the most important gold mine of the Roman Empire.  Traverse the Roman aqueduct de les Ferreres or hike through the barren moonscape of the Bardenas Reales in Navarre. You will be amazed at the incredible wealth of natural and historic landmarks that dot this country the size of California.
Google has created an application that has made the world smaller and more accessible to everyone, but this doesn't mean that this app hasn't been free of controversy. There have been privacy issues raised with the illegal collection of Wi-Fi data along with where and how images are captured—in Switzerland and Japan Google has had to lower the height of its cameras to avoid taking pictures of private yards and they have even ceased to take street pictures in Germany since 2011 due to government resistance. One of the greatest criticisms of Google is that they put innovation ahead of everything else—including your privacy. In 2013, Google settled an American court case related the capture of personal Wi-Fi data using the Google Maps car and this has made this Silicon Valley giant become more sensitive to privacy concerns and they have since put controls in place to prevent privacy breaches in the future.  
Even though Google makes a ton of money, it is nice to know that they don't make a whole lot with Street View and Maps. This is a service that is used to create loyalty to the Google brand and, possibly, down the road there will be opportunities for them to make money through ads and custom map content. But today we are able to benefit from a product—more specifically a part of the product—that this company is willing to invest a large amount of resources in with a cultural purpose: a purpose that gives you the possibility to explore the world's treasures in a way that was impossible before.
Here are the 50 newest architectural and geographic treasures of Spain available in Street View:
 La Alhambra y el Generalife
Pueblo fortificado de Albarracín
Pueblo fortificado de Galisteo
Circuito de la Comunidad Valenciana Ricardo Tormo
Muralla Romana de Lugo
Monasterio de Yuso
Monasterio de Suso
Catedral de Pamplona
Parlamento de Cataluña
Castillo de Montsoriu
Catedral de León
Las Médulas de León
Parque Arqueológico de Atapuerca
Yacimientos de la Sierra de Atapuerca
Bardenas Reales
Torre de Hércules
Real Jardín Botánico CSIC
Universidad de Vigo
Catedral de Sevilla
Templo Expiatorio de la Sagrada Familia
Santuario Santa María Magdalena
Castillo de Petrer
Plaza de Toros de Vista Alegre
Castillo de Banyeres de Mariola
Cantera del Médol
Acueducto de les Ferreres
Pueblo fortificado de Palazuelos
Muralla de Ávila
Castillo de la Mola
Estadio de Balaídos (RC Celta Vigo)
Biblioteca de Cataluña
Ateneo Barcelonés
Facultad de Filología y Matemáticas (Universidad de Barcelona)
Facultad de Medicina (Universidad de Barcelona)
Castillo de Peñíscola
Congreso de los Diputados
Palacio de la Heures (Universidad de Barcelona)
Finca Pedro Pons (Universidad de Barcelona)
Santa Maria del Mar
Pabellones Gaudí (Universidad de Barcelona)
Hospital de Sant Pau
Real Monasterio de Santa María de Poblet
Castillo de Miravet
Monasterio de Sant Pere de Galligants, Mona
Castillo Monasterio de Escornalbou
Real Monasterio de Santes Creus
Abadía de Montserrat
Parque Minero de Almadén
Museo de Historia de Cataluña
Monasterio Sant Pere de Rodes
---
Keywords: spain landmarks,famous places in spain,landmarks in spain,visiting spain,famous landmarks in spain,monuments in spain,famous buildings in spain,spanish monuments