The Borja Painting: Pennies from Heaven?
by John Bascombe on Tuesday, January 20, 2015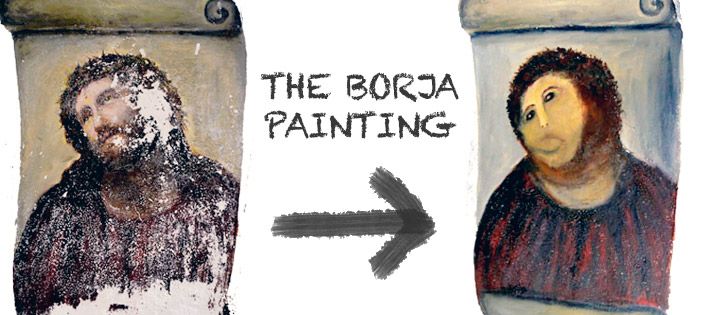 Versión española abajo
A small town story of a botched albeit well-meaning attempt to restore a small historic painting unexpectedly went viral back in 2012, inspiring an international flurry of memes, tweets, comedy sketches and even an opera. Today, over two years after the episode occurred, some 150,000 tourists have flocked to observe the painting, paying €1 a piece to check out the curious cultural phenomenon in person. 
Here's a quick recap of the famous restore fail:
2012
A small 1930's era fresco painting in a church in the small Spanish town of Borja (pop. 5,000) starts to peel. The painting features a rather lifelike image of Jesus wearing a crown of thorns and a burgundy tunic. In August, local resident and amateur painter Cecilia Giménez makes an unskilled attempt to restore the painting without permission, leaving a crude and decidedly un-photorealistic image in its place. The surprisingly unsatisfactory restoration, bungled beyond recognition, quickly becomes an internet sensation. Cecilia is lampooned and scorned to shame on the internet and in the media. The first tourists begin arriving to view the painting.
2013
Bodegas Ruberte announces new special edition wine "Cecilia Giménez"
2014
Two years after Cecilia's intriguing restoration, 130,000 people had visited the painting, that's some 2,000 per month. A full-fledged fiesta celebrating the 2nd anniversary of the restoration is thrown in the sanctuary surrounding the church, which surrounds the painting. Cecilia announces that she's "very happy, everyone supports me…"
A Blessing in Disguise
And so it seems that Cecilia Giménez, the seemingly naïve 80 something amateur restorer of fine arts has unwittingly generated incredible tourist interest in her work and in the town of Borja itself as the curious flock to the  previously off-the-radar destination. Amused visitors who've made the journey make their way into the church that houses the work where they anxiously await, on the verge of uncontrollable giggle attacks, their coveted first-person peeks at the undeniably funny restore. A strategically positioned donation container reminds observers that the town of Borja is silently laughing too; all the way to the bank.
It's really impossible to know if Cecilia's fantastically clumsy work was indeed a fantastic master stroke carefully designed to prompt the shower of "pennies from heaven" over the village. She insists that she made the repaint attempt "with very good intention" asking for forgiveness if she's sinned by painting over the masterwork.
Conan O'Brian included a sketch about Cecilia's restoration on his show. The New York Times published an article about the story last December.
Wikipedia lists the "Hedgehog-like figure of Jesus" renovation as one of the town's main sights, along with a Baroque convent and an 18th century temple. 
My first concern when I heard about the financial and popular success of the phenomenon was the possibility of copycat towns looking to cash in by artistically ruining their own historic pieces of art. I haven't heard of that happening, but in an unrelated side note, it does kind of remind me of a 2011 story of the mayor of the Turkish town of Batman who announced plans to sue Warner Bros. for using the name of his town without permission, asserting that "there is only one batman in the world".
A little soul searching and a curious question of values may float in the air for observers considering attempting to prompt their own shower of pennies from heaven: how valuable is art? For many, destroying a small and obscure piece of art may seem like a small price to pay in exchange for converting their town into a profitable tourist trap during difficult economic times. Who knows, maybe people have even tried but have failed to be successful with their purposely failed restoration attempts.
Another question the story raises is how we value art. Many professional painters who've dedicated their lives to mastering their craft dream of attracting the amount of people and generating the amount of excitement that Cecilia Gimenez's unskilled restoration has.
 For now, as always, many people will continue dreaming of being successful, or dreaming up ways to be successful. Hopefully they'll do it "with very good intention".
La pintura del Cristo de Borja. ¿Dinero caído del cielo?
Una pequeña historia ocurrida en un pueblo que trata sobre la restauración de una pintura mural que acabó en una gran chapuza y que adquirió dimensiones virales allá por el 2012. Eso sí, se hizo con la mejor de las intenciones. Provocó un aluvión internacional de memes y tuiteos en la red, inspiró parodias humorísticas e incluso una ópera. Hoy, dos años después del episodio, se han dejado caer por allí unos 150.000 turistas para observar la pintura, pagando 1€ por persona y conociendo de primera mano este curioso fenómeno cultural.
He aquí un pequeño resumen sobre la sonada y fallida restauración:
2012
Comienza a deteriorarse una pequeña pintura al fresco de los años 30 en una iglesia de la pequeña localidad española  de Borja (con una población de unos 5.000 habitantes). La pintura muestra una imagen realista de Jesús con una corona de espinas y una túnica de color rojo burdeos. En agosto, Cecilia Giménez, una vecina de la localidad y aficionada a la pintura, acomete sin permiso un intento desafortunado de restauración de la pintura, convirtiéndola en una imagen basta y en absoluto realista. La sorprendente y fallida restauración, que transforma la pintura del Cristo en algo irreconocible, causa rápidamente una gran sensación en Internet. Se satiriza y critica a Cecilia en Internet y en todos los medios. Empiezan a llegar los primeros turistas para ver la pintura del Cristo de Borja.
2013
Bodegas Ruberte anuncia una edición especial de vino "Cecilia Giménez".
2014
Dos años después de la curiosa restauración de Cecilia, ya son 130.000 personas las que han visitado este lugar para ver la pintura, lo que viene a ser unas 2.000 personas al mes. Se organiza una fiesta en toda regla para la conmemoración del segundo aniversario de la restauración en el santuario y los alrededores de la iglesia que custodia la pintura del Cristo de Borja. Cecilia declara que está muy contenta y que todos la apoyan…
Suerte en la desgracia
Parece que Cecilia Giménez, una octogenaria aparentemente ingenua y con más bien pocos conocimientos en materia de restauración dentro del mundo de las artes, ha generado un increíble interés turístico por su trabajo y la propia localidad de Borja, atrayendo una enorme bandada de curiosos a un lugar anteriormente desconocido por la mayoría. Los animados visitantes que han viajado expresamente hasta allí, se trasladan hasta la iglesia que alberga la obra de arte tan esperada, sofocando algún que otro ataque de risa, para contemplar de primera mano esta restauración indudablemente un tanto divertida. Una hucha de donativos colocada en un lugar estratégico hace pensar a los más observadores que la localidad de Borja también sonríe en silencio: a río revuelto, ganancia de pescadores.
No es fácil saber si la obra fallida de Cecilia escondía una obra maestra cuidadosamente trabajada que sin esta circunstancia hubiera podido atraer esta lluvia de dinero caído del cielo. Pero ella insiste en que la sobrepintó con la mejor de las intenciones y pide que se le perdone si ha cometido un error al pintar sobre la obra maestra.
Conan O'Brian llegó a incluir una parodia sobre la restauración de Cecilia en su programa televisivo. El New York Times publicó un artículo sobre esta historia en diciembre del año pasado.
Wikipedia nombra esta "restauración" del retrato de Jesús, que más bien se parece a un erizo, como uno de los mayores lugares de interés de la localidad, junto a un convento barroco y un templete del siglo XVIII.
Mi primera preocupación al oír de la popularidad y el éxito económico de este fenómeno fue que pudiera haber ciudades que se dedicaran a arruinar sus obras maestras históricas con el único fin de sacarse un dinerillo. No tengo constancia de que esto esté pasando, pero de alguna forma me recuerda a otra historia que sucedió en 2011 con el alcalde de la ciudad turca de Batman que anunció sus planes de demandar a Warner Bros. por utilizar el nombre de la ciudad sin permiso, afirmando que "solo existe un Batman en el mundo".
Deberíamos profundizar y analizar bien la situación antes de considerar esta posibilidad, como una de muchas para provocar un posible aluvión de dinero y hacernos la siguiente pregunta: ¿Qué valor tiene el arte? Para muchos, el hecho de destruir una pequeña y oscura obra de arte quizás no suponga más que un pequeño precio a cambio de convertir un lugar antes desconocido en una atracción turística en tiempos de crisis. Y quién sabe, quizá alguno hasta lo haya intentado pero sin lograr el mismo éxito en su intento de una restauración intencionadamente fallida.
Otra cuestión que plantea esta historia es cómo valoramos realmente el arte. Muchos pintores profesionales que han dedicado toda su vida a materializar su arte sueñan con poder atraer tal cantidad de personas y despertar el interés que ha generado la desafortunada restauración de Cecilia Giménez.
Por el momento, y por mucho tiempo, seguirán siendo muchas las personas que sigan soñando con el éxito o con la fórmula acertada para alcanzarlo. Esperemos que lo hagan con "la mejor de las intenciones".
---
Keywords: cecilia gimenez,borja,cecilia giménez,spanish painter,borja spain