The Thyssen Goes for Gamers
by John Bascombe on Thursday, February 5, 2015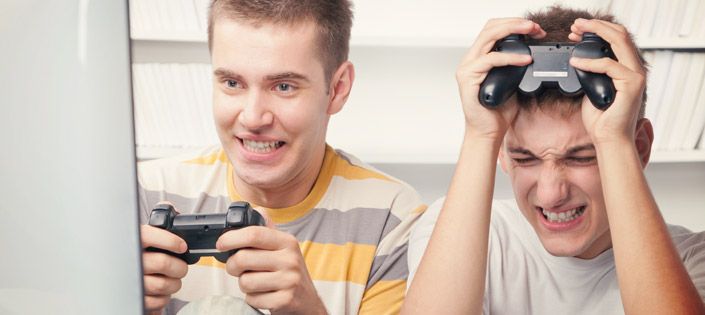 I had no idea how popular video games were until I heard about gamers becoming celebrities by posting videos of themselves on youtube talking about the games they play. Personalities like El Rubius have inexplicably amassed millions of fans around the world. The number of viewers anxiously tuning in everyday to watch Minecraft players talking about Minecraft is mind blowing.
The questions on museum director's minds is how to compete for young people's attention in a fast-paced world where observing visual creations has little to do anymore with wandering around stuffy silent galleries full of motionless paintings and much to do about intense often violent graphic action coupled with homey comforts like a soft comfy couch. How long would a museum exhibit hold the interest of most avid Minecraft players?
If you can't beat 'em, join 'em
The Thyssen Museum has joined forces with Sony Computer Entertainment España to create Nubla, a videogame for the Playstation that seeks to blend influential masterworks by the likes of Edward Hopper and Ludwig Meidner with entertaining gaming technology (an institution that you may or not consider masterful art in itself). Players will get to virtually journey into the scenery of paintings.  
The director of the project, Daniel Sánchez Mateos is quoted in El Pais as saying "we've tried to transfer the museum's works and artistic style to a dreamy world of adventures". Artists for the game also admitted that the biggest challenge was rendering faithful imagery of the museum's masterworks without copying them.
It seems more than unlikely that El Rubius' 9 million plus army of gaming-fanatic channel-subscribers will promptly dump their crafting materials to play a game about a museum of paintings, no matter how dreamy it is. But the Thyssen's new video game may offer a revealing peak at the direction of art enjoyment. Is the old school museum format getting old? Some wonder if new generations now need art technologically modified in hyped up videogame format to accommodate an unhealthy codependence on sedentary screen interaction. Is it fair to ask if the Thyssen is enabling videogame junkies? Do our shrinking attention spans have any space left for fine arts exhibits?
Does the bold move to go for gamers spell inevitable permadeath mode for the future of museums? Or is the Thyssen addressing a realistic need to update its attitude on what it considers art. The kernels of the debate seem rooted in the question of whether or not we can consider videogames legitimate pieces of art.
Video Game Art?
Are video games art? Is playing them a cultural experience in any way? Traditionally, art museums have paid little attention to them. But video games seem to have become an elephant in the room who's not going away, and the Thyssen isn't the only museum that's decided to come to terms with him, to talk to him.
The MOMA in New York has a permanent gaming exhibit that currently features 14 games, which according to moma.org are "astounding examples of interaction design". Games on display include Pac Man and Donkey Kong. A blog post by the museum's Senior Curator Paola Antonelli answers the question of whether video games are art by stating "they sure are…" MOMA hopes to acquire 40 games in total over the following few years, where selection criteria for the games includes, among other things, "the elegance of their code".
The exhibit did not impress at least one critic writing for the British newspaper "The Guardian" who responded with a piece entitled Sorry MOMA, Games Are Not Art. Later, the paper ran a counter opinion calling the whole argument a fool's errand and a debate "that shouldn't be".
Beyond the question of whether video games are art, or perhaps part of it, lies the consideration of their usefulness or even harmfulness. Film critic Roger Ebert once pointed out that "for most gamers, video games represent a loss of those precious hours we have available to make ourselves more cultured, civilized and empathetic". The Thyssen Museum's Nubla video game symbolizes an attempt to untangle the two sides, or even a colorful and technological bridge over a growing generation gap. The question remains as to how many people will cross it and more importantly, just how extreme our future generation's dependency on technology will become in a world that's already looking to gaming systems to appreciate art.
---
Keywords: video game art,are video games art,thyssen museum,art video games,thyssen museum madrid,future of museums