Update: The Search for Cervantes
by John Bascombe on Wednesday, February 18, 2015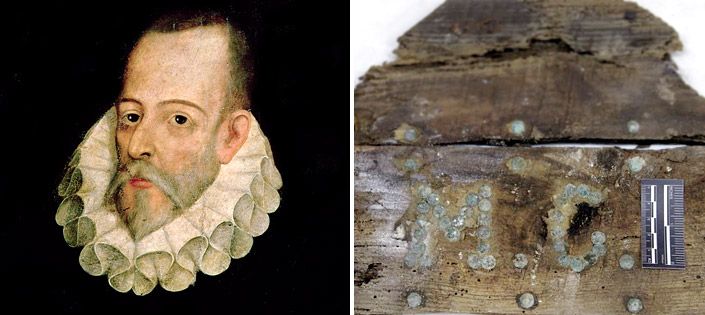 The search continues to solve the case of the missing Golden Age literary genius Miguel Cervantes. Didn't know he was missing?
Some four centuries ago, the Spanish author penned one of the most celebrated novels in history: the masterfully crafted, even hilarious tale of a windmill chasing, would-be knight's absurd adventures around 17th century Spain.
Today however, the exact final resting place of the author of Don Quixote de la Mancha remains a mystery. A determined team of researchers is now searching for the classic wordsmith's remains in the cloistered Trinitarias convent in Madrid's historical literature district known as el Barrio de las letras.  
If they find him, they could uncover curious clues about how he died and what he looked like (no reliable portrait of him exists). Almudena Garcia Rubio, who headed the projected, told the British journal The Guardian back in 2011 that while it's believed that the writer spent his last years suffering from serious illness "that is also when he was very productive as an author". Last October, when Spanish Radio and Television Corp reported that the Archbishop of Madrid had approved the investigation in the historic convent, it also quoted project historian Fernando de Prados who admitted that the road to finding Cervantes was "more complicated" than expected.
Besides producing some of the greatest writing of all time, Cervantes also fought in the Battle of Lepanto, where he received 3 harquebus blasts; two to the chest and one to the arm which caused permanent damage to his right hand, earning him the nickname "el manco de Lepanto" (the one-armed man of Lepanto). These distinctive wounds and lead bullet remains should help the team of bone hunters with their task of identifying "the prince of wits". They also know that he was 68 when he died in 1616 and that he had 6 teeth.
At the end of last month the team dug up a series of caskets including one with the initials M.C. carved into the wood. Although the find seemed promising, forensic analysis determined that it did not contain Cervantes' remains. It seems that the tomb belongs to a person much younger than 68. Curiously, none of the other tombs found were marked with initials. While the researchers remain optimistic, the search is taking longer than originally expected and they are starting to run out places to keep looking in the small convent.
In a time when a sluggish economy means a tight budget for things like public education, many observers are wondering why the city of Madrid has chosen to help fund the €50,000 project, particularly since it may end up yielding no results. The value of the expensive search to find the writer's bones remains a little unclear, kind of like Don Quixote's own windmill-chasing quest for glory. Even if the team does end up discovering the bones, will they be of much cultural importance? Do we really need to know what he looked like?
Just what to do with the writer's 400 year old remains if found is another controversy. Today's top figures in Spanish literature weighed in on the topic in a recent El Pais article. Writer Antonio Orejudo jokingly suggested reconstructing the cadaver and placing it in the Plaza de España as a tourist attraction, going on to say that paying homage to writers involves "explaining their work, showing it to kids, reading it […] everything else is show business". Writer Andrés Trapiello said "may they end this madness and leave him how he was, without pilgrimages to Lourdes".  
No matter what comes out of the controversial search, readers can continue to enjoy Cervantes' inspired works.
Noticias sobre la búsqueda de Cervantes
Continúa la búsqueda para resolver el caso del desaparecido genio literario del Siglo de Oro Miguel de Cervantes. ¿No sabía que se estaba perdido?

Hace unos cuatro siglos el autor español escribió una de las novelas más célebres de la historia con una maestría artesanal, donde encontramos el hilarante episodio de la lucha contra los molinos de viento, que hace las delicias de los amantes de las aventuras absurdas de este caballero del siglo XVII en España.
Hoy, sin embargo, el lugar exacto del descanso final del autor de Don Quijote de la Mancha sigue siendo un misterio. Un resuelto equipo de investigadores está buscando los restos del forjador del español clásico en el convento de clausura de las Trinitarias que se encuentra en el distrito histórico de Madrid conocido como Barrio de las letras.
Si lo encuentran, podrían descubrir pistas curiosas acerca de cómo murió y de su aspecto físico (existe ningún retrato fiable de él). Almudena García Rubio, que encabeza el proyecto, dijo a la revista británica The Guardian en 2011 que, si bien se cree que el escritor pasó sus últimos años sufriendo de una enfermedad grave "que es también el periodo en el que fue más productivo como autor". Historiador proyecto En octubre pasado, cuando la corporación Radiotelevisión Española (RTVE) informó que el arzobispo de Madrid había aprobado la investigación en el histórico convento, también citó a Fernando de Prados, que admitió que el camino de la búsqueda de Cervantes era "más complicado" de lo esperado.
Además de crear algunas de las más grandes obras literarias de todos los tiempos, Cervantes también luchó en la batalla de Lepanto, donde recibió tres disparos de arcabuz: dos en el pecho y uno en el brazo, que le causó un daño permanente en la mano derecha, lo que le valió el sobrenombre de "el manco de Lepanto". Estas heridas características y los restos de bala de plomo deben ayudar al equipo de cazadores de huesos en su tarea de identificar "al príncipe de los ingenios". También saben que tenía 68 años cuando murió en 1616 y que le quedaban solo seis dientes.
A finales del mes pasado el equipo desenterró una serie de ataúdes, entre los que había uno con las iniciales MC talladas en la madera. Aunque el hallazgo parecía prometedor, el análisis forense determinó que no contenía los restos de Cervantes. Parece que la tumba pertenecía a una persona mucho menor de 68 años. Curiosamente, ninguna de las otras tumbas encontradas estaban marcadas con iniciales. Si bien los investigadores siguen siendo optimistas, la búsqueda está tardando más de lo esperado originalmente y están empezando a quedarse sin lugares para seguir buscando en el pequeño convento.
En un momento en que una economía ralentizada significa un presupuesto ajustado para cosas como la educación pública, muchos observadores se preguntan por qué la ciudad de Madrid ha elegido ayudar a financiar el proyecto con 50.000 euros, en particular, ya que puede acabar no produciendo ningún resultado. El valor de la costosa búsqueda de los huesos del escritor sigue siendo un poco confuso, un poco como la búsqueda de la gloria del propio Don Quijote persiguiendo los molinos de viento. Incluso si el equipo termina descubriendo los huesos, ¿van a ser de mucha importancia cultural? ¿Realmente necesitamos saber qué aspecto tenía?
También lo que hacer con los restos del escritor, si se encuentran, es otra controversia. Las figuras más representativas de hoy en la literatura española sopesaron el tema en un reciente artículo aparecido en el diario El País. El escritor Antonio Orejudo sugirió, en broma, la reconstrucción del cadáver y colocarlo en la Plaza de España como una atracción turística, y continuó diciendo que rendir homenaje a los escritores implica "explicar su trabajo, mostrarlo a los niños, leerlos [...] todo lo demás es negocio y espectáculo". El escritor Andrés Trapiello afirmó que "pueden poner fin a esta locura y dejarlo como estaba, sin peregrinaciones a Lourdes".
Salga lo que salga de la controvertida búsqueda, los lectores pueden seguir disfrutando de las inspiradas obras de Cervantes.
---
Keywords: cervantes,miguel de cervantes,miguel cervantes,spanish literature,miguel de cervantes aavedra,author of don quixote