Cork Production in Spain
by John Bascombe on Thursday, March 19, 2015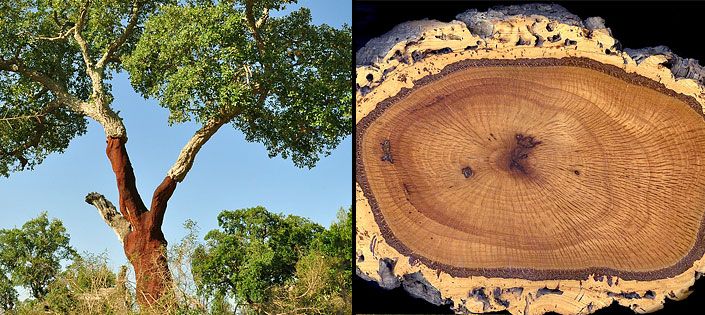 Cork: More than just a stopper
They say that, necessity is the mother of invention. In a period of constant innovation, where traditional products and the pursuit of excellence are changing, it is gratifying to see that there are entrepreneurs who risk embarking, without business connections, on new pathways in the stormy forest of today´s market.
When we think of the word cork, the first image which comes to all of us is of the small cylinder which aims to seal a good bottle of wine thereby preserving its contents. That is true, but it is not the whole truth, at least for the moment.
Spain is the second world producer of this raw material, with Portugal in the lead. Together they monopolize almost 80% of the world production.
The entry into the market of other materials which are increasingly being used in bottlenecks, has created a major crisis in this sector and here is where the phrase which we used at the start of the article: necessity is the mother of invention fits in perfectly.
A pair of Sevillians, owners of a farm with a 1,200 hector cork-plantation, have made a quantum leap forward in the world of new technologies: they have created Rural Cork, a company which uses, we should say reuses, this ancient material giving it a new function. 
As well as producing cork insulation and building materials for sustainable buildings (cork has the following properties: it is impermeable, elastic, resistant to fire and to other external elements and it can withstand temperature changes which makes it ideal for insulation, floors, wall linings, etc.) they have gone further, developing ways to use the material to manufacture stationery, caps and hats, tablecloths, umbrellas and even shoes.   It is worth noting that the firm Nike has designed a make of basketball shoe manufactured with cork, only the sole is made of rubber, in honor of the NBA (the National Basketball Association) star Lebron James.
These Sevillians have developed special techniques to manufacture all types of products adapting the material for each requirement and succeeding in creating a high-quality and carefully designed product range, which is finding a space in the market.
They have also achieved the seal of the Forest Stewardship Council (FSC) which sustainably manages the exploitation of the world´s forests. This guarantees the development and care of the environment. Also by taking advantage of the fact that all the trees from the same family including the cork tree, the holm oak, the kermes oak, the gall-oak and the oak tree, produce acorns which are a perfect food source for free-range Iberian pigs,  they are developing pork products through their company Esencia de Jabugo, with the most well-known one being the famous jamón de patanegra (patanegra ham).
In this way, the meadow where the Black Iberian pigs roam through the cork trees is a method of farming where they can finally extract cork for their new designs (which are being well received in the Japanese, German and British markets as well as in Spain), Iberian ham, charcoal, with a high heat capacity, and durable and high-quality cork wood which they can use to manufacture top-of-the-range furniture.
And all of this in a sustainable environment where tradition and innovation are combined and perfectly complement each other.
Corcho: Algo más que un tapón.
La necesidad agudiza el ingenio, dicen. En un tiempo de innovaciones constantes, de cambios en los productos tradicionales y en búsqueda de la excelencia, resulta gratificante observar que hay emprendedores que se arriesgan a lanzarse, sin red, a nuevos caminos en el proceloso bosque del mercado.
Cuando pensamos en corcho, a todos nos viene a la cabeza el pequeño cilindro que tiene como finalidad mantener el hermetismo y preservar el contenido de una buena botella de vino. Es verdad, pero no es toda la verdad, por lo menos ahora mismo.
España es el segundo productor mundial de esta materia prima, con Portugal a la cabeza. Entre ambos copan casi el 80% de la producción mundial.
La entrada en el mercado de otros materiales que cada vez se ven más en los golletes de las botellas ha traído una fuerte crisis al sector y aquí es donde viene al pelo la frase con la que empezamos este artículo: La necesidad agudiza el ingenio.
Una pareja de sevillanos, propietarios de una finca con 1.200 hectáreas de alcornocal, ha dado un paso adelante en el mundo de las nuevas tecnologías: han creado Rural Cork, una empresa en la que se usa, se reutiliza deberíamos decir, este material ancestral dándole una utilidad nueva. Además de producir con corcho materiales de construcción y aislamiento para edificaciones sostenibles (el corcho tiene unas características de impermeabilidad, elasticidad, estabilidad frente a los cambios de temperatura, resistencia al fuego y a los agentes externos que lo hacen óptimo para aislamientos, suelos, revestimientos murales, etc.) han ido más allá, desarrollando formas de utilizar el material para elaborar objetos de escritorio, gorras y sombreros, manteles, paraguas... incluso zapatos. Hay que decir que la firma Nike ha diseñado un modelo de zapatilla de baloncesto elaborada con corcho, salvo la suela de goma, en homenaje a la estrella de la NBA Lebron James.
Estos sevillanos han desarrollado técnicas especiales para manufacturar productos de todo tipo adaptando el material para cada necesidad, logrando crear una línea de productos de gran calidad y cuidado diseño que se está haciendo un lugar en el mercado.
Además, han conseguido el sello FSC de gestión forestal sostenible para su explotación forestal, lo que garantiza un desarrollo y cuidado del entorno ecológico. También, aprovechando que el alcornoque, como la encina, la carrasca, el quejigo y el roble, todos árboles de la misma familia, producen unas bellotas que son el alimento ideal para los cerdos ibéricos que crecen y pastan en libertad, están desarrollando la producción de derivados del cerdo, de los que el más conocido es el famoso jamón de pata negra, a través de su empresa Esencia de Jabugo.
De esta manera, la dehesa por la que corren libres los cochinos negros entre los alcornoques es una explotación de la que se extraen, al final, el corcho para sus nuevos diseños (que están teniendo una gran acogida en mercados como el japonés, alemán o británico, además del español), las chacinas ibéricas, el carbón vegetal -de alta capacidad calórica- y la madera de alcornoque, dura y de alta calidad para elaboración de muebles de alta gama.
Y todo en un entorno sostenible en el que se unen, perfectamente complementadas, la tradición y la innovación.
---
Keywords: cork,cork tree,cork factory,cork trees,cork production