Spain's Peace Efforts
by John Bascombe on Thursday, March 26, 2015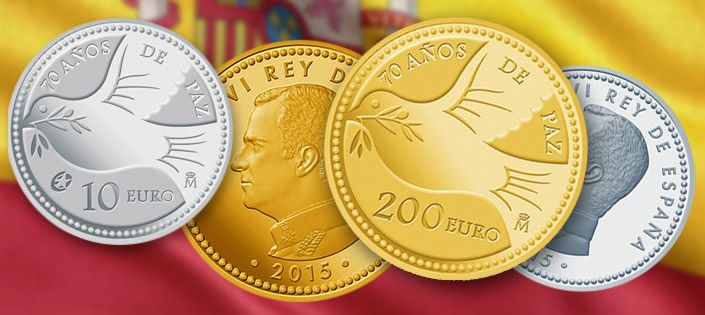 National and International Peace Efforts
In March 2015 the Royal Mint of Spain announced the release of a series of collector's coins to celebrate "70 years of peace in Europe" with the obverse showing a bust of the new king Don Felipe VI.  However it is the reverse of the coin showing a dove with an olive branch which we want to focus on. To what extent has Spain made an effort to embrace, spread and work towards the concept represented by this universal symbol? This article aims to answer this question by looking at some of the different Spanish initiatives, institutions and paintings which are and were dedicated to promoting and spreading both national and international peace.
•In 2013 and 2014 Spain remained in the list of the top 30 most peaceful countries in the world based on the Institute for Economics and Peace´s Global Peace Index.
•It ranked higher than some other European countries including France and the United Kingdom.
•Two Spaniards, the violin player Jordi Savall and the ballet dancer Joaquín Cortés, are UNESCO Artists for Peace.
What better place to start when talking about Spanish peace than with the iconic "Museo de la Paz" (Peace Museum) itself, situated in the town of Guernica in the Basque Country. This museum aims to educate its visitors about the culture of peace, reflecting on its absence in light of the past events in Guernica during the Spanish Civil War, while also looking at the efforts and tools used to peacefully solve conflicts in today´s society. This foundation also takes an active role in conducting research on this culture with associations such as AIPAZ (The Spanish Peace Research Association) organizing conferences and workshops to inform people of all generations about the importance of learning from the past and working together towards a more peaceful future.
This museum is, however, just the tip of the iceberg in terms of Spain´s work to create a more pacifist society and world. Let us now turn our attention to some of the initiatives which have been carried out in Spain for the good of its people and to aid the relationships between other nations.
The first national peace effort we should discuss is the agreement reached between Málaga football club and the United Nations Educational, Scientific and Cultural Organization (UNESCO).  In 2011 this club signed a four year agreement with the organization under the slogan "Imagining Peace." According to UNESCO´S Director-General Irina Bokova, this collaboration aimed to fight against drug-taking, racism and discrimination in football.
This scheme used a variety of methods to get its message across including social networks and electronic adverts to promote other values such as the importance of education, intercultural relationships and equal opportunities among young people. The club also offered their football academy as a base from which to carry out campaigns whilst also providing a ready established target audience since 15 youth football teams used the academy to train. Málaga football club also put the UNESCO logo on their kit to promote the message of this agency on a daily basis to the wider public.
However Málaga football club is not the only team to have joined forces with UNESCO. In 2010, FC Barcelona renewed their agreement with this arm of the United Nations collaborating on a campaign also aimed at tackling racism.  Launched during the 2010 International Day for the Elimination of Racial Discrimination, it involved a series of activities such as a video showing famous players writing the slogan "Put Racism Offside."
Mention must also be made of another 2014 event involving Barcelona.  In association with the project "Citizens Beyond Walls," a peace week took place in this city with activities such as seminars, networking opportunities and demonstrations to help combat and raise awareness of xenophobia in Europe and throughout the world.
So far, we have looked at just a selection of the initiatives Spain implemented within its borders to help overcome some of the main obstructions to a peaceful society. However we will now look at how Spain has been a driving force behind combating conflicts between other countries.
A great example of this is the 1991 Madrid Conference, hosted by Spain, which aimed to restart the negotiations between Israel and Palestine. Following on from this peace event significant advancements were made in the reconciliation process between these two countries leading to the signing of the Oslo Accord.  The conference also set in motion negotiations between Israel and Jordan resulting in the signing of a peace treaty between these two nations. However, Spain has been instrumental in the fight for a peaceful resolution between Israel and Palestine more recently, as in 2006 Jose Luis Zapatero, the then Spanish prime minister, unveiled a Middle-East peace plan with the support of France and Italy.
We have now looked at some of Spain's peace activities but there is still another area that we should consider when examining this topic. That is, the use of art to express this concept. To do this we can look no further than the famous Spanish artist Pablo Picasso.  His 1937 Guernica painting, created in light of what happened in this town, is an iconic, anti-fascist symbol of pacifism which serves to portray the tragic and destructive consequences of war and the suffering it causes. His later painting entitled "The Dove, "showing a dove with an olive branch, is another simply drawn image with a powerful message of hope and harmony and as such it was chosen for the 1949 World Peace Congress in Paris and later for the banner of the 1952 World Peace Congress in Berlin.
In conclusion, Gandhi once said "there is no way to peace; peace is the way" and its seems like it is the path which Spanish individuals, the government and foundations trod in the past and are continuing to tread in the 21st century, not only in their society but also  worldwide. And it is a journey which we can embark on ourselves by taking part in the International Day of Peace, supporting organizations such as Guernica´s Peace Museum and attending peace events in our own countries. There is no doubt that achieving a peaceful world will be a difficult task but we can achieve it if, as the 36th President of the United States Lyndon B.Johnson notes, we take it one step at a time.
---
Keywords: picasso guernica,guernica painting,international day of peace,peace museum,peace activities