Viscaya Bridge - World Heritage Sites in Spain
by laurence on Thursday, June 11, 2015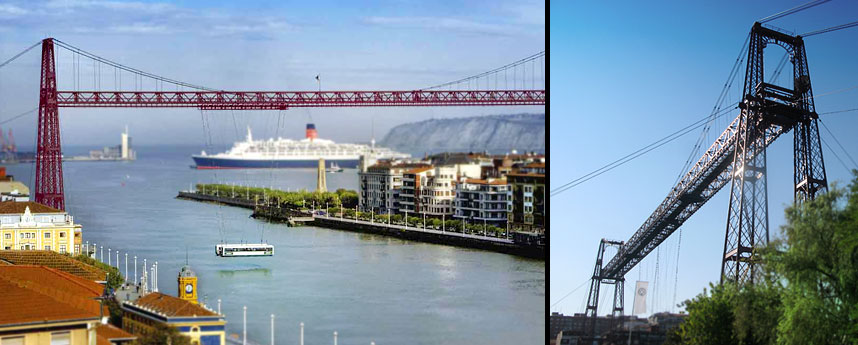 Built in 1893, the famous Vizcaya Bridge in the port of Bilbao is the connection point between Las Arenas and Portugalete. It crosses the River Ibaizabal, and is the world's oldest transporter bridge, usually referred to as the Puente Colgante, which can be translated as either suspension bridge, or hanging bridge.
The Bridge was listed amongst the World Heritage Sites in 2006, the only monument with a space on the list in the entirety of the Basque Region in Spain, and the only Spanish monument in the category 'Industrial Heritage'. UNESCO remarked upon the Bridge's functionality and aesthetic value. The Bridge is recognized as one of the greatest and most remarkable engineering feats of the 19th Century.
The original purpose of the construction was to join together two banks at the Nervion River Mouth, in the hope of making the two towns accessible to one another while avoiding any disruption to the traffic along Bilbao's port. The aim was a construction which would facilitate the flow of both cargo and passengers, but which would not restrict the flow of ships. Ferdinand Joseph Arnodin was one of the engineers called upon for the completion of the project, the designs for which were undertaken by Alberto de Palacio, and the structure was financed by Santos Lopez de Letona. To some extent, its construction was revolutionary; the Vizcaya Bridge was the first to be built using a mixture of steel cables and iron technology, and this technique went on to be internationally copied and replicated. On completion, the iron structure reached 45 meters in height; the girders which run horizontally supporting the rails were supported by pillars based on 4 towers on the banks. The use of iron was representative of developments during the Industrial Revolution, and the flourishing shipping and mining industries. The Vizcaya Bridge therefore stands for many as a symbol of industrial expansion and progress within society, endowing the area with a 'grandiose and elegant aspect' in the words of De Palacio himself.
The Bridge spans for an impressive 164 meters, and is still used year-round today, by roughly 500,000 vehicles and around 4 million passengers annually. It operates on the hour throughout the night, and every 8 minutes in daylight hours, with the fares different for either a day or night crossing. Two new recently installed lifts transport visitors up inside the pillars of the construction, allowing people to walk across the bridge's platform in order to obtain a view over the Abra Bay and entire port.
---
Keywords: vizcaya,vizcaya spain,spanish monuments,vizcaya bridge,world heritage sites spain