Show us your Favorite Discovery and Win a Prize!
by laurence on Monday, July 13, 2015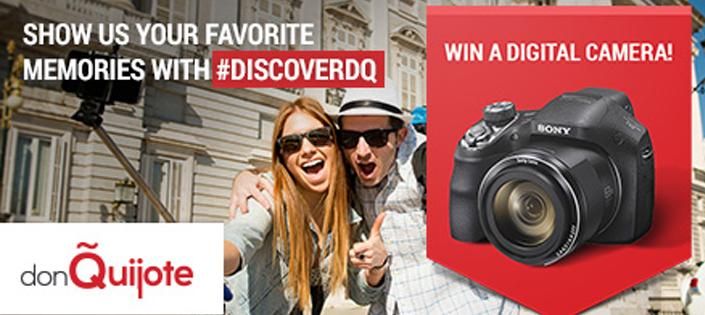 Show us your Favorite Discovery and Win a Prize!
Learning Spanish is great, living an experience while doing it is better, winning a prize because of it is monumental!
Wherever you have visited, there has surely been a monument that has inspired you with its art or greatness! And you have probably taken a picture of it to keep the memory. How about taking advantage of that memory to win a SONY Cyber-Shot DSC-H300 digital camera?
Participate in our contest and you could win. It's easy! Just take a photo or video of the monument, building or view that has inspired you. Upload it to your Facebook, Twitter, Instagram or Google + profile with the hashtag #discoverdQ and it could be chosen as one of the best. At the end of the season we will select the best of the best. If yours is the winner, you'll get a digital camera valued at over €300!
How about it? Share your picture or video whenever you'd like. And don't forget to use the #discoverdQ hashtag! Your vision of our culture could win you a prize!

 
¡Enséñanos tu mejor descubrimiento y gana un premio!
Aprender español está bien, vivir toda una experiencia haciéndolo está mejor, ¡ganar un premio con ella es monumental!
¡Seguro que en tu destino hay algún monumento que te ha fascinado por su arte o grandiosidad! Le habrás sacado una foto como recuerdo. ¿Qué te parecería aprovechar ese recuerdo para ganar una cámara SONY Cyber-Shot DSC-H300?
Te proponemos participar en nuestro concurso. ¡Y es muy fácil! Sólo tienes que hacer una foto de ese monumento, edificio, paisaje…  que tanto te gusta o un vídeo sobre él. Súbela a tu perfil de Facebook, Twitter, Instagram o Google + con el hashtag #discoverdQ y podrá ser elegida como una de las mejores del día. Al finalizar la temporada elegiremos la mejor entre las mejores. ¡Y si la tuya es la ganadora tendrás una cámara valorada en más de 300€!
¿Qué te parece? Puedes empezar a subir tu foto cuando desees. ¡Y no te olvides de poner el hashtag #discoverdQ! ¡Tu visión de nuestra cultura tiene premio!
 
---
Keywords: learn spanish,learning spanish,spanish school,win a prize,win a camera