10 Tips for Taking the DELE Exam
by Diego on Wednesday, May 18, 2016

Some people might say all you have to do to be stress free before an exam is study. But we all know that nervous feeling that just won't go away, no matter how much you study. And if it happens with something as normal as a math test, imagine the feeling you might get with a DELE exam, which you've been preparing for for a long time and upon which your future might depend. So take a look at some of these tips to help you face the exam with a steady heart and hand.
First of all, you have to remember that you can'f fail the DELE.  Of course you'll say getting an "unsatisfactory" is practically the same thing as failing; but relax. In the, unlikely case that you receive an "unsatisfactory" you can always take another exam, and it doesn't mean that your Spanish isn't good.
Remember that you've taken many tests to find out which level DELE you should take. The real exam isn't so different from those tests at the end of the day. And weren't they easy enough?
Don't forget to bring the required documents (a sealed copy of your registration form, a valid ID and an exam session form).  It may seem obvious, but you can't imagine the number of students who have forgotten their paperwork.
Don't forget you've taken preparation classes. You have gone over the fundamental exam themes and sections with us and we've helped you with all of the slightly more difficult issues. Even though we won't be physically there with you, we'll be cheering you on from afar!
See your examiners? Don't think of them as ogres looking for your mistakes; think that they are there to listen to you and to test your language level. If they didn't want students to learn the language, do you think they would be there?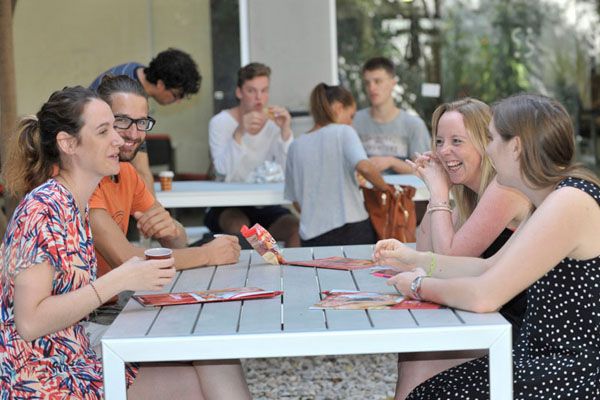 Don't lock yourself in a bubble. Talk to other students who are going to take the exam, we're sure they'll give you good advice, and of course you can share advice with them as well. And of course, why not try speaking a little Spanish before the test too?
We are all human beings with strengths and weaknesses. It's great to work on your weaknesses; but don't obsess over them on the day of the exam. We're sure you'll do well.
Do you play sports? Follow the same line of thought that you use when playing sports and think of the exam as a race or a final competition. Think of your objective, your goal. Hasn't that helped you overcome obstacles in the past?
Even though you might not think so, once you start to take the exam you'll feel quite relaxed. It will be just you with your thoughts and your skill. We know it sounds a little "Zen," but we assure you it's true, so there's no need to get nervous.
Don't worry about the time limit. While taking the test and once you are finished, it's likely that you'll feel like you needed more time. But don't worry, the test lasts as long as it lasts for a reason and examiners will be able to correctly evaluate you with the time available.
Our post might be a little "Yoda" for you; but we think it could really help anyone who is about to take the DELE exam. We would wish you good luck, but we're already sure you're going to do great!
---
Keywords: dele exam, study for dele, how to get the dele, spanish dele,