Meet Our Teachers: Cristina Martín of don Quijote Madrid
by Becca on Wednesday, June 8, 2016
Today we would like to introduce you to Cristina Martin, a teacher at don Quijote Madrid, we've asked her about her experience as a Spanish teacher. Would you like to meet her?
1. What made you want to become a Spanish teacher?
I love to be in contact with other cultures, so I started teaching Spanish to immigrants as a volunteer at several schools in my city very early on. One summer, while I was studying Spanish Philology at college, I signed up for a Teachers of Spanish as a Foreign Language course taught by the Instituto Cervantes and the Universidad de Zaragoza. I liked it so much that I immediately knew this was my calling.
2. What is Spanish to you?
Pleasure and work! It is Machado and Storni, Pérez Galdós and Bolano, Alarcos and Bello. It is the language that I write, read and dance to and it is, at the same time, my instrument of analysis. 
3. What is your day to day with students like?
My days are always dynamic and different, but there is something that never changes: there are always moments when we laugh out loud, you have to be a bit of a clown to be teacher! I am also very fortunate because I do work that I like and that makes everything easier. It also makes things easier for my students. Although I have to say that that's normal, at least at this school, because you always hear laughter coming from our classrooms!
4. What kind of student is the most common in your classes? One who is looking for personal growth, to improve their academic profile or someone who is studying for professional reasons?
There is a lot of variety, but we usually have a lot of young students who are really excited to learn and who are thinking of their professional future.
5. What is the funniest thing that has happened to you in a class?
My students are amazing, sometimes they come up with these great answers; like this Korean student who thought the word "aceituna" (olive) meant "oil with tuna." Her surprised face when she saw the round, green olive was completely wonderful.
6. What is the hardest part about learning Spanish? And the easiest?
The other day we mentioned this in class and different difficult issues such as the concept of different past tenses in Spanish and how to use the subjunctive, came up. Students living in Spanish speaking countries have the advantage of learning how to communicate naturally quickly, and that is very encouraging. However later, it can feel a little more difficult to keep advancing at the same pace.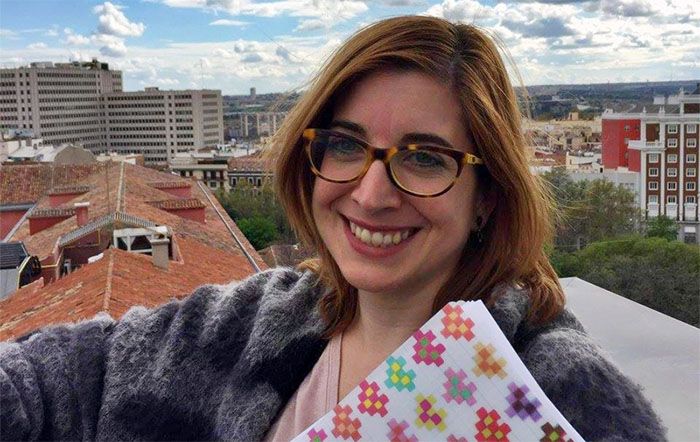 7. What have you learned from your experience as a teacher?
I have learned that teaching is a marathon and not a sprint, that you have to give in order to receive, and that we have to be able to adapt, since the same knowledge is not the same when found in different contexts. But the most gratifying thing, above all, is to see how excited students get when they are able to express themselves in Spanish, when before it seemed like an impossible mission. You participate with them in their learning process and while they mature in a foreign language and that makes you part of their lives in some way.
8. Are there any topics that your students find especially fun?
We tend to talk about cultural differences and culture shock during their first few days or weeks and students always have funny anecdotes to share. So-called curse words are also a popular, funny topic that students like to talk about. Students often talk about expressions they hear when they are out of class and the truth is that some of them put you in a funny position when you have to explain them.
9. Is the Spanish culture the most important resource for learning our language or is our language the most important resource for learning about our culture?
I think culture is a great way to get interested in Spanish. I love folklore, music, dance, art... So I try to bring this facet into our classes. We take trips to the theater, to see concerts, museums or cultural centers, and we have salsa and tango classes every week after classes. Students go home completely immersed in culture!
10. If you had to summarize the Spanish language and culture in one word, what would it be?
I think the word would be wealth (meaning variety).
---
Keywords: