Art and architecture in Valencia
by Becca on Monday, September 26, 2016

If you come to learn with us in Valencia you'll find our new, stunning school waiting for you. It is a beautiful new location with 18 modern and spacious classrooms, large courtyards, terraces and gardens where you can relax between and after classes.
The school is located right in the heart of the city on Calle de Cadirers. So besides being located in an excellent area that is well conntected with the rest of the city, the beach and beautiful parks, it is also found in the the most historic part of Valencia. To give you an idea of just how historic the area is our new building was a Gothic palace built in the 15th century and was the city's former Círculo de Bellas Arts (Fine Art Center). If its walls could talk, they would tell a thousand stories about the city, its culture, history and art!
It is an impressive, majestic building but at the same time, it is also very welcoming. You'll feel right at home while studying Spanish there... And you'll find treasures of Valencian art throughout the school! For example, if you find yourself learning Spanish with us in this beautiful school, take a good look at the stairs while you walk up to your classes. Did you know that the little column you find at the start could be the work of Pere Compte, the architect of the famous and beautiful Lonja de la seda?
Journey into Valencia's Golden Age
It's not that far-fetched... after all the Lonja de la seda, an example of Valencian Gothic architecture, is only a three minutes' walk from the school! It's true, as soon as you finish class you can walk to this incredible building that is as grand as a cathedral. Built between the 15th and 16th century, it was dedicated to the activity of the increasingly influential Valencian bourgeoisie. Its wide nave, its twisting columns, high ceilings and the hidden messages found in its reliefs will make you feel as if you've wandered into the bustling Valencia of the Golden Age.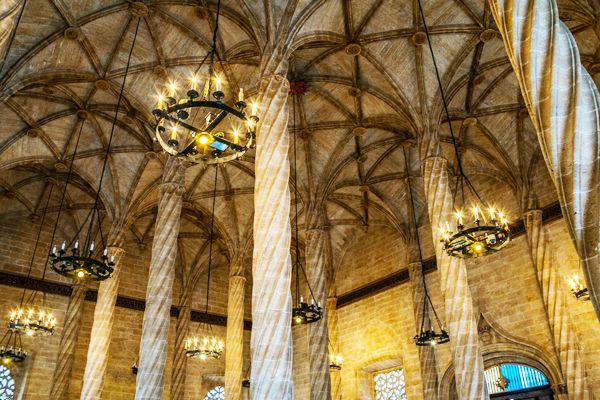 Lonja de la seda
Another magnificent Valencian monument linked to our school through its architect Pere Compte, are the Torres de Quart, about seven minutes' walk from the school. These impressive towers were part of the ancient walls that defended the city in the Middle Ages. They are both high and dramatic... one can imagine a crowd of alert lookouts, running up and down their stairs, taking shelter in their protective walls, guarding Valencia!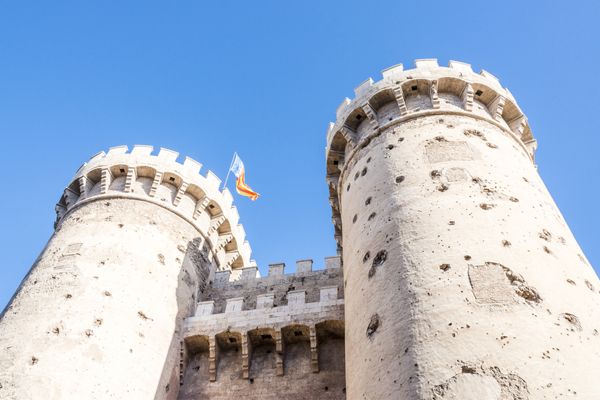 Torres de Quart
Our school is also found about four minutes from one of Valencia's greatest monuments, the Cathedral of Santa Maria. It is the pride of the city, a cathedral built in the 13th century, which despite being a great example of Gothic architecture, includes other peculiarities, influences and add-ons from other centuries as well. And, if you didn't already know, it is said that none other than the Holy Grail is guarded within its walls. You can see this mythical relic without ever having to suffer the hardships or adventure of Indiana Jones!
Catedral de Valencia
A Prosperous City Filled with Color
All of these magnificent works of art will give you an understanding of how rich and powerful Valencia has been for centuries. In fact, to prove it, you can travel through time, walking only four minutes from the school and visiting the Mercado Central, a Modernist building built in 1914 but still active and filled with life. We assure you it is an inspiring experience to admire the iron architecture while you do your shopping, feasting on the color and aromas of the freshest produce, meat, fish, cheese and more.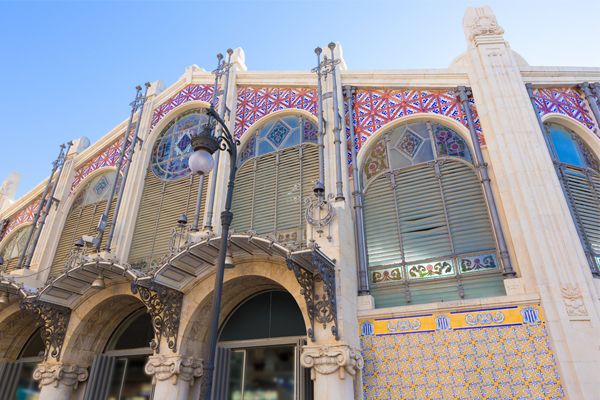 Mercado Central
Found right next to the market, but many times unnoticed, is the Church of Santos Juanes, a temple that was a mosque in the time of Al-Andalus, but which became a Gothic parish. It burned down and was reconstructed various times throughout the 14th and 16th centuries. As it stands, it is an example of many different architectural styles. It is a visual walk through the history of art!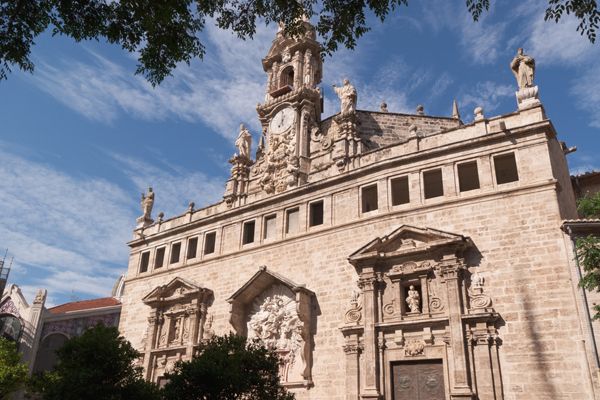 Church of Santos Juanes
Ah! And we can't forget that just 10 minutes away, you'll find the city hall, a large Neoclassical building that is well known because every year, during las Fallas the famous mascletá, the biggest firecrackers you've ever heard, errupt in celebration in the city hall's beautiful plaza.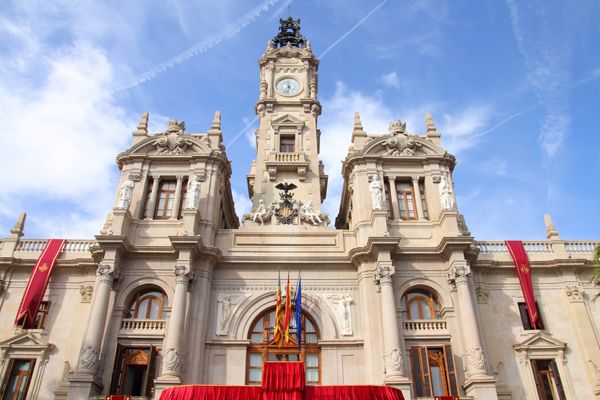 Valencia City Hall
There are many more things to enjoy while you're in Valencia and we could add them all to this list. But we think we'll leave it to you to discover all of the city's art and treasures for yourself! There's nothing like finishing class, going to any of the wonderful nearby restaurants or bars, and after having a refreshing glass of horchata and a plate of tasty buñuelos, choosing a street and saying, "I'm sure there's something interesting down there," before you make your way to discover what it may be. In Valencia you're sure to be right! There are hidden treasures in this beautiful city everywhere you look.
---
Keywords: