Vineyards near Barcelona to Visit this Autumn
by alison.chou on Monday, September 19, 2016

Enjoy the best of autumn in Barcelona: the most extraordinary vineyards, exquisite wines and breathtaking landscapes in all of Catalonia.
It's October, which means that autumn is officially upon us. And who doesn't love this beautiful and refreshing season? The stifling heat of summer is finally waning, replaced by a brisk chill in the air that has us gleefully reaching for our favorite sweaters and scarves. No longer are the days of sticky sweat and ice cold showers! Gone are the bitter and contentious battles with your air-conditioning unit (because it's either broken or running up your electricity bill)!
Autumn is the ideal season to come study Spanish in Spain, especially Barcelona. Along with the high temperatures, the intense crowds of tourists also dwindle, making conditions infinitely more agreeable to go out and discover this exciting city. And trust us, just because summer is over, it doesn't mean the fun is as well! A plethora of concerts, music festivals, art expositions and other cultural events kick off in the fall months.
Of course, autumn also brings about breathtaking changes in Spain's landscape. Rolling hills of lush green landscapes slowly transition into lovely panoramas of rustic yellows, oranges and reds. If you're studying Spanish in Barcelona this season, it's the perfect time to take a day or weekend trip out of the city and check out all the exquisite and colorful catalán countryside. And while you're out there, why not take a tour of a local vineyard or get out to a wine tasting event?
It's no secret that Spain is famous for its incredible wine, but did you know that Catalonia receives some of the most wine tourism in all of Spain? The vineyards in the region of Penedés, between Barcelona and Tarragona, are so popular in part due to their proximity to these great cities and the beautiful vistas they provide… but perhaps the most compelling factor is the cava. That's right, this tasty sparkling wine (often known as the "champagne of Spain"), was originated in Catalonia and is primarily produced there to this day. If you haven't tried this bubbly ambrosia yet, or are just generally a wine enthusiast, check out our recommendations for lovely vineyards near Barcelona where you can enjoy some terrific wine and cava tasting this autumn.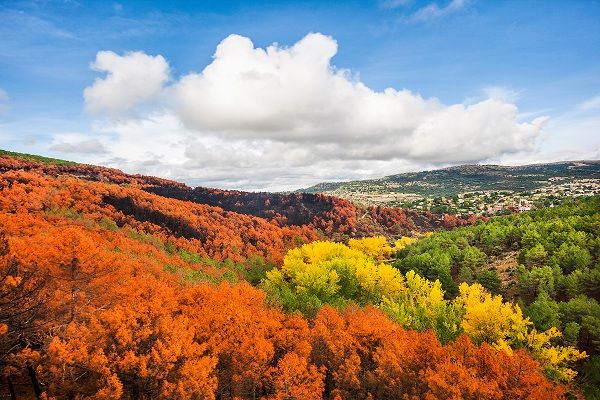 Cavas Codorníu
We're starting with this winery as homage to cava's origins. Codorníu is the world's oldest producer of cava; its history dates as far back as 1551. The company continues to be the second-largest producer of this bottle-fermented sparkling wine. The breathtaking, sprawling complex was designed in 1895 and features the period's great Catalan Art Nouveau architecture. The winery offers all types of visits and tours, including combined events where you can visit the Codorníu and also take a bicycle tour, a Simón Coll Chocolate tour or even visit the impressive Montserrat mountain. Or if you're looking for a more laid-back experience, simply come hungry and enjoy a delicious Mediterranean breakfast or lunch on the estate.
Location: Cavas Codorniu, Avenida Jaume de Codorníu, s/n, 08770 Sant Sadurní d'Anoia
Distance from Barcelona: Approximately 45 km (40 minutes by car)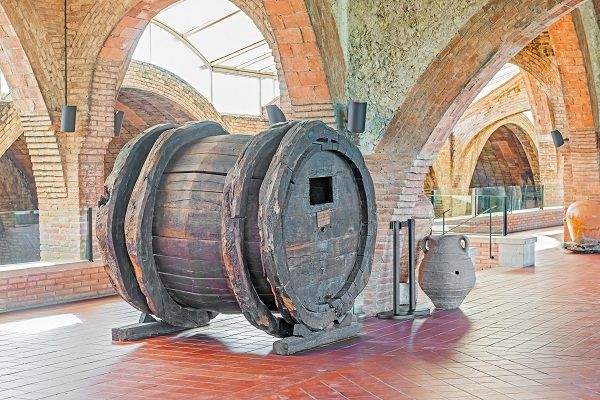 17th century wine barrel in the entrance of the Codorníu winery
Oller del Mas
Oller del Mas is a small winery that boasts of 1,000 years of history. Located within a 10th century medieval castle, this family-run winery creates a comprehensive experience for its visitors: you can do a tasting of their wines and olive oils, take a tour of the vineyards, the wine cellar and the castle, and even take a scenic ride on a mule-drawn cart! The estate also includes a restaurant and recreation area complete with swimming pool and sports such as volleyball, paddle tennis and golf. The idyllic grounds also offer breathtaking mountainous vistas, as it's located at the foot of the Montserrat. Complete your perfect day visiting the monastery atop the Montserrat or checking out the nearby town of Manresa.
Location: Carretera de Igualada C37Z, km 91, 08241 Manresa
Distance from Barcelona: Approximately 60 km (1 hour by car)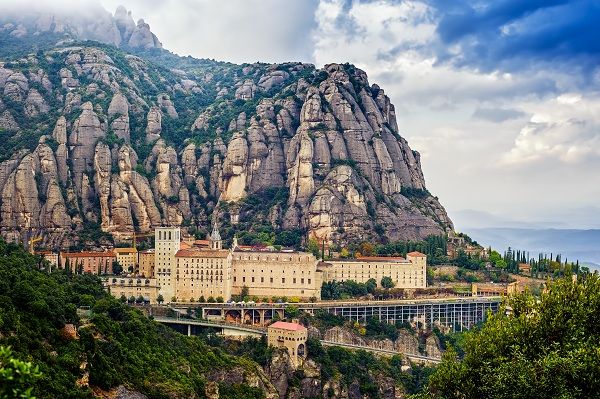 The stunning Santa Maria de Montserrat Abbey
Alta Alella
This modern, relatively young winery is located a mere 2 kilometers from the Mediterranean Sea, meaning you'll get some stunning views of picturesque vineyards surrounded by vast blue waters. Alta Alella, known for producing some of the best cava in Catalonia, is a certified organic property. In fact, they've recently inaugurated their Celler de les Aus ("The Bird's Winery"), an eco-friendly wine cellar that strives to remove the use of sulfites from the winemaking process. The winery also holds frequent events, such as seasonal wine tastings, yoga, poetry events, gourmet cooking workshop and even a wine art workshop for children!
Location: Camí Baix de Tiana, s/n, 08328 Alella
Distance from Barcelona: Approximately 22 km (40 minutes by car)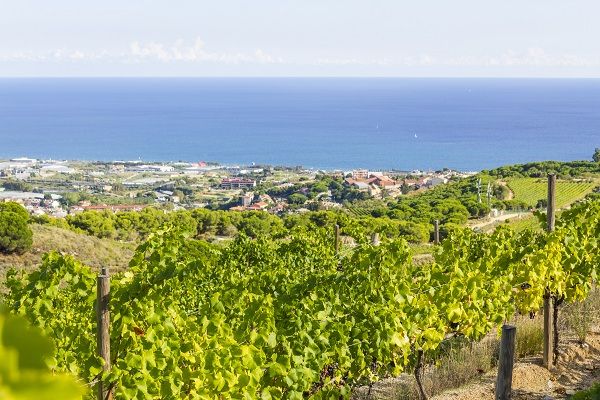 Vineyards of the Alella wine region along the Mediterranean Sea
Cavas Freixenet
This is a brand that might ring a bell; after all, this centuries-old, family-owned winery is one of the biggest producers of cava in the world! With 18 cellars throughout 7 countries, Cavas Freixenet is undoubtedly one of the biggest players in the game and a can't-miss if you're in Catalonia. Visiting its headquarters in Sant Sadurní d'Anoia, you'll not only get a tasting and winery tour but a history lesson as well. Visitors first receive an audiovisual presentation of Freixenet's history, then hop on a mini train to check out the cellars. Group and private tours are available, and they've even created kid-friendly visits so that the whole family can get involved!
Location: C/ Joan Sala, 2, 08770 Sant Sadurní d'Anoia
Distance from Barcelona: Approximately 45 km (40 minutes by car)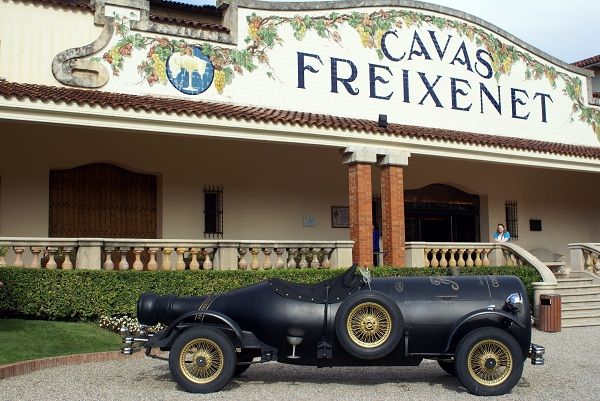 The headquarters of Cavas Freixenet in Catalonia
With all the magnificent vineyards and wineries to be discovered around Barcelona, this autumn is the perfect time to get out of the city and into its beautiful local countryside. So don't wait, take advantage of all the magic the fall season has to offer and plan your day or weekend trip today! 
---
Keywords: