Legendary Seville
by Trad by Mark on Monday, September 4, 2017

Today we are going to talk about two of Seville's most important legends. One deals with the world-famous Torre del Oro (Tower of Gold) and the other is about a crocodile from Egypt.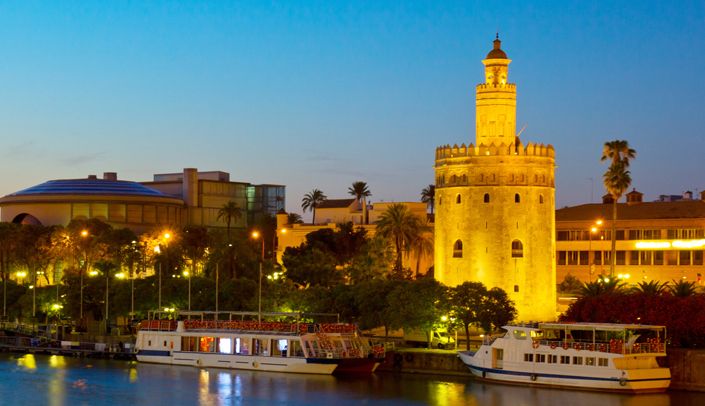 The Torre del Oro, it is said, is called such because of an incident involving doña Aldonza in the 9th century. This most beautiful woman, while waiting for her husband to return from war, decided to shut herself away in a cloistered convent to avoid temptations. One day, as King Pedro was passing through the convent, he saw the damsel and fell in love. He couldn't help but notice her flowing blond hair which, try as she might, couldn't be hidden under her habit.
As was his custom, the king took the angelic young woman to the tower, where he would send all the women with whom he would maintain relationships behind his wife's back. Seeing that she had no way out and that it was no good to oppose with force, she decided to sacrifice the beauty that had brought her there by cutting off her long, golden hair.
The king, having discovered what doña Aldonza had done, sent her back to the convent. It is because of this story of a blond woman's locks that the tower where the king would keep his trysts became known as the Tower of Gold.
Only a few steps from the tower stands the Cathedral of Seville. Inside, there are many curiosities to be found in its Patio de los Naranjos (Orange Tree Courtyard). As you walk in, looking up will reveal more than lamps and a historic ceiling. There is a life-size, hanging crocodile, an elephant's tusk, a horse´s bit (or a giraffe's, no one knows for sure) and a staff.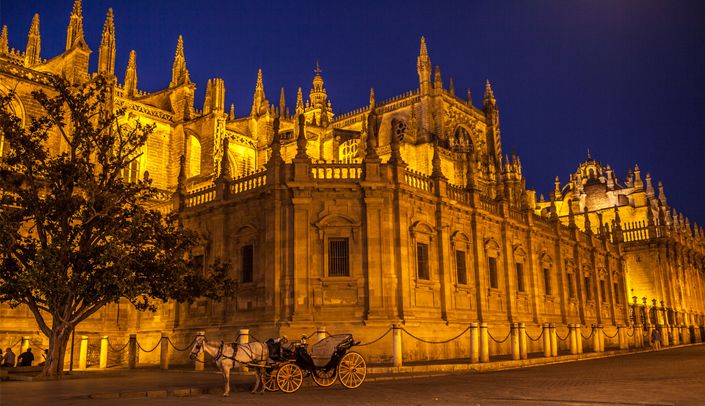 As legend has it, around the year 1260, the Sultan of Egypt fell in love with King Alfonso X's daughter, Berenguela. To ask for her hand, the sultan sent an entourage bearing exotic gifts. The king, disagreeing with this request, kept the exotic gifts and sent other ones back to Egypt.
After some time, when the crocodile died, it was stuffed with hay and the king decided it should be hung in the Patio de los Naranjos of the Cathedral. Now what you see hanging is a wooden replica which, some say, represents the virtue of prudence.
These are only two of the many legends that live in the streets of Seville, hoping that you will come and decide for yourself how much is legend… and how much history.
---
Keywords: