A Photo Journey through Tenerife | Un viaje fotográfico por Tenerife
by suzanne.pope on Wednesday, March 22, 2017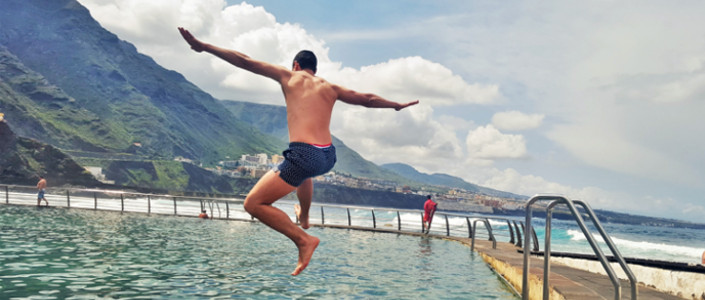 Although Tenerife is quite a remote destination in the middle of the Atlantic Ocean, and geographically nearer to Africa than Europe, it's no stranger to tourism. Tourist flock to the largest Canary Island year-round for its great weather, even naming it the "Island of Eternal Spring". So why did I go there? Well, for starters, it was an easy flight (yes, I mean cheap and only three hours) from my home in Madrid. I prefer to avoid crowds, talk to locals, go hiking and see the island, so I booked a hotel in Puerto de la Cruz near don Quijote Spanish School and rented a car. My mission (I always have a mission when I travel): find the prettiest beach...or forest…or both (spoiler, I found both).   
Aunque Tenerife nos puede parecer una isla remota por su situación en el centro del Atlántico, más cercana a África que Europa, es un destino turístico muy popular. Enormes grupos de turistas acuden durante todo el año a la mayor de las Islas Canarias por su excelente tiempo. De hecho Tenerife recibe el apodo de "Isla de la eterna primavera". ¿Por qué fui hasta allí? Bien, para empezar porque es sencillo (sí, quiero decir también "barato" y solo tres horas) volar hasta allí desde mi casa, en Madrid. Mi intención era evitar las multitudes, hablar con la gente local, hacer senderismo y ver la isla, así que reservé mi habitación en un hotel del Puerto de la Cruz cerca de la escuela de español don Quijote y alquilé un coche. Mi misión (siempre me impongo una misión cuando viajo): encontrar la playa más bonita… o el bosque… (os lo destriparé, encontré ambos).
A journey through this unique Spanish island was a great start to spring 2017. Follow my journey through some favorite photos below and leave comments or any questions you might have about traveling Spain or learning Spanish in Tenerife!
Un viaje por esta isla fue una estupenda manera de comenzar la primavera de 2017. Acompáñame en mi viaje fotográfico por Tenerife ¡y no dudes en dejar tus comentarios o preguntas sobre viajar por españa y cómo aprender español en Tenerife!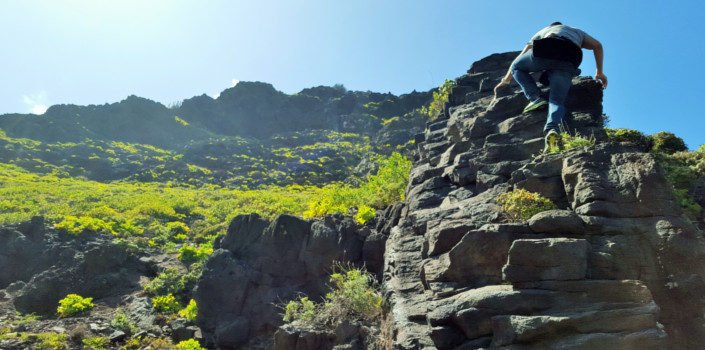 We landed at Tenerife-North Airport at 10 a.m., picked up a rental car and head for Parque Natural de Anaga, the most tropical, green area of the island. Every time we hiked around or over a hill, we found ourselves in an even more impressive landscape.
Aterrizamos en el Aeropuerto de Tenerife Norte, alquilamos un coche y nos dirigimos al Parque Natural de Anaga, el más tropical y verde de la isla. Cada vez que rodeábamos una colina encontrábamos un paisaje más impresionante que el anterior.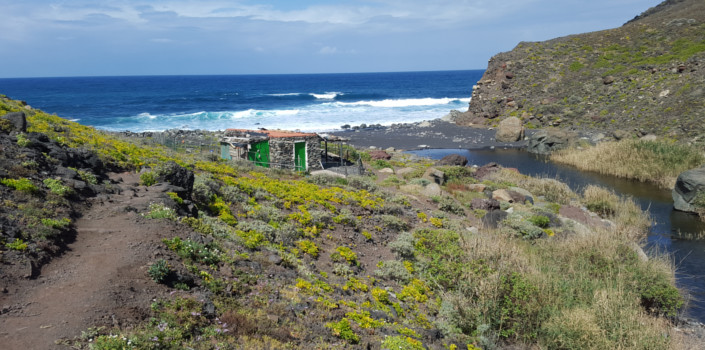 The hike starts inland and takes you to a stunning beach. The rocks and sand are black from volcanic rock. The hike is fun, but very steep.
El camino comienza tierra adentro y te llevará a una playa impresionante. Las rocas y la arena son negras debido a su origen volcánico. El paseo es divertido, pero un tanto empinado. 
How to get there: Drive or take a Guagua (public bus) to Afur. If driving, park at Taganana and hike to Playa de Tamadiste. Time: 3 hours. Difficulty: Moderate.
Cómo llegar: conduce o toma una Guagua (autobús público) a Afur. Si conduces tú, aparca en Taganana y camina hasta Playa de Tamadiste. Tiempo: 3 horas. Dificultad: moderada.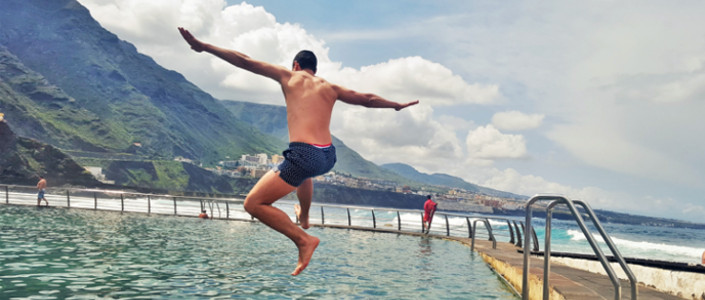 Tenerife is full of great "natural pools", which are swimming areas in the ocean protected from the waves with either rocks or cement.
Tenerife está llena de grandes "piscinas naturales", áreas adaptadas para la natación en el mismo océano protegidas de las olas por rocas o un muro de cemento. 
Where to go: The above photo was taken at the Piscinas Naturales in Punta del Hidalgo, just a 45-minute drive.
We also highly recommend the Piscinas Naturales in Garachico El Caletón farther south and easier to reach by bus. It is a 30 minute drive or less than an hour by bus (Guagua line 363).
Dónde ir: la foto de arriba fue tomada en las Piscinas Naturales de Punta del Hidalgo, solo a 45 minutos en coche. 
También te recomendamos las Piscinas Naturales El Calentón (Garachico) al sur y muy fácilmente accesibles en autobús. Es un trayecto de unos 30 minutos o menos conduciendo y, aproximadamente, una hora en autobús (Guagua 363).
Walking down a steep hill to a hidden beach.
Bajando la colina para encontrar una playa oculta.
Where to go: Playa El Bollullo. Drive or take a Guagua (both take about 15 minutes), follow the signs to the beach, the walk will take about 30-45 minutes to the beach.
Dónde ir: playa el Bollullo. Conduce o toma una Guagua (ambos tardan unos 15 minutos), sigue las indicaciones para llegar a la playa. El paseo hasta ella te llevará unos 30-45 minutos.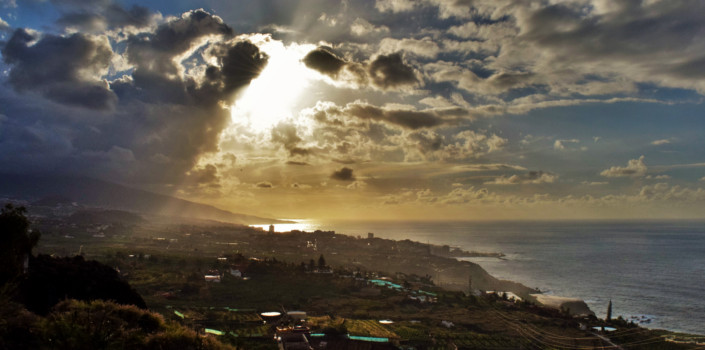 Sunset from this side of the island is beautiful any night. We recommend finding a good spot to watch the show while sipping tea or virgin mojitos from Puerto de la Cruz or venture just outside the city to watch from a hillside terrace.
El atardecer desde este lado de la isla es precioso. Recomendamos encontrar un buen sitio para verlo y disfrutar del espectáculo mientras tomas un té o un mojito sin alcohol en el Puerto de la Cruz o aventurarse fuera de la ciudad para verlo desde una terraza natural.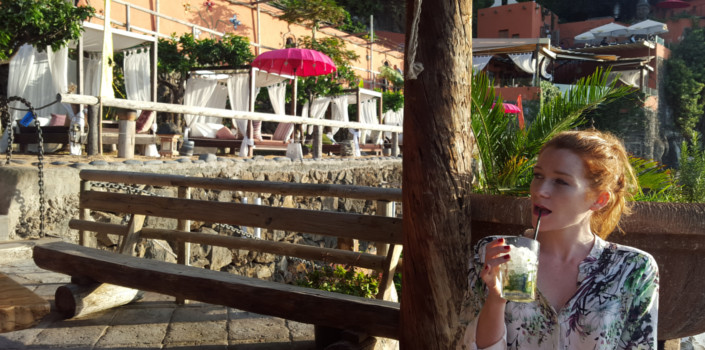 Where to go: Terraza Sunset 290, La Orotava, Santa Cruz de Tenerife. 15 minutes by car from Puerto de la Cruz and 40 minutes by bus (line 101).
Dónde ir: Terraza Sunset 290, La Orotava, Santa Cruz de Tenerife. 15 minutos en coche desde Puerto de la Cruz y 40 minutos en autobús (línea 101).
Black sand and lava rocks everywhere!
¡Arena negra y rocas volcánicas por todas partes!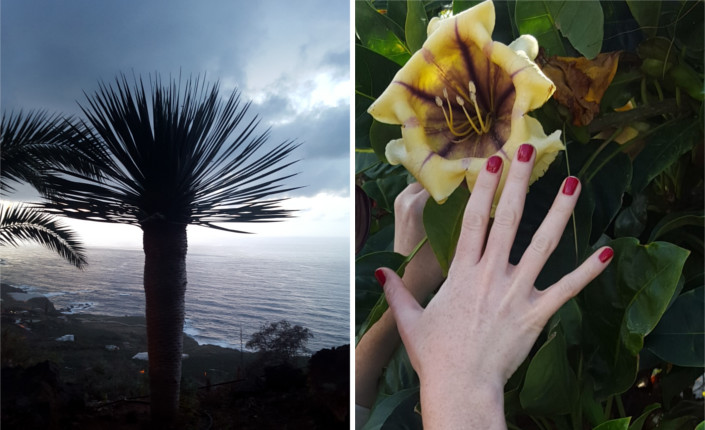 The island is full of exotic plants, shady palm trees and geometric cactus. Flowers as big as my head and African plants had me entertained all weekend.
La isla está llena de plantas exóticas, frondosas palmeras y cactus geométricos. Flores tan grandes como una cabeza y plantas de origen africano que me tuvieron entretenida todo el fin de semana.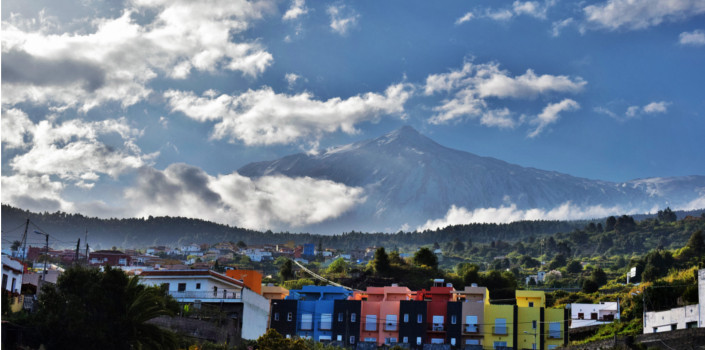 Mount Teide, an active volcano and highest point in Spain, looms over the entire island. As you explore the island the volcano peeks out and makes for a spectacular backdrop.
El Teide, un volcán activo y la cima más alta de España, se cierne sobre toda la isla. Mientras exploras la isla verás recortado contra el cielo, ¡un impresionante telón de fondo! 
How to get there: Some adventurous people like to hike it or take the cable car to the top. Make sure to pack some warm weather clothing, as it's usually snowy at the top and very cold. Drive 1 hour or take the Guagua (line 348) 1.5 hours to the cable car entrance.
Cómo llegar: a algunos aventureros les gusta caminar o tomar el teleférico hasta la cima. Si también quieres hacerlo, asegúrate de llevar ropa de abrigo pues la cima permanece nevada. Conduce 1 hora o toma la Guagua 348, que llevará a la estación del teleférico en una hora y media.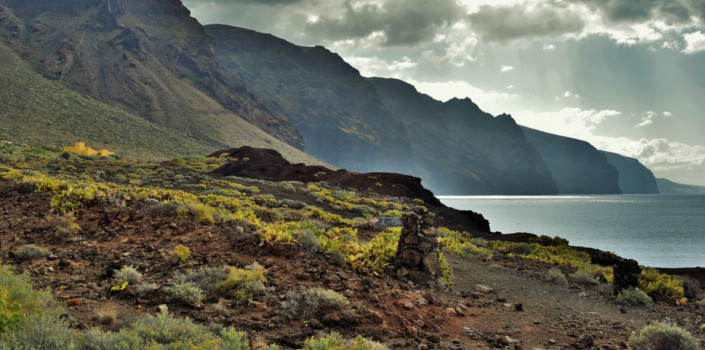 Los Gigantes are famous cliffs that can be seen from various beaches in the southern end of the island. Los Gigantes is a must-see for photographers (and Instagramers)!
Los Gigantes son unos famosos acantilados que pueden verse desde varias playas del sur de la isla. ¡Una foto obligada para fotógrafos (e Instagramers)!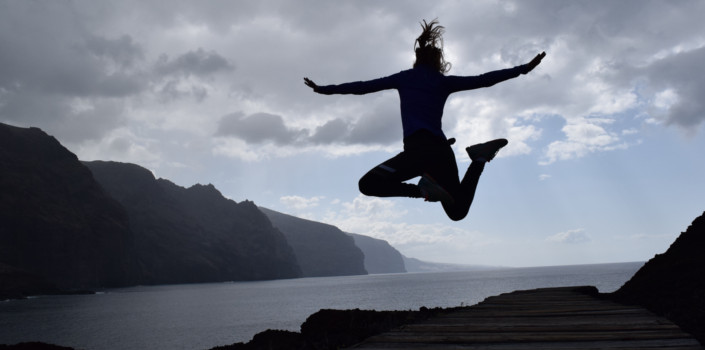 Where to go: Acantilados de los Gigantes, Santa Cruz de Tenerife. Take the Guagua (line 325) for a 1 hr. 40 min. ride or drive 1 hr. 15 min. to the town.
Dónde ir: Acantilados de los Gigantes, Santa Cruz de Tenerife. Toma la Guagua 325 durante 1 hora y 40 minutos o conduce durante 1 hora y 15 minutos desde la ciudad.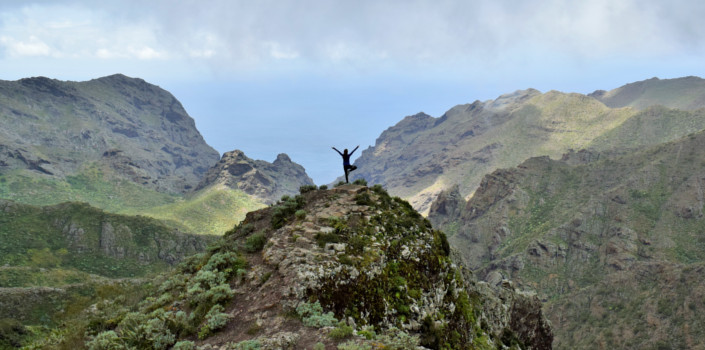 On our way to Masca, a quaint village snuggled in the mountains, where we hiked down a ravine to the sea and took a boat back to town. Warning! This route is not for the faint of heart, but well worth the trip! The road to reach Masca is on the edge of a mountain and the hike is about 5 miles.
Atravesamos un barranco hasta llegar al mar y tomamos una lancha para llegar a Masca, una preciosa villa acurrucada entre montañas. ¡Aviso! La ruta que sigue no es para los débiles de corazón, ¡pero el viaje merece la pena! La carretera para llegar finalmente a Masca bordea una montaña y tiene una longitud de unos 8 kilómetros. 
How to get there: Take a Guagua to Masca, hike the gorge to Masca Bay, where you can take a boat to Los Gigantes (€10, reservations recommended). Bring water, good hiking shoes, light jacket, water, snacks and of course your camera.
Cómo llegar: toma una Guagua a Masca, camina hasta la garganta de la bahía de Masca, donde podrás tomar una lancha hasta Los Gigantes (10€ de reserva). Lleva agua, un buen calzado de senderismo, una chaqueta ligera, algo para comer y, por supuesto, tu cámara. 
---
Keywords: Tenerife, spring, travel, trip, learn spanish, study spanish