Rita and Her Truck
by suzanne.pope on Monday, March 6, 2017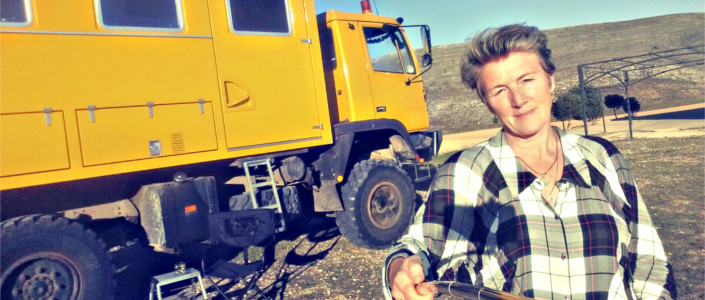 We met Rita in Salamanca at don Quijote Spanish School and were instantly drawn to her charismatic charm. She is a playful, friendly woman full of love for life and travel. When she told us her story featuring her big yellow truck we just had to know more. Read below for our interview with Rita and discover why she left home for the road with her trusty yellow truck.
Conocimos a Rita en la escuela de español don Quijote de Salamanca y nos encantó su carisma. Es una persona alegre y amistosa, llena de amor por la vida y por viajar. Cuando nos contó su historia y la de su camión amarillo gigante quisimos saber más. Lee esta entrevista y descubre por qué Rita dejó su casa y empezó su viaje.
---
So tell us your story. How did you get here?
¡Cuéntanos tu historia! ¿Cómo llegaste hasta aquí?
I had a typical life, a daughter and a full time job back in Amsterdam. At one point I had kind of a rough time which included divorce, I was bored with my job and my daughter moved out – well, this is a good thing but still hard! I was 50 years old and I just kept thinking that I want to give more meaning to my life. The world is burning and I just really want to find a way to do something that helps in a positive way. I just couldn't stay at my job doing the same thing. So, a friend suggested we drive to Mongolia. We talked about getting a camper but we knew we would have to change the wheels too often. So we somehow found this giant truck and bought it! I rented out my apartment for two years and we drove to Morocco together. Now I am traveling on my own in Spain to get more practice. I really love it, I am free and just really enjoying my own company.  You know you always have choices, especially at certain times of your life you can start new, people push you this way and that way, but ultimately you have to decide for yourself.
Tenía una vida típica, una hija y un trabajo a tiempo completo en Amsterdam, pero tuve una época difícil: me divorcié, estaba aburrida de mi trabajo y mi hija se mudó de casa. Bueno… esto último fue bueno, pero fue duro. Tenía 50 años y quería darle sentido a mi vida. El mundo se venía abajo y quería hacer algo positivo que ayudase a la gente. Sencillamente, no podía estar en mi trabajo haciendo siempre lo mismo. Así que un amigo me sugirió conducir hasta Mongolia. Hablamos de comprar una caravana, pero sabíamos que habría que cambiar muchas veces las ruedas. Así que encontramos este camión gigante y lo compramos. Alquilé mi aparmento por dos años y fuimos juntos a Marruecos. Ahora estoy viajando yo sola por España. Me encanta, soy libre y estoy disfrutando de mi propia compañía. Sabes que siempre tendrás que hacer elecciones, especialmente en los momentos de tu vida en los que tienes que empezar de nuevo, la gente puede decirte qué camino tomar, pero tú tienes que decidirlo por ti mismo.
That is so true, I think a lot of people can relate. That truck is giant! What's it like to drive that thing?
Eso es verdad, mucha gente se sentirá identificada. ¡Ese camión es gigante! ¿Cómo es conducir esa cosa?
Driving it is very nice. You are bigger and you have a big overview. It's like I'm royalty on the road. It's not new, it's an old army truck from 1986. It's hard work sometimes, especially in the city and on the mountains. On quiet roads, it's great. I am 7 meters (23 ft) long and 2.5 meters (8.2 ft) wide, so I have to be careful.
Conducirlo es muy divertido. Eres más grande y tienes una visión más alta. Esto es como ser la realeza de la carretera. No es nuevo, es un camión del ejército antiguo de 1986. Algunas veces conducirlo es duro, especialmente por ciudad y montaña, pero en carreteras tranquilas es estupendo. Ahora tengo 7 metros de longitud y dos metros de ancho, así que tengo que ser muy cuidadosa.
What kind of truck is it?
¿Qué tipo de camión es?
It is a Steyer 12M18, which is a 4X4 Austrian army truck. It uses a lot of gas but on the other hand, I save a lot of water, heating (that I would have used in Holland) and I only use solar energy.
Es un Steyer 12M18, un camión 4x4 del ejército austríaco. Consume mucha gasolina, pero por otro lado ahorro mucho en agua, en calefacción (desde luego más lo que habría ahorrado en Holanda) y solo uso energía solar.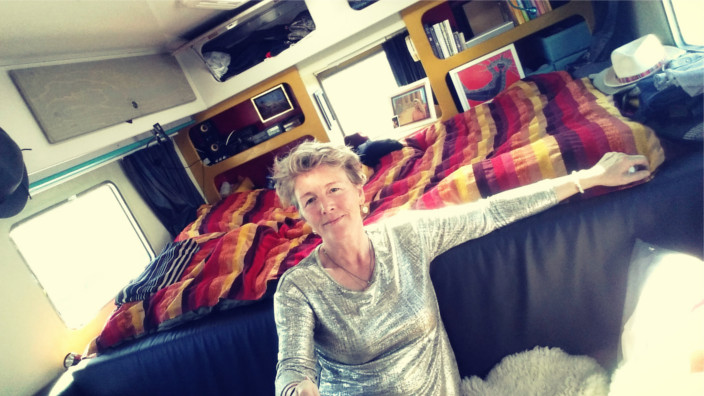 So why Spain?
Y, ¿por qué España?
I love Spain. My parents actually lived here for 15 years in L'Altea (Alicante) so I visited Spain many times in the past. I feel safe here and the people are so friendly. It's funny because men especially look shocked that a women is driving this big truck and especially when they realize I am doing it alone! (Laughs) They are really surprised! But I think they respect me for what I am doing. It's also just a beautiful country with a lot of nice cities to see and the natural sites are gorgeous. I love walking here, nature makes me calm.
Me encanta España. Mis padres llevan viviendo 15 años en L'Altea (Alicante) y he visitado España varias veces en el pasado. Me siento muy segura y la gente es muy amigable. Es divertido porque los hombres se sorprenden mucho cuando ven a una mujer conduciendo un camión… ¡Y más cuando se dan cuenta de que estoy sola! (Risas) Pero creo que me respetan por lo que estoy haciendo. También es un bello país con montones de ciudades para ver y su naturaleza es impresionante. Me gusta pasear por aquí, la naturaleza me calma.
I heard that you went to don Quijote Spanish School in Salamanca. Can you tell us about your experience learning Spanish?
He oído que fuiste a la escuela de español don Quijote de Salamanca. ¿Qué puedes contarnos de tu experiencia hablando español?
I spoke some French, but not Spanish when I got to Spain. I had this one experience where I was at a bar and there were people trying to chat with me but I wasn't able to talk to them, I couldn't even make small talk! I really want to learn the culture and meet people and I knew at that moment that I really needed to learn the language.
Then a few days later I was in Santiago de Compostela and I had some problems with my truck had to be fixed. I checked the weather and saw it was raining, so I decided it was the perfect moment to take a break from the road and sign up for classes. I googled a Spanish course and found don Quijote in Salamanca, which is where I went.
Spanish is going alright. (She laughs) I practice every day and I use Duolingo. I also repeat verb conjugations like como, comes, come, comemos, coméis, comen. Repeat repeat repeat!
Yo hablaba en francés, pero no en español cuando iba a España. Una vez fui a un bar donde todo el mundo quería hablar conmigo pero yo no pude tener con ellos ni una charla corta. Realmente quería aprender la cultura y conocer gente. Supe en ese momento que necesitaba aprender el idioma.
Unos días después estaba en Santiago de Compostela y tuve problemas con mi camión, que había que arreglarlo. Eché un vistazo al pronóstico del tiempo y vi que iba a llover, así que decidí que era el momento ideal para hacer un alto en el camino y apuntarme a algunas clases. Busqué en Internet un curso de español y encontré don Quijote en Salamanca, así que allí fui.
Voy bien con el español (se ríe). Ahora practico cada día y uso Duolingo. También repito conjugaciones de verbos "como, comes, come, comemos, coméis, comen". ¡Hay que repetir, repetir y repetir!
What was your experience at don Quijote like? Did you learn a lot?
¿Cómo fue tu experiencia con don Quijote?, ¿Aprendiste mucho?
Classes were serious and I had to work really hard. I learned the basics, enough to continue practicing during the trip. Actually, yesterday I got my first compliment, an older man, who liked my truck, said I spoke good Spanish! He saw it was an army truck because he drove one himself when he was young. He was very surprised I was driving the truck by myself! 
Las clases eran serias y trabajé muy duro. Aprendí lo básico, lo suficiente para poder continuar practicando durante el viaje. ¡Ayer mismo recibí mi primer cumplido! De un hombre mayor al que le gustó mi camión. ¡Me dijo que hablaba muy bien español! Se dio cuenta de que era un camión del ejército porque él había conducido uno cuando era joven. ¡Se sorprendió mucho de que yo condujera el camión por mí misma!
Do you have any tips for Spanish learners?
¿Tienes algún consejo para alumnos de español?
Practice, practice and practice some more!


¡Practica, practica y practica un poco más!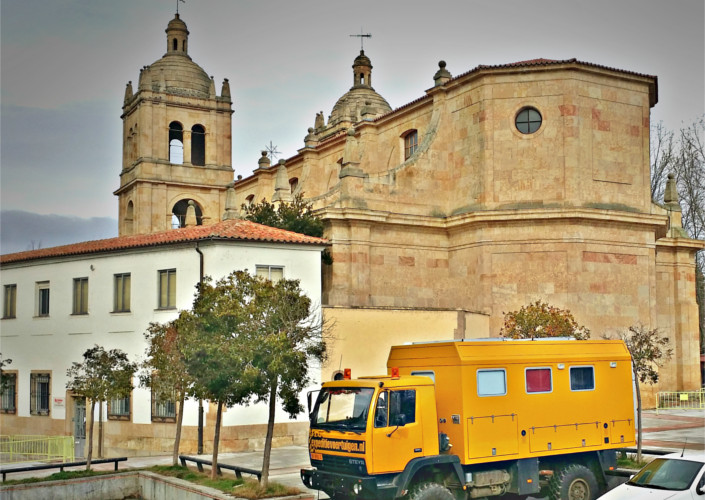 Last question – what is your ultimate goal for your trip?
La última pregunta. ¿Cuál es el objetivo definitive para tu viaje?
I worked my whole life, raised a child and took care of my parents for the last few years. I am still young, have a little savings, my daughter lives on her own. I gave myself two years off, two years where I have time to think about myself and what I would like to dedicate the rest of my life to. In two years I will have to work again, but I know I don't want to return to my old routine.
I hope to find something fulfilling which makes the world a little better. This is a step in the dark.
At this moment, the news inspires me, I would like to learn the process of making small films and keep on writing. My next step is to begin producing podcasts. When I get back to Holland I want to start a campaign. I'm not sure for what exactly but I still have some month to think about that. I want to empower people to be more in control of their own lives and not dependent on politicians.
Trabajé durante toda mi vida, tuve una hija y cuidé de mis padres durante los últimos años. Todavía soy joven, tengo algunos ahorros, mi hija vive por su cuenta. Me he dado dos años para mí, dos años en los que tengo tiempo para pensar sobre mí misma y a qué quiero dedicar el resto de mi vida. En dos años volveré al trabajo, pero sé que no quiero volver a mi vieja rutina.

Espero encontrar algo satisfactorio que haga del mundo un poco mejor. Sé que es un paso en la oscuridad. En este momento las noticias me inspiran, me gustaría aprender a filmar películas y seguir escribiendo. Mi próxima meta es empezar con un podcast. Cuando vuelva a Holanda me gustaría comenzar una campaña. No sé sobre qué, pero tengo algunos meses para pensar sobre ello
.
Me gustaría hacer que la gente tomase un mayor control de sus vidas y que no dependan de los políticos.
Would you like to add anything else?
¿Te gustaría decir algo más?
Check out my blog
Reizen met_een Overlander
, which means "Traveling with an Overlander" (a converted camper). It's in Dutch, and some Spanish.
¡Echad un vistazo a mi blog
Reizenmeteen Overlander
! Está en holandes... y ahora parte en español.
Well, I think it's time to wrap this up. Thank you so much for speaking with us. We love your story and think it's so important to do the things that make you happy. We hope you find your calling and have an amazing trip!
Bueno… es el momento de terminar. Muchas gracias por hablar con nosotros. Nos ha encantado tu historia y también creemos que es muy importante hacer lo que te hace feliz. ¡Esperamos que encuentres tu camino y que tengas un apasionante viaje!
Thank you! We'll speak soon!
¡Muchas gracias! ¡Hablamos pronto!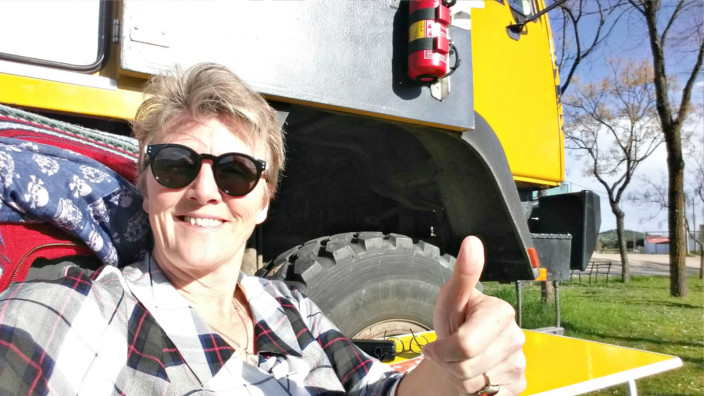 ---
Keywords: salamanca, spanish school, learn spanish, travel, spain, truck, caravan