Extraordinary Ways to See Salamanca: Boats, Bikes & Horses
by suzanne.pope on Tuesday, May 9, 2017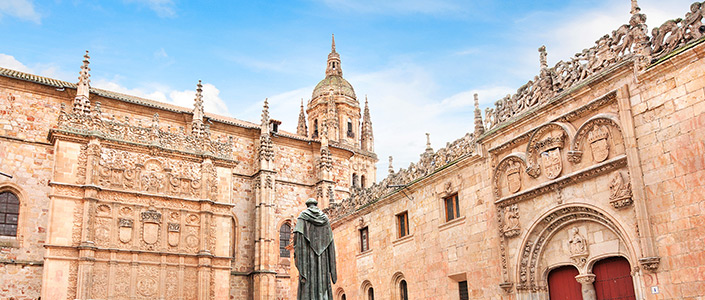 Think you know Salamanca already? Think again! Salamanca is full of surprises that take lifetimes to uncover. It's one of Europe's cultural capitals, it's the Oxford of Spain, a UNESCO World Heritage Site with outstanding universal value. A city so historic and unique as Salamanca deserves to be discovered in historic and unique ways. Go off the beaten track and discover the city's hidden gems on boat, bike or horseback! Read below to learn about the best touristic routes.
¿Crees que conoces Salamanca? ¡Piénsalo de nuevo! La ciudad está llena de sorpresas, tantas que llevaría una vida descubrirlas. Es una de las capitales culturales de Europa. Para que te hagas una idea, se podría decir que es la Oxford española, un lugar declarado Patrimonio de la Humanidad por la UNESCO con un valor incalculable. Una ciudad con tanta historia como Salamanca merece ser descubierta de manera única. ¡Sal del típico circuito turístico y descubre las joyas escondidas de la ciudad en barca, bici o a caballo! Echa un vistazo a nuestras propuestas.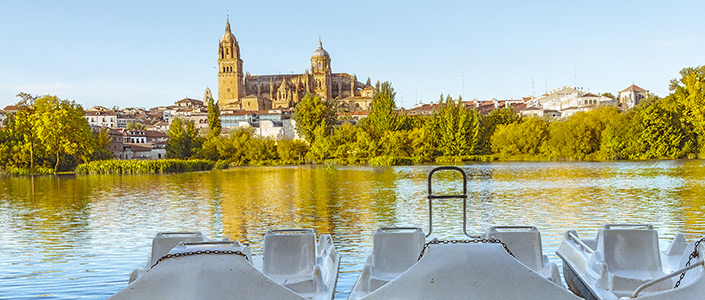 By Boat
Hop on a pedal boat or kayak to explore Salamanca in style. Take a peaceful ride on traditional "barcas del Tormes" for stunning views of the city including la Clerecía (a Jesuit church), Casa Lis (a fine arts museum focused on Art Nouveau and Art Déco), a stunning cathedral y several other interesting temples.
Practical information:
Schedule: 11 a.m. – 9:30 pm Abril through September
Price: Between €6-€15 depending on what kind of boat you rent and the number of people in each boat.
Contact: Bar la Pachamama, Paseo Progreso, 1 Salamanca; Reservations: (+34)  636 82 56 14
En barca
Salta a una barca de pedales o a una canoa y explora Salamanca con estilo. Da un pacífico paseo en las tradicionales "barcas del Tormes" para disfrutar de unas vistas que incluyen la Clerecía (el antiguo colegio e iglesia de los jesuitas), Casa Lis (hoy reconvertida en un museo dedicado al Art Nouveau y al Art Déco), un impresionante catedral y numerosos templos de interés.
Información práctica:        
Horario: 11 a.m. – 9:30 pm de abril a septiembre.

Precio: entre 6 y 15 euros dependiendo del tipo de barca que quieras alquilar y del número de personas que te acompañen.

Contacto: Bar la Pachamama, Paseo Progreso, 1 Salamanca; Reservas: (+34)  636 82 56 14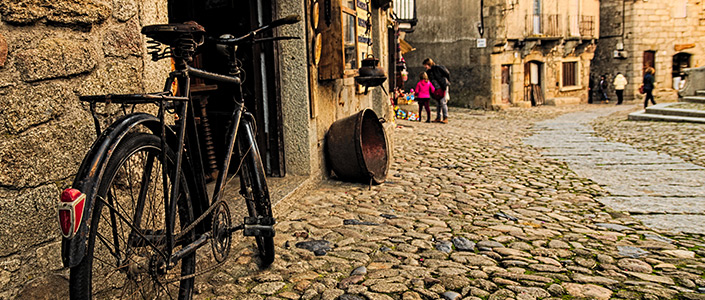 By Bike
Bikes are always a great way to see a new city: you have the ability to see things up close and personal while covering more ground than you might be able to on foot! Salamanca is always expanding its network of bike paths and offers plenty of ways to rent bikes at your convenience including with SALenBICI (a city-owned bike share), the association Amigos de la Bici and the University of Salamanca.
Practical information to rent bikes from Bikecicletas Salamanca:
Price: Starting at €5 per hour.
Contact: Bikecicletas Calle Traviesa, 18-20 Salamanca; Reservations: (+34) 923 216 940
Parks and Neighborhood Tour by Bike
Discover the various neighborhoods and parks of Salamanca. You will be surprised as you find hidden oases in the city.  Enjoy pleasant sites lined by curious trees and riverbanks. On bike, you have the ability to not only see the parks within the city, but to also explore the districts just outside of the historic center.
Tour duration: 3 hours.           
Romantic Salamanca
Discover the most romantic areas of Salamanca. You are sure to find yourself daydreaming and sighing out loud as you listen to inspiring legends. Go beyond the city walls to discover the mysteries and romance of Salamanca.
Tour duration: 3 hours.
Camino de Santiago and Rural Salamanca
A guided bike tour takes you to the meadows and natural parks surrounding the city of Salamanca. Find yourself in green fields full of wildlife. Under the shade of big oak trees, you will probably see bulls, cows, Iberian pigs, sheep and quaint hamlets. Many of the towns here welcome pilgrims weary from the Camino of Santiago (St. Jame's Way), via the Silver Route, as they did hundreds of years ago during the time of the Romans. If you are lucky, you might even see storks, deer, rabbits, fox and various types of birds. Enjoy nature up close and personal!
Tour duration: 4 hours.
En bici
Las bicicletas siempre son una estupenda opción para conocer la ciudad: tienes la oportunidad de ver todo desde una perspectiva más cercana mientras cubres más distancia de la que harías a pie. Además, Salamanca siempre está expandiendo su red de carriles adaptados y ofrece diferentes modalidades de alquiler incluyendo el servicio SALenBICI (ofrecida por la ciudad) o la Asociación de Amigos de la Bici de la Universidad de Salamanca.
Información práctica para alquilar bicicletas en Salamanca:
Precio: A partir de 5€ por hora

Contacto: Bikecicletas Calle Traviesa, 18-20 Salamanca; Reservas: (+34) 923 216 940
Ruta en bicicleta por parques y barrios
Descubre los diferentes barrios y parques de la ciudad de Salamanca. Te sorprenderá la cantidad de rincones acogedores que tiene. Disfruta de lugares únicos rodeados de árboles a orillas del río. En bicicleta, además de los parques de la ciudad, podrás explorar los barrios que hay más allá de su centro histórico.
Duración de la ruta: 3 horas.                                        
Romance
Descubre los lugares más románticos de Salamanca. Te aseguramos que vivirás un sueño mientras escuchas inspiradoras leyendas. Ve más allá de las murallas de la ciudad y descubre los misterios y el encanto de Salamanca.
Duración de la ruta: 3 horas.
El Camino de Santiago y la Salamanca rural.
Una ruta guiada en bicicleta te llevará por los prados y parques naturales que rodean la ciudad de Salamanca. Te encontrarás en campos llenos de vida salvaje. Bajo la sombra de grandes robles podrás ver toros, vacas, cerdos ibéricos, ovejas y pintorescas casas. Muchos de los pueblos que encontrarás en tu ruta acogen a peregrinos que hacen el Camino de Santiago a través de la Ruta de la Plata, cuyos orígenes se pueden rastrear hasta los tiempos del Imperio Romano. Si tienes suerte, podrás encontrar en tu camino cigüeñas, ciervos, conejos, zorros y muchos tipos de pájaros. ¡Disfruta de la naturaleza de la manera más personal!
Duración de la ruta: 4 horas.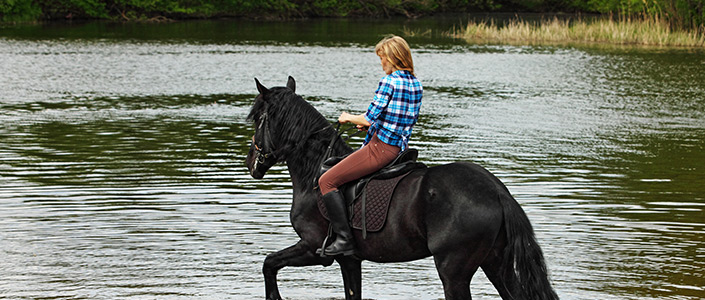 By Horse
Riding a horse through Salamanca is a wonderful experience that makes you reminiscent of a past era. If you are looking for something different and exciting - tour the city on horseback! Choose between various routes, we recommend riding along the Tormes River. For more experienced riders, tours also go to the beautiful Finca Montegallardo or Finca Rodasviejas, approximately 25 miles outside of the city.
Practical information:
Transportation to and from Salamanca included
Tour duration: 1.5+ hours.
Levels: Beginner to experienced riders.
Price: Varies depending on the season, group size and tour duration.
Contact: Lugar Aceña, S/N, 37336 Huerta, Salamanca; Reservations: 646 46 80 03
A caballo
Montar a caballo por Salamanca es una manera maravillosa de recordar el pasado. Si estás buscando algo diferente y estimulante, prueba una ruta a caballo por la ciudad. Puedes elegir entre varias rutas, pero nosotros de recomendamos bordear el río Tormes. Para los jinetes más experimentados, hay rutas que llegan hasta la bella Finca Montegallardo o la Finca Rodasviejas, a unos 40 kilómetros de la ciudad.
Información práctica:                                                                          
Transporte desde y hasta Salamanca incluido.

Duración de la ruta: más de 1,5 horas.

Niveles: desde jinetes principiantes hasta experimentados.

Precio: varía en función de la estación, tamaño del grupo o duración de la ruta.

Contacto: Lugar Aceña, S/N, 37336 Huerta, Salamanca; Reservas: 646 46 80 03
---
Keywords: bikes, salamanca, study spanish, spanish course, go abroad, travel spain, boat, horseback