How to sign up for the DELE exam in 5 easy steps
by Patricia Mendez on Monday, June 10, 2019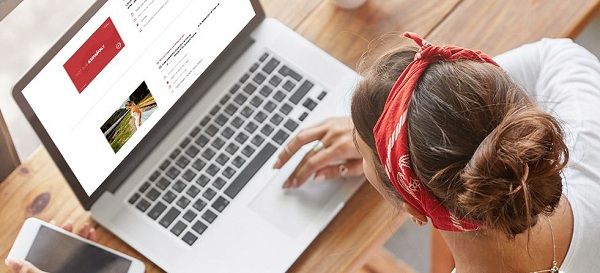 Learning a new language requires much time and effort. It can seem unfair that students who have worked so hard over time to develop these language skills must gamble it all on an exam that declares the validity of their skillset. Regardless, this is an unavoidable process. Whomever needs to obtain official certification to apply to a university, attain Spanish citizenship or simply fulfill other legal obligations, has only one choice: to take the DELE.
Luckily, don Quijote is here to make this whole process easier for you. In this article, we would like to guide you through steps necessary for enrolling in the world's most popular Spanish exam. Keep reading this article or click here to change to the Spanish version.
5 Steps to Enroll
The DELE is a Ministry of Education, Culture, and Sport of Spain exam. The Cervantes Institute holds authority over the exam since 2002, which is why you'll have to go through their site to enroll and receive your diploma. Though unfortunately, if you have yet to master your Spanish, navigating through their page may be a bit difficult as it is only available in Spanish.
But don't fret! Below, you'll find the 5 very simple steps that'll guide you through the enrollment process. Now, first things first, let's remind you that you'll have to sign up at 8 weeks before the official date of the exam.
Step 1
Visit the exam page on the Cervantes Institute site and create a profile there. They will ask you to provide your first name, last name, passport number and a few other personal details.
Step 2
Once you've created your profile, you'll receive a welcome email asking you to log in. Click the link found in the email and create a password for your new account.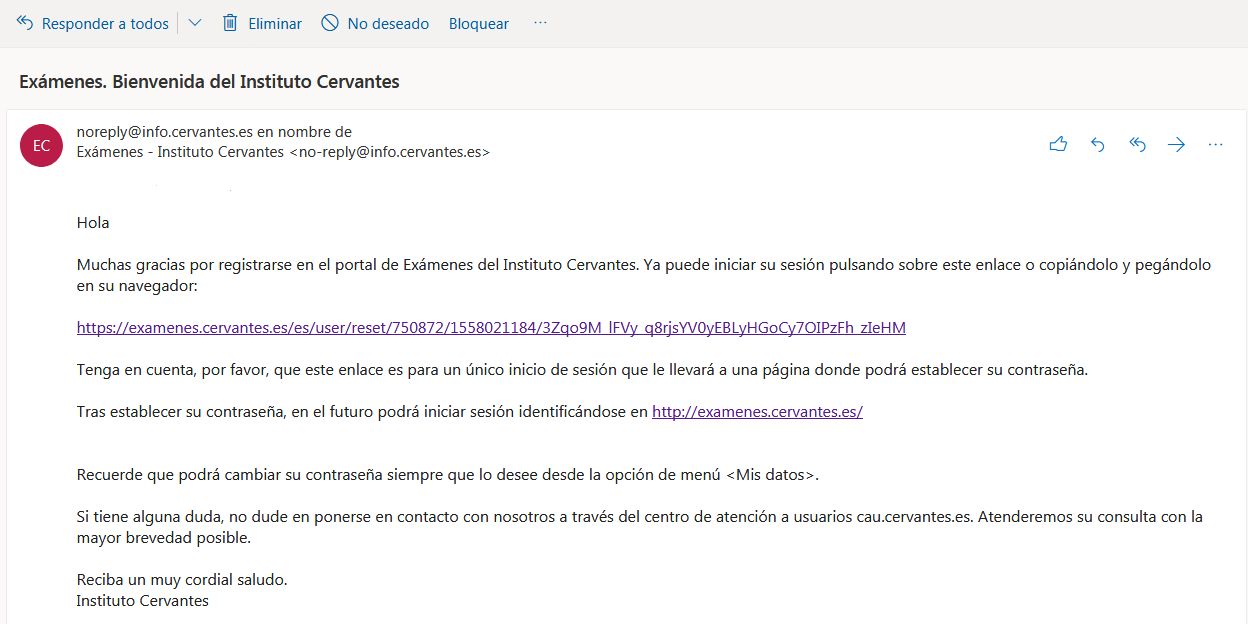 Step 3
As you log in, click on Mis Inscripciones and after that on Nueva Inscripción.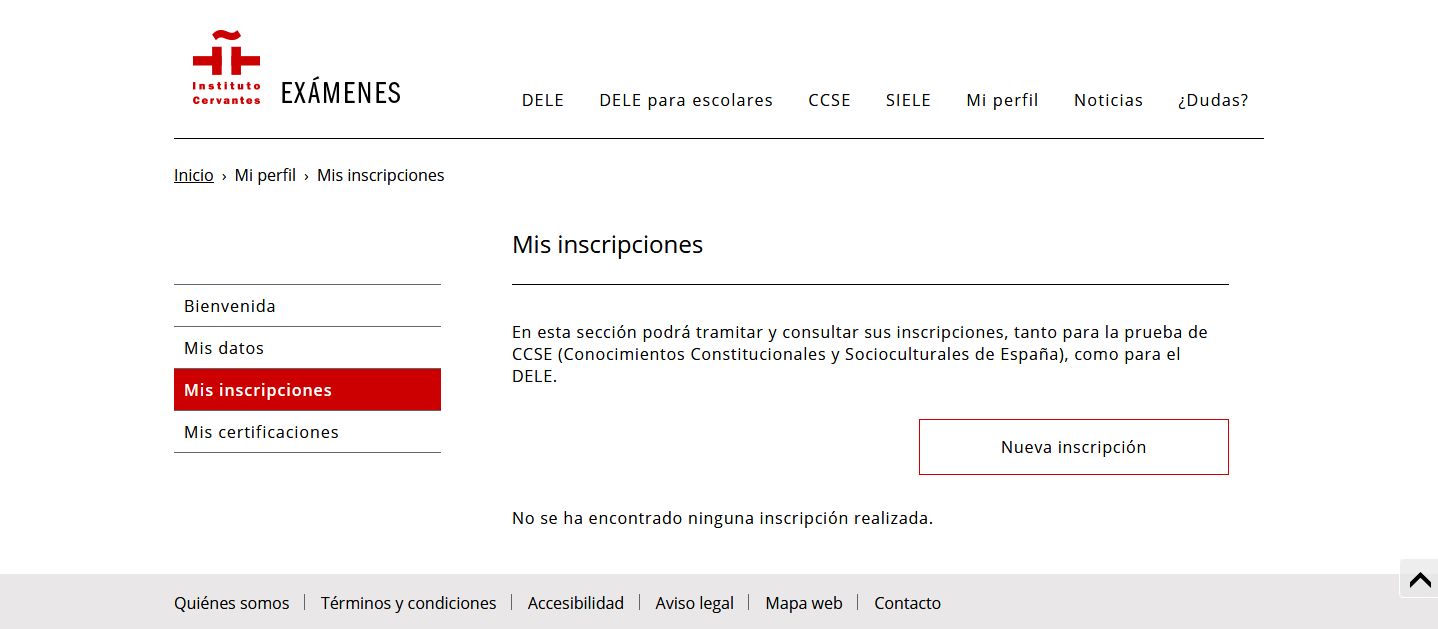 Then, a new window will appear where you will be able to enter you residency info. and choose a date for the exam. But warning! Not all dates offer the same levels for the exams.

Step 4
Drag the mouse down until you find one of our don Quijote accredited centers and select the date that you prefer and then go ahead and click Inscribirse.

Step 5
Confirm that all the information provided is correct and explain the reason why you would like to take the exam. After that, you may go ahead and complete the required payment.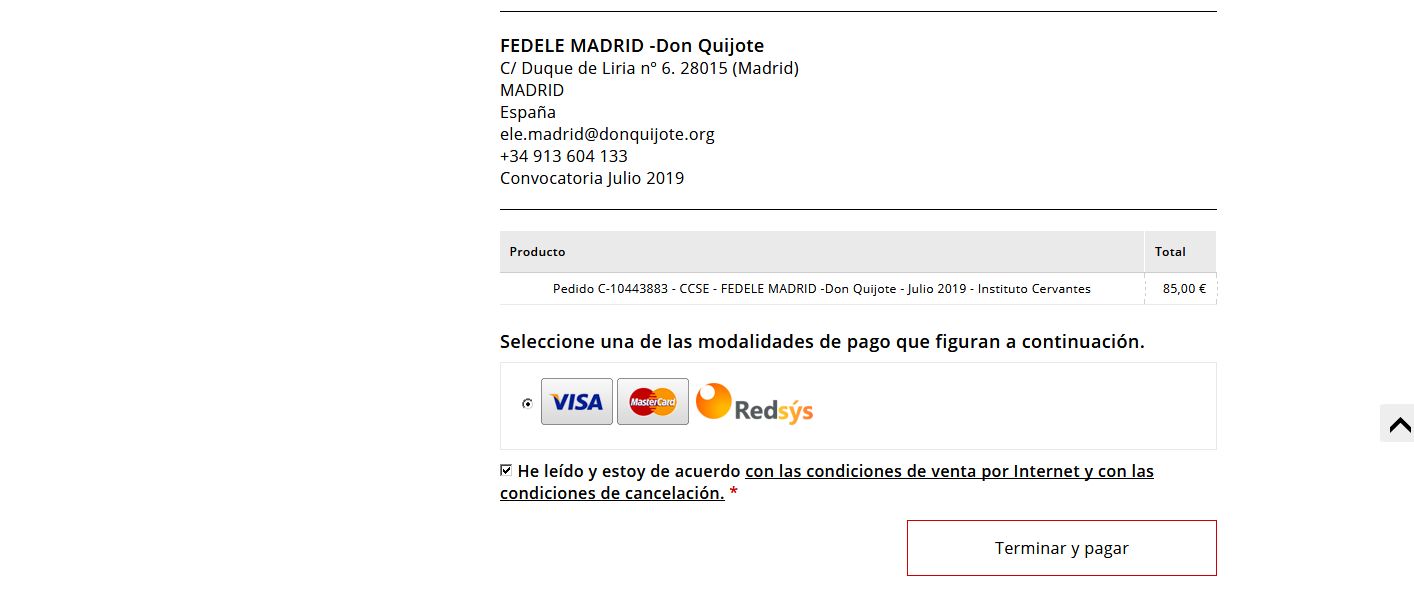 You're finally done! Now, all that's left is to await the day of the exam. In don Quijote, we offer plenty of DELE preparation courses so that you can feel totally prepared. Our rate of success is 95%. Sign up for either of our courses, DELE 20 or DELE 30 to get rid of the stress and be fully equipped to take that exam!
If you'd like to learn more about DELE and other official Spanish exams, take a look at this video we've put together. Good luck!
---
Keywords: