How to sign up for the SIELE exam in 5 easy steps
by Javier Serrano on Monday, June 17, 2019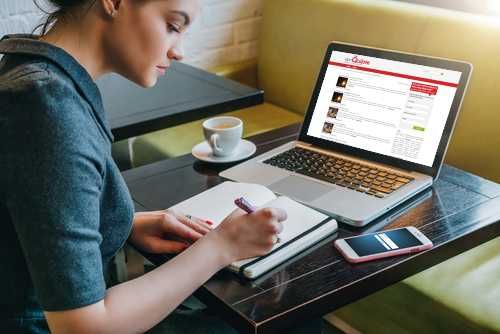 If you are reading these words, maybe you find yourself in one of these turning points where you have to make a decision that could change the rest of your life. Perhaps you are about to go to university, or want to undergo a radical change of work, or maybe you just want to embark on a new adventure.
If any of these options have a Spanish-speaking country as destination, and you need to get an official Spanish certificate as soon as possible, the key that will bring your objectives within reach has a name: the SIELE exam. Keep reading this article in English or click here to change to the Spanish version.
The SIELE is recognized and promoted by several international language education organizations: the Instituto Cervantes, the Universidad Autónoma de Mexico, the Universidad de Salamanca, and the Universidad de Buenos Aires.
These organizations guarantee standards for quality and linguistic varieties in the tests.
The exam offers several specific characteristics that make SIELE different from other certificates: it has a validity of 5 years, the exam can be taken the day, time, and place of your choice by electronic means, and something that will make you happy, it's not possible to fail the test! You will always come away from the exam with a certificate or report for one Spanish level or another.
SIELE offers you up to 4 tests that cover all the areas of knowledge of the Spanish language: reading comprehension, listening comprehension, written expression and interaction, and spoken expression and interaction. There are 2 ways to take the exam:
SIELE GLOBAL:  It's a single multilevel exam that includes 4 tests.  With this exam, you will get the SIELE certificate.
INDEPENDENT MODALITIES: Choose from 5 exam modalities based on a combination of the 4 tests. Taking one of these exams will allow you to obtain the SIELE Report.
5 STEPS TO ENROLL
Visit the SIELE page.
STEP 1
Choose the exam mode you're interested in (SIELE Global or the independent modalities) and the country where you want to take the exam.
STEP 2
Select the date and the accredited center of your choice. Remember that you can take the test at any of our schools in Spain.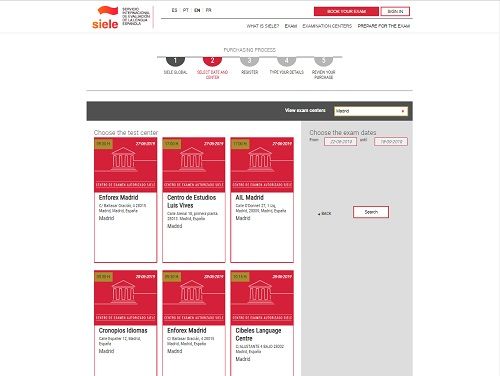 STEP 3
Register by creating your user account.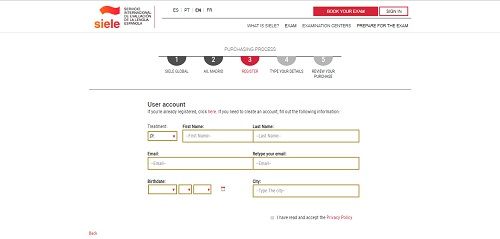 STEP 4
Enter your personal information.
STEP 5
Review that your purchase was successful.
When the day of the exam arrives, be cautious! Go to the center 15 minutes before the time of the test and do not forget the official ID that you used to book the exam and your siele.org user account information (email and password).
In a maximum period of three weeks you will receive an email notifying you that you are able to download your SIELE certificate or report from "My page."
And yes, it's true that this is an exam you cannot fail, but if you're getting this certificate in order to reach your goals, that means you are a person that refuses to tolerate mediocrity. At don Quijote we offer  a SIELE preparation course so you can get the highest mark.
Make the beginning of this new adventure official!
If you'd like to learn more about SIELE and other official Spanish exams, take a look at this video we've put together.
---
Keywords: