Los mejores festivales en España en 2020
by Maria Martin on Friday, January 31, 2020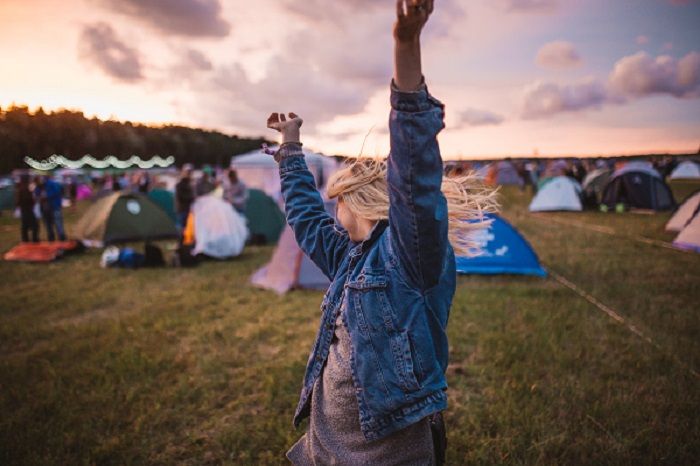 En don Quijote, sabemos que el ritmo de la música corre por tus venas. Por este motivo y para que disfrutes al máximo este verano, te queremos contar cuáles son los mejores festivales en España para asistir este año 2020. ¿Bailamos?
Continúa leyendo en español o cambia a la versión en inglés si lo prefieres.
España es uno de los destinos favoritos para muchas personas que buscan pasar la temporada en las maravillosas playas de nuestra costa, degustar la increíble gastronomía mediterránea o incluso aprender español. Pero es que, con la llegada de la época estival, el país con más sol en Europa se convierte también en un gran escenario musical que recorrer de norte a sur y de este a oeste.
1. PRIMAVERA SOUND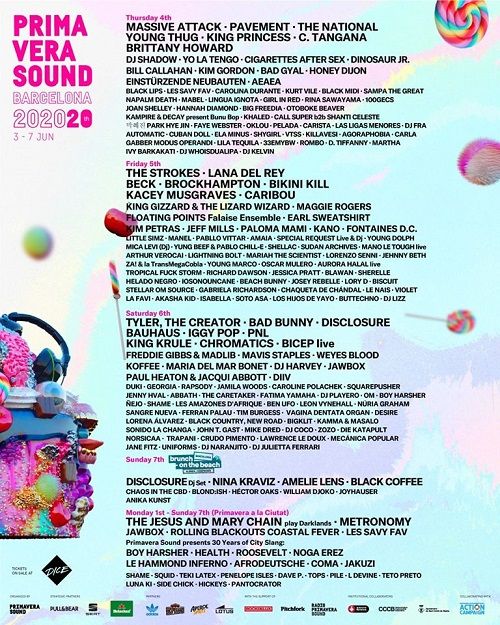 Cuándo: 3-7 junio
Dónde: Parc El Forum, Barcelona, España
Quién: Beck, Caribou, Cigarettes After Sex, Dinosaur Jr., Iggy Pop, Nina Kraviz, Shame, The Nationals, The Strokes, Young Thug… ¡y muchos más!
Este festival no es solo uno de los más populares de Barcelona, sino que además es un punto de encuentro clave para los amantes del rock alternativo e indie, así como una referencia a nivel mundial en lo que a festivales urbanos se refiere. Año tras año, una gran variedad de grupos llena el Parc El Forum para ofrecer un sinfín de actuaciones. Añade este festival a tu lista y aprovecha para explorar una de las ciudades más cosmopolitas del planeta.
2. MAD COOL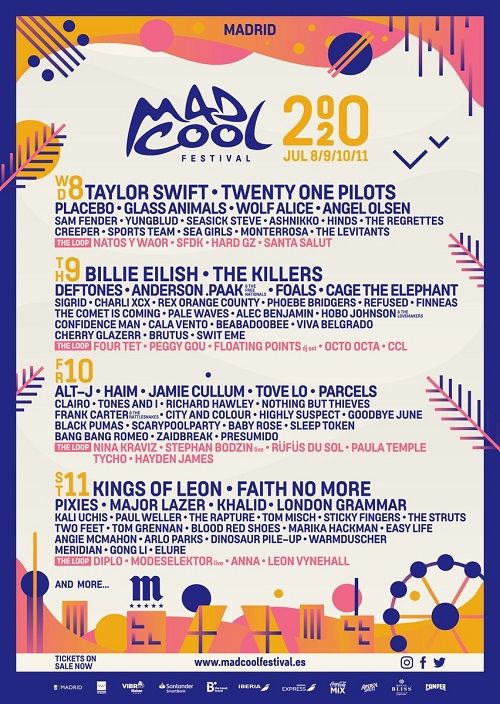 Cuándo: 8-11 julio
Dónde: Valdebebas, Madrid, España
Quién: Taylor Swift, Twenty One Pilots, Placebo, Wolf Alice, Billie Eilish, The Killers, Deftones, Kings of Leon, Faith No More, Pixies… ¡y muchos más!
Tras su espectacular debut en 2016 y después de tres exitosas ediciones que lo han consolidado, el festival Mad Cool trae lo mejor de la escena del rock internacional a la capital madrileña. Un año más y después de artistas de la talla de Foo Fighters, Pearl Jam, Depeche Mode, Queens of the Stone Age, The Cure o Smashing Pumpkins, se sitúa entre los mejores festivales de España.
3. SÓNAR FESTIVAL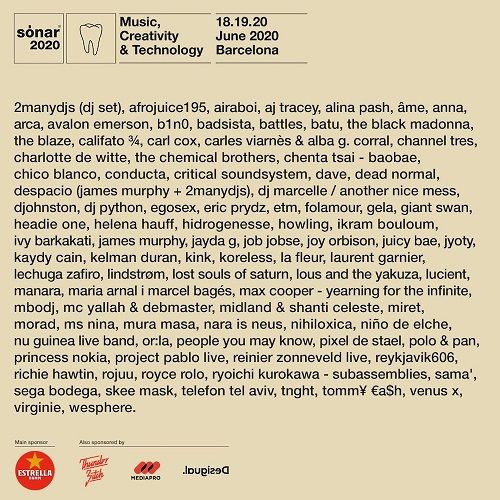 Cuándo: 18-20 junio
Dónde: Barcelona, España
Quién: The Black Madonna, The Chemical Brothers, 2Manydjs (dj set), Afrojuice 195, Aj Tracey, Alina Pash, Âme, Anna, Arca, Avalon Emerson, Airaboi, B1n0, Califato ¾…¡y muchos más!
Sónar es uno de los mejores escenarios de Barcelona, además de un evento que "marca el pulso del panorama electrónico actual". Desde su fundación en 1994, ha realizado ya 25 ediciones en la ciudad Condal, así como diferentes eventos en distintos lugares del mundo. Durante el día, el festival ofrece un gran programa de música, así como conferencias y talleres de tecnología y creatividad. Por la noche, el evento se convierte en una fiesta masiva que reúne a miles de personas que bailan al ritmo de la música techno. Con su formato único y su estilo en constante cambio, Sónar continúa redefiniendo el panorama de la música electrónica a nivel mundial.
4. LOW COST FESTIVAL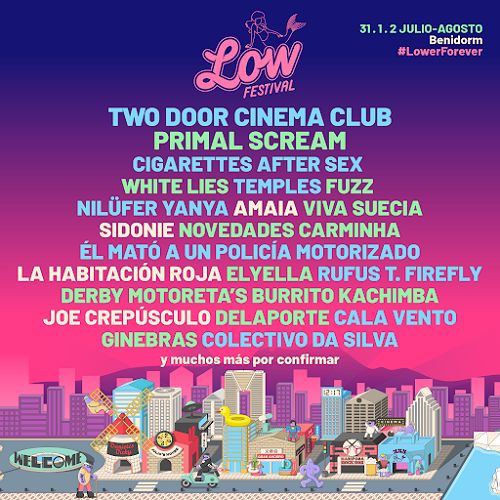 Cuándo: 31 julio- 2 agosto
Dónde: Estadio Municipal Guillermo Amor, Benidorm, Alicante, España
Quién: The Chemical Brothers, Vive la Fête, Joe Crepúsculo, Phoenix, Vitalic ODC Live, Iván Ferreiro, Biffy Clyro, Los Planetas, Editors, Izal…¡y muchos más!
Que su nombre no te engañe, ya que su cartel ha contado con nombres tan potentes como New Order, Foals, Vetusta Morla o Bastille, y este año no se han quedado atrás presentando grupos de la talla de The Chemical Brothers, Vive la Fête, Joe Crepúsculo o Phoenix. Si lo que buscas es un evento musical sin tanta masificación y más asequible, pásate por Benidorm, Alicante, los días 31 de julio, 1 y 2 de agosto.
5. FESTIVAL INTERNACIONAL DE BENICÀSSIM (FIB)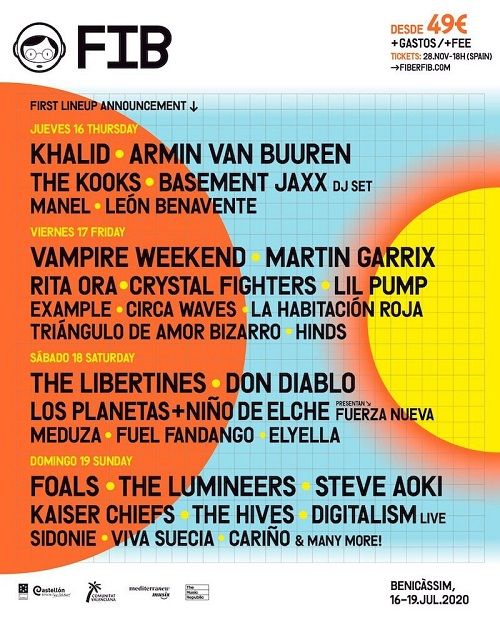 Cuándo: 16-19 julio
Dónde: Benicàsim, Castellón, España
Quién: Khalid, Liam Gallagher, Armin van Buuren, Martin Garrix, Vampire Weekend, Rita Ora, Crystal Fighters, The Libertines, Don Diablo, Fuel Fandango, Foals, The Lumineers, Steve Aoki, Kaiser Chiefs, The Hives… ¡y muchos más!
Finalizamos la ruta festivalera con uno de los clásicos de la temporada, un festival que el año pasado cumplió 25 veranos a sus espaldas. Un desfile de música pop, rock, indie y electrónica en Benicàssim (Castellón, Comunidad Valenciana) que te permitirá disfrutar del buen ambiente, y alguna que otra paella, los días 16, 17, 18 y 19 de julio. En caso de que estas razones no te parezcan suficientes, tal vez los nombres Liam Gallagher, Vampire Weekend, The Libertines o The Hives te hagan cambiar de idea.
Si esto es música para tus oídos, aprovecha para dejarte caer por uno de estos festivales. ¡Aprenderás tanto español que dejarás de sonar como un disco rayado utilizando las mismas frases una y otra vez!
Y si quieres saber cuáes fueron las canciones más escuchadas en español en la última década, ¡echa un ojo al video!
---
Keywords: