The best beaches in Spain
by Javier Serrano on Thursday, July 11, 2019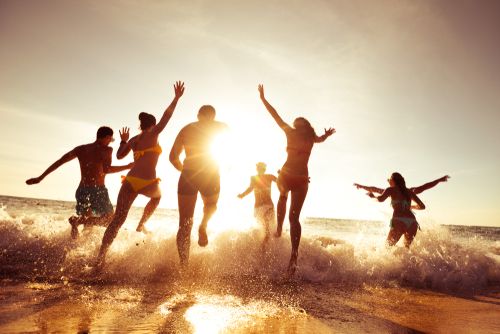 Beaches Hall of Fame       
The best moments always happen on the beach. Hollywood has made it pretty clear in a ton of films and no one can tell us otherwise. That's just the way it is.
It's the place where Danny and Sandy met and spent those unforgettable Summer Nights worthy of a musical, the place that gave us that Daniel Larusso's unmatched scene doing the "Crane Kick" under the watchful eye of Mr. Miyagi, and the place where Colonel George Taylor, on his so-called simian adventure, realizes that he actually isn't so far from his home planet after all and can't help but let out a few hot-headed curses making for another iconic scene.
Well, we have good news because Spain has almost 5,000 miles of coast filled with beaches lapped by the Mediterranean Sea and the Atlantic Ocean. 4911.939 miles to enjoy their geological and climatic peculiarities and, why not, just imagine running by the seashore at slow motion while you hear in your head the mythical Vangelis's Chariots of Fire.
I'm sure that you´re already picturing your skin sun-kissed and the sea ​​breeze in your face. If so, then I'd say we're on track, so don't stop, keep reading in English, or click here to switch to Spanish and don't miss this list with the best beaches in Spain.
Granadella Cove, Valencian Community
The first destination to enjoy your holidays in Spain is found along the Mediterranean seashore, in the province of Alicante. Located near the coastal town of Xàbia and crossing the road that meets La Granadella Forest Park, you'll find a beach that has been elected on several occasions as the best beach in Spain. Its seabed is renowned and admired for is beauty among diving, scuba diving, and snorkel enthusiasts.
Macarella and Macarelleta Cove, Menorca, Balearic Islands
It's time for the trendiest beach on Instagram. This virgin, isolated, and "u" shaped cove is the most photographed beach in Spain, and for good reason. You can only reach it by sea or on foot and, once you're there, it's as if you were in the Caribbean itself. You'll get to walk through the soft white sand to the seashore and gaze over its turquoise waters framed by pine-covered cliffs.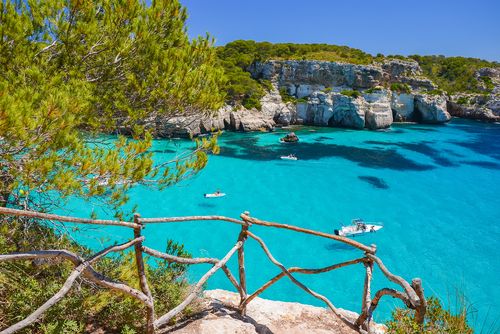 Benijo Beach, Canary Islands
If you're a person that is always looking for something different and unconventional, stop by the Canary Islands archipelago, most of its beaches have a volcanic origin. In North Tenerife you will find this incredible wild beach composed of black sand. Remote from urban centers, it is the perfect place to disconnect from all the noise and take in nature's beauty.
El Bombo Beach, Mijas, Malaga
With 683 miles in length and 65 feet in width, this beach is characterized by its moderate waves, its dark sand, and its crystal waters, perfect for the scuba diving lovers. If this is not enough to awake your interest, imagine yourself arriving to the beach riding on the back of a traditional burrotaxi (donkey-cab).
Valdevaqueros Beach, Cadiz
When the wind blows in this little corner of ours, the Valdevaqueros's 2.48 miles of beach becomes so much more, it transforms into a multicolor universe painted by the sails of the kitesurf and windsurf enthusiasts. If in addition, you're looking for good company, this is the place! The beach has, as permanent residents, cows that don't hesitate to feel at ease by the seashore while you catch up on that tan and enjoy the abundance of restaurants and chill out bars.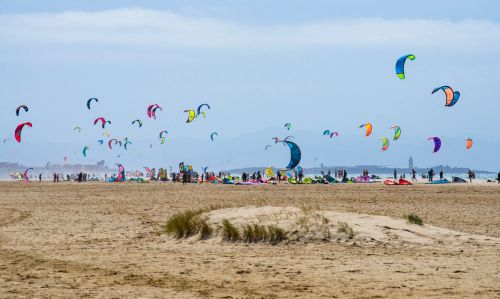 While the seventh art has its world-renowned Academy Awards, these Spanish beaches have received awards of their own that guarantee exceptional quality. Among them is the Blue Flag, an international classification that certifies that the beach meets and maintains environmental, educational, safety, and accessibility criteria. Spain tops the world list of countries with Blue Flag awarded beaches. An authentic treasure of nature.
Speaking of treasures, we can't part ways without first referring to the lucky ones that are always surrounded by sand and water, the pirates. If you want to travel the Spanish beaches in Jack Sparrow's style, take a Spanish course and discover the treasure of learning a new language.
---
Keywords: