The Spanish Language Blog
This blog is dedicated to anyone interested in Spanish language and culture.
Learn what it's like to study abroad, get news information and find resources to practice Spanish, get information about our courses and programs, meet our students and teachers as well as get useful tips and advice for travelling in Spain or Latin America.
Come discover our passion and start Blogging Spanish!
Front Page News
by John Bascombe on Thursday, March 06, 2014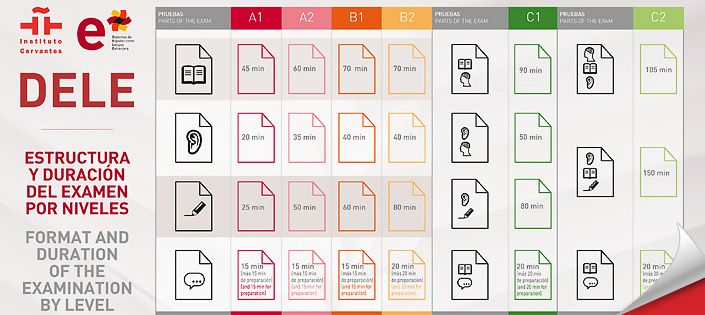 The Official Spanish Proficiency Exam
The DELE exam has seen some recent changes. Its formatting is different and this year it's being offered for the first time during 5 different examining periods (instead of only 3). Registration is now open for all five periods. Check out this handy DELE infograph and get all the details on when you can take the exam and how long each exam section lasts for all 6 of the levels that candidates can choose to take. The different sections are designed to test different language skills including reading and listening comprehension and oral and written expression.  
Job / scholarship seekers take note
The DELE certificate officially confirms your level of Spanish to employers and scholarship committees. Self-evaluation of your language skills may not prove very convincing to hiring managers swamped by mountains of resumés from job candidates who have greatly exaggerated their foreign language abilities. You know how well you can speak, but they don't. A DELE diploma certifies your level and clears all possible doubt of overstated language claims. The Cervantes Institute administers the exam, an institution responsible for promoting the Spanish language around the world and one that takes great pride in the language itself; certification from them is solid confirmation of how well you know Spanish.
The certificate is recognized around the world and it never expires.
Students may also need official confirmation of this type to be eligible to study in certain programs at universities in Spain and other countries.  
Which of the 6 levels should you go for?
It's important to sign up for the right level. You will take the exam at the level that you've signed up for and if you pass, you'll be given a certificate that shows you passed it at that level. … read more »