The Spanish Language Blog
This blog is dedicated to anyone interested in Spanish language and culture.
Learn what it's like to study abroad, get news information and find resources to practice Spanish, get information about our courses and programs, meet our students and teachers as well as get useful tips and advice for travelling in Spain or Latin America.
Come discover our passion and start Blogging Spanish!
Front Page News
by John Bascombe on Thursday, August 21, 2014

Spain in August
August may be a little more than half over, but here's a list of some of Spain's coolest fiestas in the hottest month, so you know what's going on this summer, or next summer… always en español.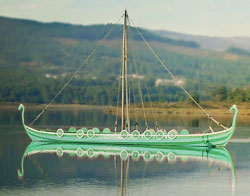 1. The Viking Festival of Catoira
Celebrated since 1961, this curious event happens on the first Sunday of August in the Galician village of Catoira (but festivities begin a week before the festival actually begins). Festival participants reenact an 11th century Viking landing that occurred on the banks of this piece of coastline and the villagers' efforts to defend themselves from the invaders. The drakkar boats used are exact replicas of original Viking boats found in Skudelev, Denmark. Catoira residents built the boats under the supervision of master builders from Frederikssund (Denmark), a sister city of Catoira. Take your own early August voyage to this northwestern Spanish town and prepare to enter the fascinating world of the Vikings.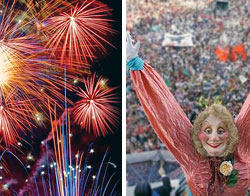 2. La Semana Grande de Bilbao
(Bilboko Aste Nagustia, in the Basque language). As its name suggests, this is Bilbao's biggest and grandest festival. It takes place for 9 days beginning on August 15th. The comparsas (kompartsak in Basque) are the life of the party. These are groups of locals who serve food and beverages at serving stands, and offer musical performances and other activities such as traditional rural sporting competitions (herri kirolak). The festival kicks off with the launch of a rocket called the chupinazo, like the one that begins Pamplona's San Fermín Festival. The symbol of the Semana Grande is Marijaia, the figure of a woman with her arms raised who appears forever lost in dance. A fireworks display draws festivities to a close… read more »