The Spanish Language Blog
This blog is dedicated to anyone interested in Spanish language and culture.
Learn what it's like to study abroad, get news information and find resources to practice Spanish, get information about our courses and programs, meet our students and teachers as well as get useful tips and advice for travelling in Spain or Latin America.
Come discover our passion and start Blogging Spanish!
Front Page News
by Javier Serrano on Thursday, July 11, 2019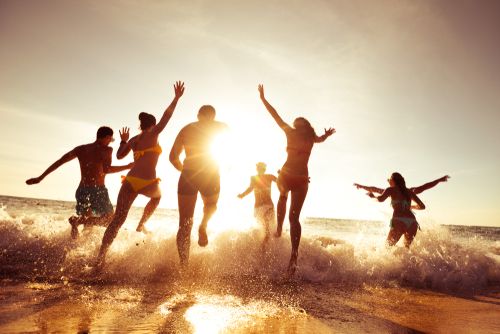 Playas de cine
Los mejores momentos de la vida suceden en la playa. Hollywood lo ha dejado bien claro en decenas de películas y a nosotros nadie nos convence de lo contario. Esto es así, sí o sí.
Es el lugar en el que Danny y Sandy se conocieron y pasaron esas maravillosas Summer Nights dignas de un musical, el lugar que nos brindó la memorable escena de Daniel Larusso haciendo la grulla ante la atenta mirada del señor Miyagi y el lugar donde el coronel George Taylor descubre, tras su aventura simiesca y entre maldiciones, que no se encuentra tan lejos de su planeta natal.
Pues bien, tenemos buenas noticias y es que España tiene casi 8000 kilómetros de costa con playas bañadas por el mar Mediterráneo y el océano Atlántico. 7905 kilómetros para disfrutar de sus peculiaridades geológicas, climáticas y, por qué no, correr por la orilla a cámara lenta mientras escuchas mentalmente la mítica Carros de fuego de Vangelis.
Seguro que ya notas tu piel bronceada por el sol y sientes la brisa del mar en la cara. Pues entonces vamos bien, no pares, continúa leyendo en español, o haz clic aquí para cambiar a la versión en inglés y no te pierdas esta lista con las mejores playas de España.
Cala Granadella, Comunidad Valenciana
El primer destino para disfrutar de unas vacaciones en España lo encontramos a orillas del Mediterráneo, en la provincia de Alicante. Situada cerca de la población de Jávea y atravesando la carretera del Parque Forestal de La Granadella, encontrarás una de las playas que ha sido elegida en diversas ocasiones como la mejor de España. Sus fondos marinos son conocidos y admirados por su belleza entre los aficionados del buceo, del submarinismo y del esnórquel… read more »