The Spanish Language Blog
This blog is dedicated to anyone interested in Spanish language and culture.
Learn what it's like to study abroad, get news information and find resources to practice Spanish, get information about our courses and programs, meet our students and teachers as well as get useful tips and advice for travelling in Spain or Latin America.
Come discover our passion and start Blogging Spanish!
Front Page News
by John Bascombe on Wednesday, July 16, 2014

10 Beautiful Beaches and Cozy Coves in Spain
July is the perfect month to hit the beach and cool off in the water. Join us and explore some of Spain's lesser-known beach paradises.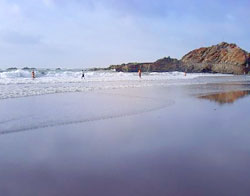 1. Roque de las Bodegas, Tenerife
Pass the peaks of the northern Tenerife, cross the Anaga Masif, and discover the town of Taganana tucked within island foothills. Then, follow the coast and prepare to indulge in a refreshing gem of a cove right next to Roque de las Bodegas. Slip your bare feet into the fine warm sand along inviting waters that are usually calm enough for kids to safely enjoy a splash. Three beach bars serve up fresh, local seafood –usually caught the very same day. Locally made cheese and wine also offer visitors a toothsome taste of island flavors.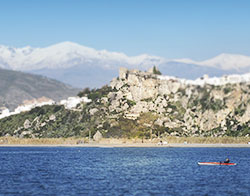 2. Cala del Pargo, Granada
With its white washed buildings huddled on a small hilltop, the charming town of Salobreña appears not unlike an enormous cream pie perched upon Granada's Costa Tropical. Nearby, find quaint and decidedly fantastic beaches and coves such as Cala del Pargo, which can only be reached by foot, as it's divided in half by a big rock. Moderate waves and crystalline waters beckon bathers to beat the heat by plunging into the Mediterranean.      … read more »