The Spanish Language Blog
This blog is dedicated to anyone interested in Spanish language and culture.
Learn what it's like to study abroad, get news information and find resources to practice Spanish, get information about our courses and programs, meet our students and teachers as well as get useful tips and advice for travelling in Spain or Latin America.
Come discover our passion and start Blogging Spanish!
Front Page News
by John Bascombe on Thursday, March 05, 2015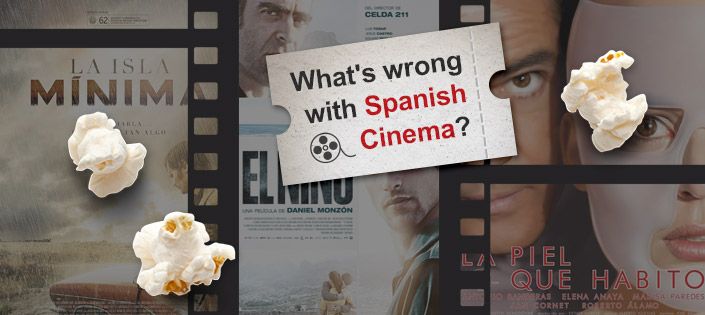 Spanish cinema has just had its best year ever with record attendance and box office earnings. So what can go wrong? With films like Spanish Affair and El Niño generating millions at the box office and delighting Spanish filmgoers, it is hard to believe that anything can be wrong. But to some people in the film world, all of this success hasn't translated into recognition or invitations and nominations to the most important film festivals or major film awards. (The last Spanish film to be nominated for an Oscar was The Sea Inside, which also won the award in 2004) According to some, it appears that in the industry's attempt to raise flagging attendance, they have sacrificed some of the elements that captures the attention of serious film lovers and critics.
The only film to achieve some sort of success among film cognoscente in 2014 has been La Isla Mínima or Marshland as it is called outside of Spain. Is the only movie to have been received into the European film festival circuit of Venice, Berlin, and Cannes. Of course there is San Sebastian also, but since this is a homegrown festival there is always ample Spanish presence, in fact Spanish-Franco film Magical Girl won the Golden Shell award. But why is it that Spanish movies have such a hard time breaking through the selection process to the major festivals?
Looking back, the last Spanish film to appear in the official selection of Berlin was Dictado or Childish Games by Antonio Chavarrías. In Venice, Alex de la Iglesia's 2010 Balada Triste de Trompeta (The Last Circus) was the last Spanish film to appear there. Almodóvar's 2011 film La Piel Que Habito (The Skin I Live In) appeared in Cannes and since then no other Spanish film has been part of the official selection there. There have been some Spanish co-productions present like last year's Relatos Salvajes (Wild Tales) or No Llores, Vuela (Aloft) but these were films partially financed from Spain but didn't count on a large participation in the cast or crew.
Independent film producer, Álvaro Longoria from Morena films (Che), believes that the Spanish industry's attempt to capture more audience together with the growing participation of Spanish television networks bankrolling major films are having a negative effect on independent film production. Movies like El Niño highlight this trend with its slick eye-candy cinematography, similar in look to Michael Mann's Heat, is becoming more and more common.
With Spanish television networks becoming increasingly more important in financing films, their objectives are very different from traditional producers. Maximizing audiences on the big screen and later reaping profits on the small, the order of the day for the networks is making Hollywood blockbuster-like movies and if it's not pulse thumping action then simple, yet entertaining stories will suffice. Taking a look at the types of movies that dominated the box office in 2014 as our reference, it appears as though 2015 will continue with this trend… read more »