Spanish Tapas: What are they and what do you need to know?
by Kimberly on Friday, September 10, 2010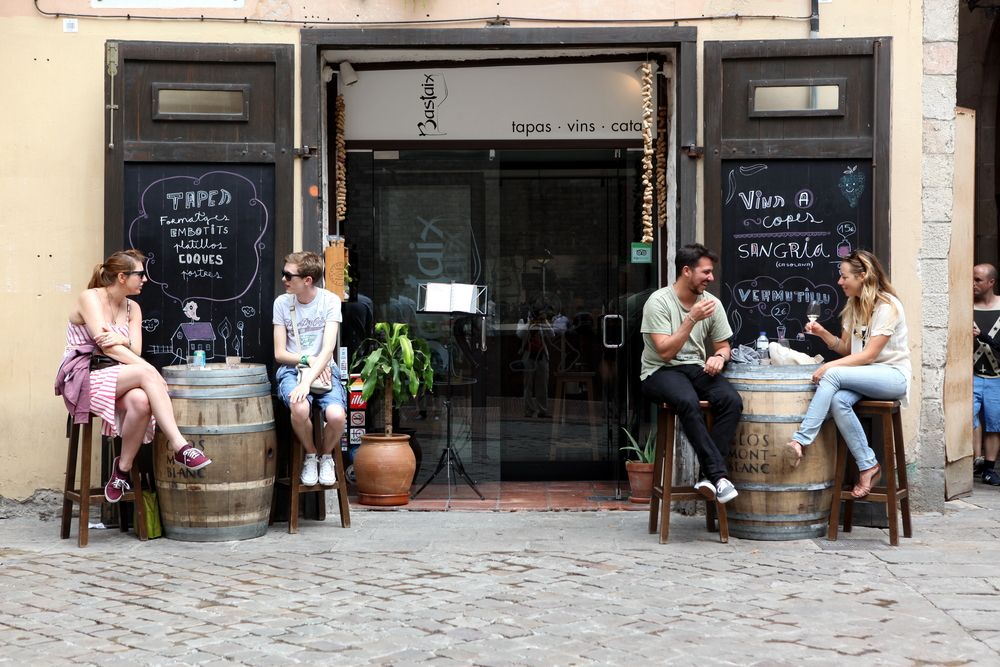 If you have ever been to Spain, perhaps you know that one of the most popular and traditional activities is to go out for tapas. Tapas, also known as pinchos, are small snack size portions of food that are served in most bars throughout Spain. Normally, tapas are either complimentary or simply cost less when included with a drink purchase. Learn more about Spanish eating customs and the Mediterranean diet.
The word tapa in Spanish literally means "lid" or "cover" and it is thought that the tradition evolved from the practice of covering wine glasses with small plates of bread or cured ham to keep out insects or other impurities.
Tapas mix the concept of eating with socializing and the act is called tapear in Spanish. Bars serve as the logical meeting place and where friends or business acquaintances meet regularly. Tapas are an important business in Spain and are generally the determining factor to whether a bar with succeed or fail.
Most tapas bars do not wait tables and most people enjoy their tapa on foot along the bar's counter where the different tapas are arranged. It is very common to "ir de tapas" which is the practice of visiting various bars and snacking in each one until you have had your meal. It is also common to dine on raciones, larger portions of any given appetizer, which are usually all shared among the group.
Tapas have become part of the Spanish cultural identity and are offered at reception banquets of high dignitaries known as tapas meetings. Nowadays there are bars that specialize in tapas which as developed into a phenomenon known as miniature cuisine. Gourmet chefs, such as Ferran Adrià, have also incorporated tapas as starters into their fine Spanish cuisine menus.
The type and variety of tapas that you will find in Spain depend greatly on the region and the cuisine of the area. There is no defining characteristic as to how large or small a tapa will be, although the majority of them are about four bites. Additionally, there are many different categories of tapas including cold or hot tapas, skewered tapas, small hot or cold sandwiches called montaditos, tapas of traditional dishes served in small clay pots or simply olives or cheese accompanied by bread.
Remember, tapas come in just about any form that you can imagine depending on the bar and the region, but here is a selection of some typical tapas:
Typical Tapas:
Tortilla Española: Spanish omelets made of potatoes, onions and eggs.
Ensalada Rusa: Russian salad made of boiled potatoes, tuna, tomatoes, peas and carrots with mayonnaise.
San Jacobos: Ham and cheese fried in bread crumbs
Croquetas: Breaded and fried béchamel with ham, fish or chicken.
Jamón: Spanish ham served in a variety of different ways: baked, grilled, cured, smoked, etc.
Calamares: fried calamari rings.
Pulpo: Octopus boiled and often served with potatoes and paprika or mixed in a variety of salads.
Patatas bravas: fried potatoes with a mayonnaise and garlic sauce
Sardinas: fried sardines
Pincho moruno: spicy pork skewer
Montaditos: small hot or cold sandwiches
Sepia: grilled cuttlefish
Panceta: A grilled pork cut similar to bacon normally served as a montadito when eaten as a tapa.
Chorizo: Spanish sausage normally served as a montadito when eaten as a tapa.
Paella, gazpacho, and other traditional dishes are also often served as tapas.
Tapas Vocabulary:
Tapeo: the act of eating tapas
Ir de tapas: going out for tapas
Cenar de tapas: to have tapas for dinner.
Picar: to snack, to pick at things
Picoteo: to go for snacks
Ración: larger portion of a tapa
Tapa/Pincho/Pintxos: Different words all referring to the small appetizers served in Spain. Pinchos is mainly used in Northern Spain and pintxos is Euskera, a language used in the Basque region.
Montaditos: small "bocadillos" served hot or cold usually consisting of very few ingredients.
Bocadillo/Bocata: Spanish "sub" sandwiches made with baguette bread.
Plancha: grill. "a la plancha" means grilled.
---
Keywords: