Read Comics to Learn Spanish
by Dilek on Tuesday, October 23, 2012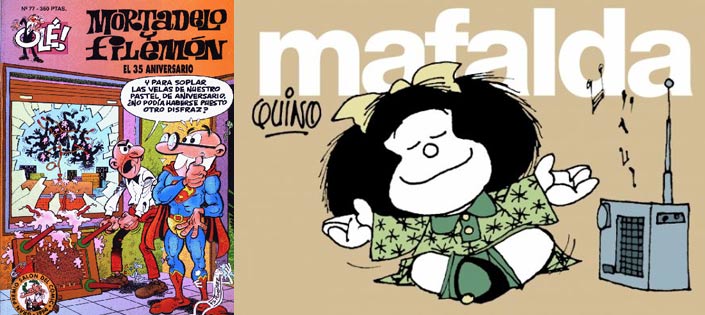 To learn Spanish by reading comics and improve yourself in such a short time is not a dream and %100 fun guaranteed. Some students are good at recalling what they hear, some what they write, and some of them what they read. The last group is usually better at learning a language with visual aid, and comics might be the perfect material for them to study Spanish.
Although reading comics was seen as a vain pastime activity mostly by parents, now has gained a great importance in every sense.  Hollywood seems to have discovered this golden mine would serve more than it seems. Aside from the classics like Batman or Spiderman other superheroes from Marvel comics are smashing the box-office lists. The worldwide success of The Avengers is a good example of how these fictional characters drag the attention not only of kids but also the adults. On the other side, there are quite good discussions on the value of comic books in academic platforms. The experts have also pointed out the benefits of comics in language learning.

Watching the movies based on comics is full of fun, what about reading them? A lot more fun! I started reading comic strips of Garfield and Dilbert in Spanish,as they are my favorite. The humor style is witty and I love the way how the protagonists react to other people. If you are keen on these kind of short comic strips, you can get used to their Spanish adaptations easily and moreover you will get an insight of Spanish sense of humor. For the fan of thriller stories, try "The Walking Dead" so that you can find blood and action in Spanish that will always keep you on the edge.

If you are looking for something from Spanish culture you can check Mortadelo y Filemón, who were formerly private detectives, now work as special agents chasing after a different adventure in each episode. Another interesting character is  Superlópez. This superhero coming from the planet Chitón (yes Krypton) is the Spanish parody of Superman. Mafalda, who is a concerned Argentine girl, always has questions and a word to say for world peace and social issues. Chilean comic strip Condorito is one of the famous one in Latin America and is a funny representation of the culture.

The next step could be a bit bigger and start reading long series which is all up to your taste. Bear in mind that reading comics will improve your comprehension in Spanish and not to mention increase your vocabulary as well.
---
Keywords: learn Spanish,study Spanish,comics,Spanish culture,Spanish language,Mafalda,Latin America,Condorito,Spain