Barcelona Vs Madrid, and what an exciting game it will be!
by Hannah Ryan on Friday, April 20, 2012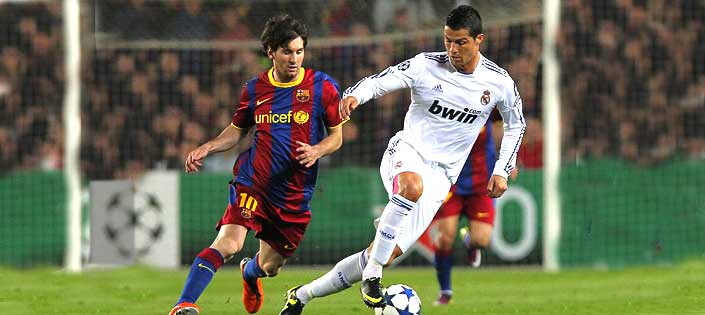 8pm, Saturday 21st April 2012, Camp Nou. Be there, in front of a TV if needs be, but just don't miss out on a Spanish cultural phenomenon; El Clásico.

The mighty Real Madrid are heading to Catalonia to take on their long-time rivals, Barcelona FC. It's easily the most polemic issue confronting Spanish society; not naming a Eurovision candidate, or deciding on the best way to sort out the economy, but which team to support. It is a rivalry that is steeped in history and politics, linked to regionalism and identity, and always promises to be a fantastic match! Madrid is currently at the top of the Spanish liga, but with Barca only 4 points behind, it's all to play for tomorrow.

But, a study published this week shows that El Clásico will be more exciting than you might have predicted. In fact, football is SO exciting, that fans get as excited watching a big game as they do during a night of passionate love-making!

Oh yes. Soccer is like sex. It's scientifically proven! The study, conducted by researchers from Spain and the Netherlands focused on the 2010 FIFA World Cup final and found higher levels of the hormones testosterone and cortisol in fans during the match than on control days. Spain became world champions in 2010, with Andres Iniesta scoring the decisive goal four minutes before the end of extra time against the Netherlands, so no wonder the Spaniards enjoyed themselves!

For anyone as clueless about science as I am, cortisol is a hormone released into the body in response to stress. The study found that secretion of this hormone was greater in people who were more fanatical about football and according to lead researcher Leander van der Meij, from Amsterdam's Vu University, the findings were "consistent with the social self-preservation theory." This means that the fans, especially younger and more devoted fans, experienced a threat to their social esteem if their team did not win. Which just goes to show how important this rivalry is!

The study was published on Wednesday in the journal PLoS One. They also found that the testosterone increase experienced during a footy match was not related to fans' gender, age or football fanaticism.

So, I hope everyone thoroughly enjoys the Madrid V Barcelona game tomorrow!
---
Keywords: spanish,Madrid,Barcelona,world cup winners,football,El Clasico,world cup final,study,sex