An Eating Guide to Granada
by Imogen on Thursday, July 25, 2013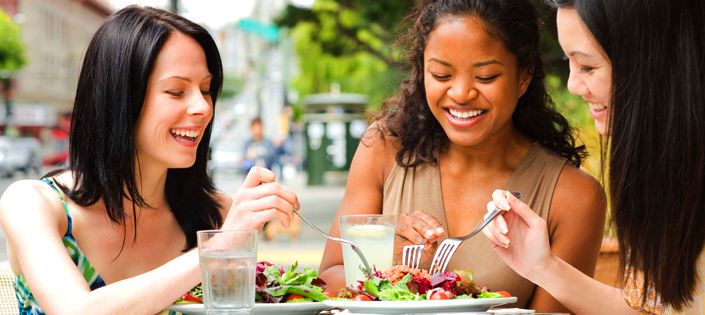 Free Tapas!
Granada, a Spanish gem in Andalucia, is famous for the Alhambra Palace, Sierra Nevada and… free tapas! It is one of the few remaining cities in Spain that will bring you free food every time you order a drink; something almost incomprehensible given the cheap drink prices and large food portions… But who's complaining? With so many places to choose from, this is by far the best way of eating out in Granada.
The best street for a tapas crawl would be Calle Elvira, just off Gran Vía. This street is lined with tapas bars, and is probably the most "touristy" although still ridiculously cheap. There are promoters who will try to get you into their tapas bars, although with tapas bars that are next to each other anyway, it is easy enough for you to choose your own places to go to.
Tapas Bars in Granada
La Bella y La Bestia, a chain of four tapas bars in Granada, claim the title to the best free tapas in Granada. The one on Calle Elvira has got a very friendly atmosphere and these bars are famous for their first free tapas of a ham and cheese bagel (vegetarian available on request), pasta salad and chips with ketchup and ali-oli (garlic mayonnaise). I know what you're thinking… a bagel is hardly on the list of famous Spanish foods, but that said, it fills a gap and although it may not be the best free tapas in town, it is certainly very tasty.
Babel, also along this street offers you a massive range of free tapas which you can choose from. You can choose two tapas per group, and they offer all different types of cuisine, ranging from oven-baked pasta to teriyaki pork. With so many tasty dishes to try, it is worth having a few beers in this bar, which always has a buzzing yet laid-back atmosphere and attracts a whole array of young people and travelers.
Plaza Trinidad, perhaps a bit more of a calmer atmosphere, offers a few tapas bars which are worth checking out.
Bar Reca has a lovely relaxed atmosphere, although it can get busier and louder at the weekends. An elegant bar filled with business men and students, this bar attracts all sorts of people. It is worth staying here for a couple of drinks, as the tapas tends to get better the more you order.
Just off Plaza Trinidad, a hidden tapas bar called D´Cuadros. You will spot the black and white checkered sign, but you won't think to go down this quiet street. Well, you should. D´Cuadros, particularly lively at the weekends, is a funky modern bar, with some of the best Ribera Del Duero you will find at crazily cheap prices. You can choose your tapas from a unique and mixed menu, including as well some Spanish classics.
Plaza Romanilla, known by the locals as "Plaza del Burro" due to the donkey statue in the square, is a very beautiful square right next to the cathedral, filled with lots of cafés, restaurants and tapas bars.
Restaurants in Granada
Ermita, a stylish restaurant, also gives tapas every time you order a drink. It has a lovely outside area which is ideal for the summer. You can't really predict which tapas you're going to get here, as it changes every time, but you can be sure it will be good quality whatever it is!
El Deseo, another stylish restaurant in this square offers a place where you can eat at the back of the restaurant from the menu, or sit in the bar, which is where you will get your free tapas. A lovely restaurant with friendly staff where you can order cocktails or a particular glass of wine for whatever mood you're in (yes, really!). The tapas portions are sizeable and good-quality, and in terms of the restaurant, the food is beautifully presented and delicious; the best chicken salad in the world; presented in a filo pastry shell!
For something a bit different, and more in line with the Moorish culture of Granada, just off from Calle Elvira and on Calle de la Calderería Nueva, you will find a lovely traditional Tetería (famous for its Arabic teas) called Kasbah. The food here is traditional Arabic; dishes with a lovely blend of spices, as well as Arabic-style tapas to share. It is a friendly, intimate and romantic restaurant where you will find something a bit different for a reasonable price.
In addition to tapas bars and restaurants, why not try one of Andalucía's guilty pleasures… a shawarma. Similar to a kebab, these fast food delicacies can be found in fast-food places all around Granada, with the best ones around Calle Elvira. Ideal for those cravings after a night on the town, or if you want a filling meal for just €3!
---
Keywords: tapas,eating guide,tapas bars,restaurants in spain,spanish tapas,tapas in spain,restaurants in granada