The Best Places to Live in Europe
by John Bascombe on Thursday, December 11, 2014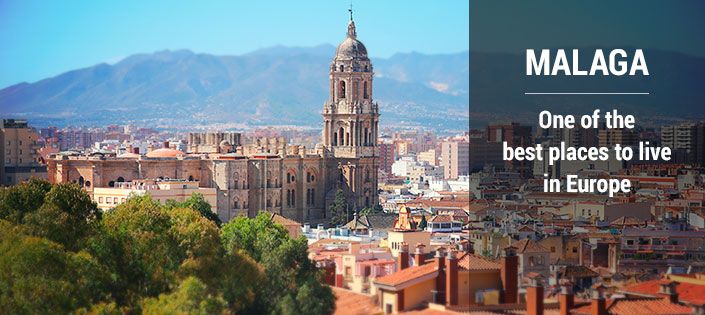 When one thinks of living in Europe, we usually think of the large cities and capitals of this old-world continent like London, Paris, Rome, Geneva or Brussels. But are these places really the BEST places to live? The EU has released a survey trying to answer that very question. In a survey to determine the best place to live in Europe 2013, the Quality of Life in Cities study released by the EU contains some surprises for everyone. Some of the more common places to visit in Europe are surprisingly not listed like the great capitals listed before and the issues that most concern Europeans with respect to how they feel about where they live is the value placed on good healthcare facilities, unemployment and education/training. So what is the best place to live in Europe? The answer is Aalborg, Denmark with an overall satisfaction score of 99/100. Not to be left behind, The Spanish city of Málaga also scored remarkable well with a score of 96/100 tying with cities like Amsterdam, Graz or Munich. Another Spanish city to pass with honors (and with the most individual top scores) was the Asturian city of Oviedo.
Why Málaga?
This comprehensive survey ask people to rate everything from public transport, the presence of foreigners, the quality of health care and public safety just to name a few. Málaga is the sixth largest city in Spain along the Mediterranean coast in Andalusia. Its neighbors like Marbella, Torremolinos, Sotogrande or Fuengirola may sound more familiar with Jet Setters and golfers as they are the anchors for the tourists that flock here every year to take in the fun and sun that the Costa del Sol offers.
Malaga is one of the oldest cities in the world with a history that dates back almost 3000 years. Not surprisingly since its location is offers summerlike conditions for 8 months of the year and one of the warmest winters in all of Europe. Know by the Phoenicians as Malaka in the 8th century BCE it would later find itself ruled by Romans, Moors and Christians. More recently Málaga has become a thriving cultural center, famous for being the birthplace of Pablo Picasso; it is home to important local museums like Museo Picasso Málaga, modern art CAC Málaga, and the Fundación Pablo Picasso. It will also soon be home to a satellite museum of Paris' world famous Pompidou Center, the Centro Pompidou and a satellite State Russian Museum of Saint Petersburg. Joining these two incredibly famous museums will be the new Museo de Bellas Artes y Arqueológico in the historic Palacio de la Aduana.
Although Malaga is the sixth largest city by population it is the fourth largest in terms of economic activity. The principal drivers of Málaga's economy are tourism, construction and high-tech. This activity has also meant that the people living in Málaga today come from all over the world. In the Parque Tecnologico de Andalucia, a miniature Silicon Valley has been erected with companies like Alcatel Lucent, Alstom, Siemens and Huawei attracting talent to and driving Málaga into the 21st century.
Where it Succeeds
As a reflection of the economic crisis that has hit Spain these last 6 years, it is not surprising to find that the optimism of people here is low when asked if it is easy to find a job in their city. In this question Málaga ranked third lowest of all the cities with score of 4% of the respondents agreeing with that statement. People from Barcelona and Oviedo also felt the same, tying each other with 7% and Madrid not far behind with a score of 12%. If you are looking for work in Europe, Oslo and Prague feel that they can offer you something but their scores top out at an unconvincing 70% and 63%. As we can see, the uncertainty of the today's economic reality has made everyone across the continent less than optimistic with regards to the work situation.
Another area that received low scores was the statement where residents affirm that they believe that administrative services were helping people efficiently. Once again, most every city was unconvinced in this aspect of their life with only seven cities breaking the 70% barrier. On the other hand more than half the respondents disagreed with this statement with eight cities disagreeing by more than 60%. Malaga scored 50% while Madrid scored 38% and Barcelona shared its dissatisfaction with a score of 45%.
When asked if they agreed with the statement that they were satisfied with the life they lead, Malaga scored 84% but was outscored by Oviedo with 87%. Both numbers indicate a very high level of satisfaction as well as a very positive sentiment about the life they are living in both cities. One thing that is evident about this survey is that every city has their advantages and their areas to work on. For example, the biggest issues the residents of Zurich worry about (the second city in the world with the most millionaires per capita) are housing, education and public transport.
Imagine Los Angeles without the congestion, cars and 40 mile long streets. We'll keep the beach, weather and cultural offering. This comparison is very crude indeed but it does give you a little bit of an idea of what Málaga is like. If you ever have the opportunity to come out this way, one of the best places to visit in Europe is Málaga and its surrounding Costa del Sol. And if you have the opportunity to live in Spain, you may be lucky enough to live in one of the cities of Europe's with the highest quality of living.
---
Keywords: best places to live,malaga,oviedo,best places to visit in europe,living in spain,city in spain,best place to live in europe,spanish city